In the UK, several women have come forward in a lawsuit as having been tricked into relationships by duplicitous undercover cops, who then used the women's social justice connections to spy on left-wing communities. Now one of these women, Helen Steel, has tracked down and confronted John Dines, the cop who "deceived her into having a two-year relationship and is now involved in directing police training courses in Australia," reports the Guardian.

The Metropolitan police used this tactic as a matter of practice, as part of a program to infiltrate and spy on "trade unionists, anti-racists and environmental campaigners," Steel told the Guardian—behavior that has now been categorized as a "human rights abuse." In several cases, including Steel's, the undercover cops ended their relationships by faking "mental breakdowns" and vanishing from the lives of the women with whom they'd carried on years-long relationships.
Steel, who is a social justice activist, told the Guardian she'd spent years looking for Dines, particularly after she'd discovered he was a "course director" at Charles Sturt University in New South Wales, Australia, with a syllabus that "included leftwing extremism":
I was very concerned about what tactics they were being trained in and whether they were going to be trained in many of the discredited tactics that were used in the UK which have been now acknowledged to be human rights abuses," she said.

[...]

"I felt it was important to come here to expose what happened in the UK in case these discredited tactics are being promoted in other countries."
Steel and Dines dated from 1990 to 1992, at which point he told her he was having a breakdown and escaping to South Africa. In fact, he had simply gone back to work a desk job at the Metropolitan Police headquarters, but Steel was worried for his safety and thought he might have committed suicide. After searching for him for years—a search that included the "devastating" discovery that her longtime boyfriend "John Barker" did not exist—it was only in 2010 that she discovered John Dines had been an undercover officer. In an appalling move, The Met actually paid for Dines to relocate to Australia after becoming concerned that Steel would find him.

Well, she did, and The Guardian has video of her confronting him at the Sidney Airport "while he was greeting a party of Indian police officers" who he was set to train. He apologized, she said, but it wasn't enough:
"He apologised to me, but in the course of the conversation that we then had he talked to me about how when he had been sent in to infiltrate groups in north London it was to look out for what they call extremists," she said.

"It's a vague term which is never properly defined that seems to include anyone who challenges people in positions of power.

"It just seems like that's exactly the same as what they are about to do with the Indian police training program, so it's very worrying. We don't want to see these tactics perpetuated anywhere else.
G/O Media may get a commission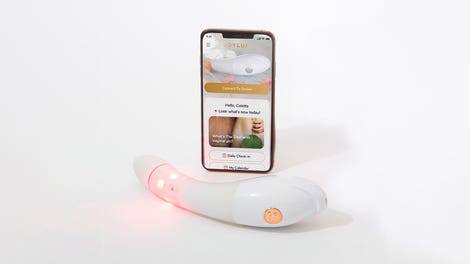 $50 Off
Joylux vFit Gold Device
According to the Campaign Opposing Police Surveillance (COPS), an "alliance of people spied on by British secret police," John Dines began attending Greenpeace meetings in 1987, in his capacity as an undercover cop.
---
Contact the author at julianne@jezebel.com.
Image via Screenshot