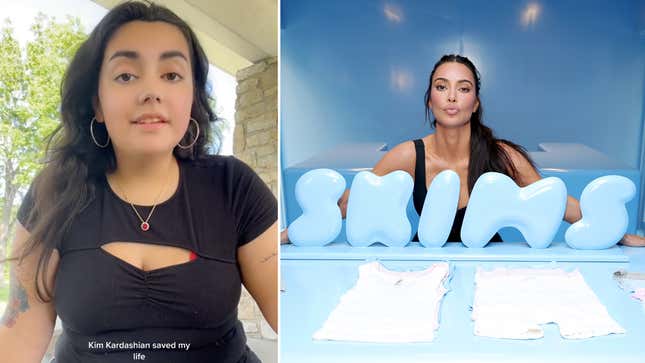 A woman who survived being shot four times is going viral on TikTok for claiming that a bodysuit from Kim Kardashian's Skims collection saved her life.

Angelina Wiley, 22, was shot while waiting for a Lyft in Kansas City, Missouri, in January. In a TikTok from May that Kardashian reposted over the weekend, Wiley proclaimed that "Kim Kardashian saved my life" and said the Skims bodysuit she was wearing "was so tight on me that it literally kept me from bleeding out." Wiley compared the shapewear piece to "body armor for women."
"Call it fate or Jesus, but Imma call it Kim," Wiley said, adding that she's "definitely gonna buy some more" of Kardashian's bodysuits and that she "should wear it everyday." (Quick cautionary note: As Insider reports, medical experts recommend against wearing bodysuits for prolonged periods of time.)
Kardashian has since reposted the now-viral TikTok on Instagram with the caption "wowww" and a string of prayer hands emojis. Fans are now calling for Kardashian to send Skims products to Wiley for free, especially after Wiley told one commenter that she hasn't owned a piece from Skims since surviving the January shooting. "The detectives have my skims bc it's a part of the investigation so I have 0 skims now," she wrote.
I certainly hope Kardashian—a literal billionaire—decides to do a little more for Wiley than make an Instagram post with the word "wowwww," considering this free ad campaign Wiley has gifted her. After apparently being rescued by her Skims, Wiley had to start a GoFundMe page (which is still accepting contributions) for her recovery. The GoFundMe—which refers to Angelina Wiley as "Nina," her nickname—says that she suffered a ruptured bladder and cracked pelvis that requires her to "walk with a walker" for the time being, on top of "the mental trauma she will have to work her way through." The fundraiser also mentions that Wiley's job "requires stamina and physical capabilities that she will not have for an unknown amount of time," and that "missed wages need to be last on her mind."