In 1967, 20-year-old Syracuse University student Kathrine Switzer became the first woman to officially run the Boston Marathon. In 2017, 50 years later, she is running the storied marathon again, with the same bib number—261.
Ana Gasteyer Satirizes the Girl Boss in 'American Auto'
But instead of being ostracized by the marathon's organizers, as she was in 1967, this time her presence will be celebrated. According to her website, Switzer will be an honorary starter for the women's elite race Monday morning. She'll then run the race at 11:15 with a team of runners representing her global running nonprofit, 261 Fearless (named after her bib in the 1967 race).
As a Deadspin feature on Switzer's groundbreaking race (and the iconic photo above) explains, in 1967, male sports officials believed the strain of long distance running "would cause women's uteri to fall out or that they would become musclebound and grow hair on their chests."
G/O Media may get a commission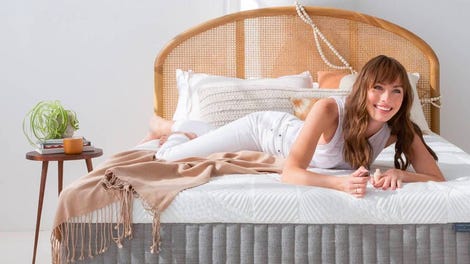 Sleep Sale
Sleep Sale - Brentwood Home
At Syracuse, Switzer began running with Arnie Briggs, a mail carrier at Syracuse who was also an avid runner. Briggs, too, argued that women were "too fragile" to run the race, but Switzer was determined to prove him wrong. When she began running 30-plus mile distances, Briggs conceded and encouraged her to sign up for Boston officially. She signed up as "K.V. Switzer" along with Arnie, her boyfriend Tom Miller, and another friend.

But when Jock Semple, the race co-director, discovered a woman had registered in the marathon, he was furious. In the middle of the race, Semple tried to shove Switzer and physically pull her out. "He was pulling at me and screaming, 'Get the hell out of my race and give me that number,'" Switzer told Deadspin in 2015. "Arnie was screaming at Jock, and then Tom smashed Jock out of the way." The moment was captured by photographer Harry Trask, instantly turning Switzer into an icon.
But Switzer wasn't the only woman—or even the first—to complete the Boston Marathon that year. Bobbi Gibb, who had run the race unofficially in 1966, was on the course in 1967 and finished ahead of Switzer at 3:27:17. However, Gibb did not register for the race, and according to Switzer, therefore did not threaten the supposed integrity of Semple's men-only competition. Semple disqualified Switzer from the race and the Amateur Athletic Union suspended her and Miller.
Switzer, who was attacked simply for wanting to run, became an international feminist symbol and helped break the long-held barriers against women in long distance running. In a recent interview with WBZ-TV, she recalled, "I said, 'This is going to change my life, maybe going to change women's sports and change the world.'"
The Boston Marathon officially opened to women in 1972. That same year, gender equality law Title IX was signed into law, allowing more women to join cross country and track and field programs at college. In 1984, the Olympics introduced the first women's marathon.
Switzer went on to run 39 marathons and organized the Avon International Running Circuit, a series of women's-only races. In 1974, she won the New York City marathon. In 1975, she returned to Boston and placed second, break her personal record with a time of 2:51:33. In 2011, she was inducted into the National Women's Hall of Fame.
CNN reports that the Boston Marathon will retire Switzer's original bib number in her honor. "Fifty years later, women make up almost half the field at Boston. It's a phenomenal social revolution, and it has happened in my lifetime," Switzer told Outside Magazine. "To be there in Boston to celebrate that moment, the place where it all began, is extremely gratifying and validating."