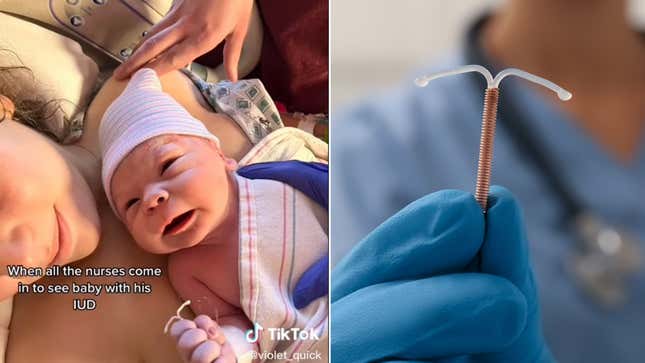 An Idaho woman who says she got pregnant while she had an IUD gave birth last week, and in a now-viral TikTok, she shared footage from the delivery—including a photo that appears to show her adorable newborn holding her IUD in its tiny hand. "When all the nurses come in to see a baby with his IUD," the video is captioned, set to "WAM" by ASAP Ferg. The woman, Violet Quick, has since made her TikTok private, but the video showing her baby holding her IUD is still watchable via other users' TikTok stitches.
Conservatives Have Launched an Ectopic Pregnancy Misinformation Campaign
Prior to giving birth, Quick shared a series of TikToks in which she talked about learning she was pregnant, despite having her IUD in place. She was nauseous for two consecutive weeks and took six pregnancy tests, all of which confirmed her pregnancy. She went to the emergency room, and learned that she was already seven weeks pregnant.
Quick advised other people on hormonal birth control to take a pregnancy test if they experience any symptoms, saying, "It's better to know because there is a high risk of having ectopic pregnancies when you have an IUD. They work for the most part, but someone has to be the 1%, and that's me and my baby."
IUDs are highly effective—in fact, about 99% effective, as Quick suggested—though pregnancy can occur if the IUD is misplaced in the uterus. (Quick said in another TikTok that her IUD was still in place when she became pregnant.) Research has shown that pregnancies conceived while someone has an IUD tend to come with a higher risk of being ectopic or ending in miscarriage. That's especially concerning in states with abortion bans, like Idado, where people may be forced to carry dangerous pregnancies they don't want, or may face complications from self-managed abortions. Abortion is the only "treatment" for ectopic pregnancies, which can be fatal and which occur when a fertilized egg implants outside the uterus, and abortion bans can stop people from getting this life-saving care.
Quick's TikTok claiming her baby was born holding her IUD comes users are sharing an ever-widening range of stories about the contraceptive. As Jezebel reported last month, TikToks detailing experiences with intense pain from IUD insertion, lack of warning about this pain (as well as lack of accompanying medications and supports), and other IUD-related complications have gone viral in recent months. Some individuals have shared stories about being unable to find providers willing to remove their IUDs; others shared viral TikToks about how to remove your IUD yourself (which goes against all medical guidance) along with other birth control-related misinformation. That Quick says she became pregnant and birthed a baby holding her IUD will surely only add fuel to this conversation.
To be clear, birth control methods like the IUD are highly safe and effective. Especially shocking stories like Quick's may arise, and garner lots of attention thanks to the power of social media, but it's important to not allow these stories to be used as an argument against our right to birth control access, or as a means to spread health-threatening misinformation.