A woman alleges that Roy Moore, the controversial former judge and Republican Senate candidate in Alabama, sexually assaulted her when she was 14 years old.

In a report at the Washington Post, Leigh Corfman says that Moore assaulted her in 1979, when he was a 32-year-old assistant district attorney. Corfman told the Post that she met Moore outside of the courthouse in Etowah County while she and her mother, Nancy Wells, were waiting for a custody hearing. According to the two women, Moore offered to watch the girl while her mother went to hearing.
The Post reports:
Alone with Corfman, Moore chatted with her and asked for her phone number, she says. Days later, she says, he picked her up around the corner from her house in Gadsden, drove her about 30 minutes to his home in the woods, told her how pretty she was and kissed her. On a second visit, she says, he took off her shirt and pants and removed his clothes. He touched her over her bra and underpants, she says, and guided her hand to touch him over his underwear.

"I wanted it over with — I wanted out," she remembers thinking. "Please just get this over with. Whatever this is, just get it over." Corfman says she asked Moore to take her home, and he did.
In addition to Corfman's account, three other women told the Post that Moore, "pursued them when they were between the ages of 16 and 18 and he was in his early 30s, episodes they say they found flattering at the time, but troubling as they got older." Only Corfman has alleged sexual assault. The legal age of consent in Alabama was (and is) 16.
In a preemptive response to the Post report, Moore released a statement to the conservative website Breitbart News. "This garbage is the very definition of fake news and intentional defamation," Moore told the site which seemed eager to minimize the claims reported by the Post, emphasizing instead the romantic nature of the "dates" Moore went on with teenage girls. Moore also told Breitbart that he was a married man with children and grandchildren, apparently evidence of his innocence. He added, "if any of these allegations were true, they surely would have been made public long before now."
G/O Media may get a commission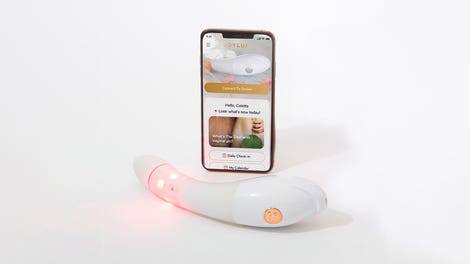 $50 Off
Joylux vFit Gold Device
Moore reiterated his statement to the Post, indicating that the story, as well as Corfman's allegation were politically motivated. "These allegations are completely false and are a desperate political attack by the National Democrat Party and the Washington Post on this campaign," Moore said in statement.
Corfman, a long time Republican voter, indicated to the Post that her newly made public allegations were not political. She added too that she had thought for decades about coming forward but was reluctant to speak because of her past ("I'm not an angel," she said). Corfman said that she decided to come forward after prayer. "All I know is that I can't sit back and let this continue, let him continue without the mask being removed," she said.
Moore rose to national prominence in 2003 after he was removed from the Alabama Supreme Court after refusing to remove a monument of the Ten Commandants, despite orders from a federal court. He became a kind of hero to religious conservatives for his refusal, as well as his opposition to same sex marriage and his ardent birtherism. He returned to the state Supreme Court in 2012 and was suspended again in 2016 for ethics violations. In 2017, Moore entered the Republican primary to fill Jeff Sessions's vacant seat. After backing from Steve Bannon, Moore beat Trump-endorsed Luther Strange to become the state's Republican nominee and, given the politics of Alabama, it's next Senator.
Republican leaders are, however, calling on Moore to exit the race with a caveat. "If the allegations are true, he must step aside," Senate Majority leader Mitch McConnell said in a statement. Senator Mike Lee echoed that statement almost verbatim.