John Cusack is seeking a restraining order against Marieretno Subali, a woman who's accused of showing up at the actor's home several times over the past few months and attempting to curse his penis.

TMZ reports that, while Cusack has never been home to encounter Subali, he "believes the woman is monitoring his travel through social media, and fears she'll be waiting for him one day" at his place of residence.
He says Subali's reached out to his family as well ... sending a couple of creepy emails to his sister-in-law. In one, she says Cusack came to her in a dream, and called him her favorite actor from the movie, "Serendipity."

Another email was much darker — in it, he says Subali threatened to perform a "black candle spell on him," which, according to her, would make him impotent ... for life.

That was enough for a judge to grant Cusack the restraining order. Subali has to stay 100 yards away and have no contact with Cusack, as well as his brother and sis-in-law.
While it's not exactly holding a boombox over your head, threatening to curse someone's dick with black magic is one (very disturbing) way to get attention.
---
Vanilla pudding and beige curtain Blake Lively and Ryan Reynolds are having another baby, according to Us Weekly:
Blake Lively is pregnant and expecting her second child with husband Ryan Reynolds, Us Weekly can exclusively confirm. The Gossip Girl alum, 28, was spotted on set of her upcoming filmThe Shallows showing off her baby bump in a fitted wet suit.
G/O Media may get a commission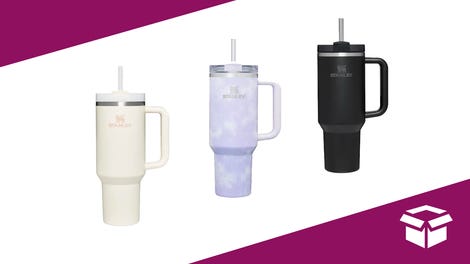 Up to 45% off
Stanley Cup Sale
So there is...that news.
---
In other celebrity baby news (more like snooze, am I right) involving a man named Ryan, Us Weekly ALSO reports that Eva Mendes and Ryan Gosling are ALSO having THEIR second baby:
Multiple sources confirm exclusively to Us Weekly that the actress and her longtime boyfriend, Ryan Gosling, are expecting their second child together.

According to a source, the mom of daughter Esmeralda, 17 months, was spotted hiding her burgeoning bump during a photo shoot in Los Angeles in February.
It's not a competition, guys!
---
Sean Penn might be dating Minka Kelly and my frown just broke my face. [US Weekly]
Kim doesn't want Rob to marry Blac Chyna without a pre-nup. [Radar]
Does she not realize that Blac Chyna owns her own eyelash extensions empire????
Who cares, though: Rob and Blac are celebrating at the strip club. [E! News]
BUY ICE T AND COCO'S PENTHOUSE. [Page Six]
Lainie Kazan got in an accident outside a Greek restaurant. [NYDN]
---
Image via Getty.