In awful news out of Florida, a woman has been charged with rape after assaulting her partner with a 'marital aid,' according to police reports.
Mia McCarthy, 23, is charged with rape, assualt and other charges, stemming from an attack on her 52-year-old partner of nine months. The victim's name is being withheld by authorities.
The victim, 52, told a deputy that on Oct. 25 she was attacked by her partner, Mia McCarthy, 23, who investigators in the report call a self-described "sadomasochist."
According to a police report, the victim stated she was choked, punched and scratched by McCarthy during a fight that broke out between the two of them. The victim told police McCarthy choked her until she almost passed out, and then said to her "breathe or I'll kill you." Jesus.
Deputies reported seeing numerous marks on the victim, including bites, scratches and bruises. It was during this investigation that police uncovered another horrific crime.
On that date, the victim told the detective she took McCarthy out to Delux, a Delray Beachnightclub for the victim's birthday. The victim then told deputies that along with smoking pot with McCarthy, McCarthy used Kratom, a product the Drug Enforcement Administration describes as having opiate, sedative and euphoric effects.

It was that night when the victim told deputies that McCarthy raped her with what the detective calls, a "marital aid."
G/O Media may get a commission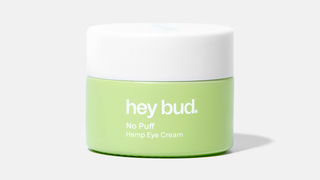 15% off
Hey Bud - No Puff Hemp Eye Cream
Oh and it just gets so much worse.
After initially refusing to talk when she was arrested on Oct. 25, McCarthy later told investigators that they both enjoy rough sex that sometimes leaves marks. She also said that they don't use safe words and when the victim says "no" it means "yes," according to the report.
Um, fuck no to that. No means no, people, period, every single fucking time, OK? There is no scenario where it is OK to have sex with your partner and not listen to them when they are telling you no. You do not ignore someone telling you to stop because ROUGH SEX. No, no way, nope, absolutely not. And, in the absence of a 'safe word,' during consensual BDSM or rough sex, then no absolutely means no.
McCarthy now faces charges of attempted murder, sexual assault, battery and domestic battery strangulation is currently in jail in lieu of $55,000 bail.
Image via Palm Beach County Sheriff's Office