The Women's National Basketball Association is starting a new campaign specifically aimed at recognising a portion of its fanbase it has had all along: the LGBT+ community.
As the community has become more visible in the United States with recent legal gains and media representation, the league's marketing teams and public relations staff have seen an opportunity to specifically cater to a demographic which has always been among its strongest.
In addition to launching its new website, the league is planning team participation in local LGBT Pride festivals and parades, actively partnering with the fifth annual LogoTV/AfterEllen Score Your Seats Sweepstakes "where fans will have the opportunity to win a trip to a WNBA Finals game," appearances at women's weekend events, and specifically advertising with "lesbian-targeted outlets." The league will also continue to work with several LGBT+ organisations. Sarah Kate Ellis, president and CEO of GLAAD welcomed the news, saying she was a fan of the league herself.
Some of my favorite memories are courtside with my wife and kids cheering on our favorite WNBA teams. For years, the WNBA has been a leading force in building support for equality on the court and in the stands. The WNBA Pride platform will raise the bar in helping to end anti-LGBT bias in sports, while also celebrating the tremendous value LGBT athletes and fans bring to the game.
And although it does appear that there is a massive financial stake involved in courting (yes, I said courting, yes that was a basketball pun) the LGBT+ community, there's also apparently increasing desire from WNBA President Laurel Richie and her league to recognise that demographic for its loyalty.
For us it's a celebration of diversity and inclusion and recognition of an audience that has been with us very passionately. We embrace all our fans and it's a group that we know has been very, very supportive. I won't characterize it as 'Why did it take so long?' For me it's been we've been doing a lot of terrific initiatives. The piece that's different this year is unifying it.
G/O Media may get a commission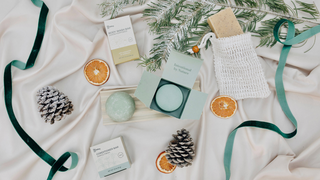 low-waste beauty
The Earthling Co.
It did seem to take a long time, considering that by its own internal reports, one fourth of the WNBA's television audience is lesbian, and one fifth of that audience actually shows up to games. This wasn't original the plan, if you believe Rick Welts, who was the executive vice president and chief marketing officer of the NBA way back in 1997. That's when the WNBA launched. Apparently, Welts (who became the highest-level executive in men's sports to come out as gay) and his fellow NBA big-wigs thought that the WBNA's audience would primarily come from the NBA fanbase.
We guessed very wrong on that. Maybe we should have known better. I think from its outset, the WNBA attracted a fan with different interests than our profile of an NBA fan. I remember sitting in a few meetings where we had really interesting thoughtful discussions of: Should we be proactive marketing to the LGBT community? What does that say if we do? We certainly didn't want to position the league of being exclusionary to anyone. What were we saying if we did it more proactively? Society and sports culture is very different today than it was back then. Teams were trying to figure out the right thing to do.
LGBT+ inclusion in sports is following along with general changes in social attitudes, political positions, and legal precedents. The fanbase which has grown up with the WNBA has seen tremendous progress as Don't Ask, Don't Tell came to an end in the United States military, and same-sex civil unions, domestic partnerships, or full marriage equality have come in slow but steady adoption to several states. Recently the number of states with marriage equality has risen with the fall of the Defense of Marriage Act. Just this week, both Oregon and Pennsylvania joined the states currently recognising the validity of same-sex marriages.
The change in wider society has led several athletes to feel comfortable coming out. The list includes NBA player Jason Collins, UMASS basketball player Derrick Gordon and recently drafted NFL and former Mizzou football player Michael Sam. And the WBNA has its own out player in Brittney Griner, member of the Phoenix Mercury, whose own response to the WBNA announcement was basically, "about time."
We'll pave the way and show its fine and there's nothing wrong with it. More sports need to do it.
Former player-turned-sportscaster, Rebecca Lobo, chalks up the decision to fully embrace the LGBT+ community to a maturation and institutionalisation of the WNBA, possibly suggesting doing so earlier would have put the at-the-time fledgling league on shakier ground.
It's culturally more acceptable now than it was when it first started. The league has been around for so many years they can do these sort of things without worrying about what some people might think.
According to the WNBA, with the decision to actively promote this campaign during a game broadcast, the league will be the "first to celebrate LGBT Pride on national television" with a game between the Tulsa Shock and the Chicago Sky on June 22nd.
There will no doubt be those who (as they do with every other bit of progress made for LGBT+ individuals) decry this as one more example of the fall of Western civilisation, the end of the American nation, and hurting "the children," and so I preemptively present you with this amazing picture of Seimone Agustus:
Image via PRIDE/WNBA.