NORRISTOWN, Pa.—She always called him Mr. Cosby. That wasn't abnormal, because Bill Cosby wasn't just any client at the William Morris agency; he was the most important client the then-mega Hollywood agency had. And that was why when Cosby, by her telling, drugged Kelly Johnson, then made her touch his penis while she was unable to control her own body at his Bel Air Hotel bungalow, she struggled to even tell her own parents the details, which horrified her. Even on Monday, on the stand in a Montgomery County courtroom, she spoke through tears as she recalled waking up with her dress barely on, her breasts out, and unable to control her own body as Cosby made her touch his penis.
"Mr. Cosby was a top client and it was immediately made clear that Mr. Cosby was of the utmost importance," Johnson said. "Not just to Tom but to the agency in its entirety."
After that day in the bungalow, she said, Cosby called her boss to tell her she should be fired. And she was.
After opening arguments in the criminal trial of the man who was once America's most beloved comedian, the first witness called by prosecutors was a woman who had spoken out before and said that Cosby allegedly assaulted her while she was an assistant to Cosby's then-agent, Tom Illius. (Illius died at the age of 83 in 2011.) Her testimony was in part a recollection of what she said happened with Cosby, and in part a look at the way power works in Hollywood. Cosby has not been charged in relation to what happened with Johnson, but she was allowed to testify. No other women who came forward and said they too had been assaulted—at times in very similar circumstances to what happened with Andrea Constand—are being allowed to take the stand.
Johnson first went over the history of how she got to know Cosby. She said Cosby would call and they would have polite conversations. She met him in person within the first couple months of working there. Over time, they got to know each other and their conversations grew chattier. She said she held Cosby "in the highest regard." Sometimes, he would tell her to leave her desk and then call him at a number he gave her. He also called her at home. When he did, and it was her sister who answered the phone, he would talk with her sister too. He told the two young women living on their own that they should get a metal baseball bat for protection. She saw a Cosby standup show and later saw another show with Illius and her family in Las Vegas. She talked about what the experience meant to her parents.
G/O Media may get a commission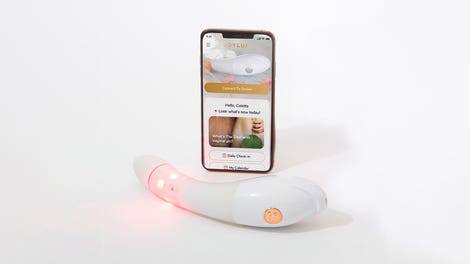 $50 Off
Joylux vFit Gold Device
"They held him in the same high regard as I did. My parent and my family were so much like The Cosby Show," she said.
Her relationship with her boss, Illius, was more cold and formal, she said. And Cosby told her to make sure she didn't tell Illius about his phone calls with her. So she didn't.
Johnson described two different incidents with Cosby. The first was when he asked her to come over with dinner he requested from a certain restaurant. He had her set it down, then took it to the den and started working with her, showing how blocking and camera angles work. Then he had her read a scene from a script. The scene was between a man and a woman. The woman was a little tipsy in it; near the end, she was embraced by the man. There also was supposed to be a kiss. They did the scene several times but "it wasn't working out very well," she said, because "I was not participating in the embrace or the kiss very well."
"I just wasn't really doing well with it at all," she said. "I'm not an actress, and I felt like he was a little frustrated."

Eventually, Cosby dismissed her and she left feeling that "he wasn't really happy with me."
Later—about 1996, she said—Cosby invited her to go out to lunch to talk about her life and career. She said yes because "those are the kind of conversations that we would have. He would call and he would ask about my life … in a Dr. Huxtable kind of way." It was at his bungalow at the Bel Air Hotel. She knocked on the door; he answered wearing a robe and bath slippers. She went inside and sat on the couch, he went into a nearby chair and they chatted. He said lunch was being brought for them, and it came, but she wasn't sure if they actually ate. There also was water and wine. He kept telling her to relax. Then he held out his hand and opened it and there was a large, white pill. He told her to take the pill. She said no. There was some back and forth, she said, then he told her "Would I give you anything to hurt you? Trust me, they'll just help you relax."
So she took the pill, saying, "I felt extremely intimidated by Mr. Cosby."
"What would happen if I just ran out to the door? This is Mr. Cosby. Tom doesn't know I'm there. I've been instructed to not tell Tom I'm there and I'm … I'm given this .. and I thought I would put it under my tongue and pretend to sallow it and then go to restroom and spit it out," she said. "That was my plan."

But Cosby told her to lift up her tongue and open her mouth. So she did, then it was on her tongue. And she swallowed. She asked to go to the bathroom to try and pull herself together, but she soon realized she had no idea what was going on. She thought maybe she could use the pill bottles in the bathroom—this entire area was covered with prescription pill bottles, as she described it—but soon it felt like she couldn't even read what they said.
"I couldn't make out any words they were making so much noise ... like I didn't understand the sense of time or anything," she said.

She walked out the door and felt, she said, like she was underwater. She sat back down on the couch. The next thing she remembered after that was being on the bed; Cosby was behind her. The bottom of her dress was pulled up, the top of her dress was pulled down, and her breasts were out. She felt naked. She kept talking, at times through tears, describing what she could remember from that day.
"I could see a puddle of lotion on one of the nightstands. He put lotion in my hand and"—she paused, cried, and covered her face, then was able to keep talking—"and he made me touch his penis." Still through a few tears, she said she didn't remember anything else from the bed or how she got home.
She did to back to work, still working for Illius when one day Cosby called Illius on Illius's private line. She saw that the phone call was going on and picked up to listen. She said this was pretty normal at William Morris because agents were set up to listen in on phone calls so they could take notes.
"I heard him say she's always away from her desk. She's messing up her work She's ungrateful for all the things done for her," she told the court, followed by hearing at her boss was told. "She's a problem; you need to get rid of the problem."
She hung up and had tears streaming down her face. She went to a payphone and called her mother, who told her that she couldn't leave. She had to go to human resources at William Morris, which she did. But she ultimately did not return to William Morris, which terminated her. She did eventually tell her parents what happened at the Bel Air Hotel, although not in all of its details. It was difficult to tell her parents, especially her father, who also was a retired police detective in Los Angeles.
"I felt like I was hurting him. I felt like I was hurting my parents, to tell them that Mr. Cosby had done this to me. I couldn't tell them. My mom asked me, Kelly did he do anything to you? I was just able to just ... I didn't tell them the details of what I remembered."
The following cross-examination, by Cosby lawyer Brian McMonagle, didn't dwell much on the history of Johnson's time at William Morris, instead focusing on the ensuing human-resources report generated by it, and her press conference with power lawyer Gloria Allred. It opened with McMonagle going over, several times, how much of a press release put out by Allred had been written by Johnson or written by Allred. He pressed her on how there were cameras at a press conference that Allred called and how, before her press conference, she never talked to law enforcement.
For the second part of his cross examination, McMonagle focused on a deposition that Johnson gave as part of her worker's compensation claim involving William Morris. McMonagle wasn't working off of the deposition itself, but notes taken by a lawyer. First, he pressed her to say that her memory probably would have been better back in 1996 than it is now. Then he asked her why, in that deposition, she had put what happened at the Bungalow in 1990. She said she did not recall what she said. McMonagle pushed further. How could she have had that wrong back then?
Johnson: I was bawling in that deposition. I didn't want to say. I didn't want to tell anything about what happened.

McMonagle: You didn't want to tell anything.

Johnson: No.
He later asked her, in a raised voice, if she had mentioned at her deposition that "He gave you $400 for your grandmother's doctor bills!" Johnson said that Cosby had made arrangement at his expense but she didn't remember them exactly. McMonagle shot back, "You don't remember him going you $400?!?" There were more questions he asked about what she remembered.
McMonagle: Do you remember him giving you $100 for your hair?

Johnson: No.

McMonagle: No?!? Do you remember him laying out the money and you taking it?

Johnson: No.
He later brought up Maxi Priest, the father of her son. He asked her if she ever did drugs with him, and she said no and asserted that Priest also did not do drugs. McMonagle kept pushing, at one point asking,"You were doing drugs in the 1990s, yes or no?" The prosecutors objected and it was sustained. The judge then told the lawyer to move on.
McMonagle circled back to the moment when she dropped in on the phone call from Cosby to her boss, Illius. Under cross, she added that before calling her mom from a pay phone she was called into Illius's office. She sat on the couch, he sat by his desk. Johnson said Illius started asking her questions and she shook her head in tears because Cosby had told her not to tell Illius about what they did. Through tears she said, "I was in a no-win situation."
McMonagle also pushed her on why records from William Morris's HR person at the time didn't indicate her saying anything about Cosby.
"It did have to do with Bill Cosby, but I was frightened to death to say anything about him," she said, adding that she was hysterically upset at the time she talked to the HR person. Pushed further, she said whatever was written in the report "These are Louise's words and interpretation of our conversation. It's not my memo. It's not my writing."
McMonagle: You don't remember telling a physician you were ill?

Johnson: No

McMonagle: You don't remember seeing a variety of doctors and telling them you were too ill to go back to work while collecting medical leave?

Johnson: No. I just did not want to return under the circumstances.

McMonagle: Don't you remember telling work, "I'm too sick, I'm too injured to come back to work"?

Johnson: No.

McMonalge: Did anyone tell you to get selective amnesia in this case?

Johnson: No.
Afterward, there was one of several sidebars to discuss how to address an issue before further questioning. As the lawyers and the judge talked off the side, Johnson was left alone on the podium, by herself having to blink back the tears. During his second chance to question her, assistant district attorney Stewart Ryan asked her about why she, for so long, kept the details of the assault to herself.
"Because I was humiliated and embarrassed. I was very afraid. Because I had a secret about the biggest celebrity in the world and I," she paused to cry, then pulled herself together. "It was just me ... I was afraid. And then another attorney I saw told me that I would be followed at ..."
At that point, the defense objected and it was sustained. But she did get to finish her thought.
"I was afraid," she said. "I was very afraid."