We are happy to bring to you a first look at Snatches: Moments from Women's Lives as part of a media partnership between Jezebel and BBC America.
It was 1918 when British women over 30 procured the right to vote and be elected to Parliament, after decades of organization, agitation, and direct action by devoted suffragists of all levels of radicalism (but mostly, pretty radical). British suffrage coincided with the loosening of gender roles in a patriarchal society because women demanded it, the beginnings of an organized feminism that would set the stage for coinciding movements around the world, and whose tactics still inspire feminist movements today.
Of course, women in the United Kingdom did not gain equal voting rights to men until 1928, when they were allowed to vote at 21, but it's undeniable that this first centennial is remarkable, an important milestone. And right now, as the UK and the US both tip ever more precariously towards more conservative policies that threaten women's lives along with the rights we've gained throughout the century, it feels ever more important to look at history as a continuum and an emergency charter: as a reminder that our gains were hard-won and are ever-more precarious if we don't do the utmost to protect them. A reminder that on November 6, we must vote because of what our long-ago sisters fought for, and a reminder that some of us are already being disenfranchised as we speak.
The preservation of this history and the urgency of its relevance are two reasons why Jezebel has partnered with BBC America for their astonishing series of eight short films called Snatches: Moments from Women's Lives, which bring to life the ways women have had to fight in the past 100 years, and imagine the ways we might do so in the future. Curated by Vicky Featherstone, the artistic director of the Royal Court Theatre, each short film features a monologue written by a remarkable woman playwright and starring a heartbreakingly good woman actor delivering it. With a brilliant immediacy, the clips bring to life the way the most remarkable political moments in women's lives are usually intensely personal, driving home how decisions made by politicians impact us individually in the most intimate ways.
G/O Media may get a commission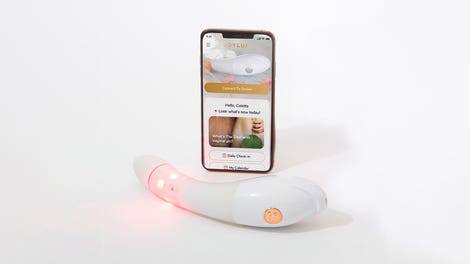 $50 Off
Joylux vFit Gold Device
It was so difficult to choose which clip to bring you today as a first look at this series, which will air on BBC America on Sunday, November 4 at 9 a.m.; they're all genius and exemplify the ways good art can really personalize political realities that can sometimes seem abstract. There is Tanika Gupta's Pritilata, an up-close monologue starring Black Mirror's Kiran Sonia Sawar, which tells the true story of Pritilata Waddedar, a young Bengali woman who at 21 led a revolutionary uprising against racist, separatist policies by British occupiers in India. There's Bovril Pam, starring Killing Eve's Jodie Comer, as a deeply ambivalent and trapped secretary in the 1960s who describes a queer sexual awakening amid her day-to-day boredom. That's written by the talent Vicky Jones, Fleabag and Killing Eve writer and frequent collaborator of Jezebel fave Phoebe Waller-Bridge. (SIDEBAR: SANDRA OH WAS ROBBED!) Pig Life hit me hard, too, with Shirley Henderson realizing the extent of her sexual assault, and Outside, with Corinne Skinner-Carter as a 100-year-old woman being extremely psyched about a fictional revolution set to a grime soundtrack.
Every clip is so great. Ultimately, though, we decided to bring you a look at this one: Tipping Point. It's written by the playwright Rachel De-Lahay, and stars Antonia Thomas, of The Good Doctor and my life favorite rom-com Lovesick (watch that shit on Netflix, I would not steer you wrong!). Tipping Point imagines a future that acts as a warning for our current moment, weaving together concerns of motherhood, racism, technology, sexual harassment, colonialism, protective matriarchs, and privacy in a way that resonates and ties history with the future in a way that hits in the gut. Watch a special first look below. And vote.
Snatches: Moments from Women's Lives airs Sunday, November 4 at 9 a.m. EST on BBC America, and on bbcamerica.com.