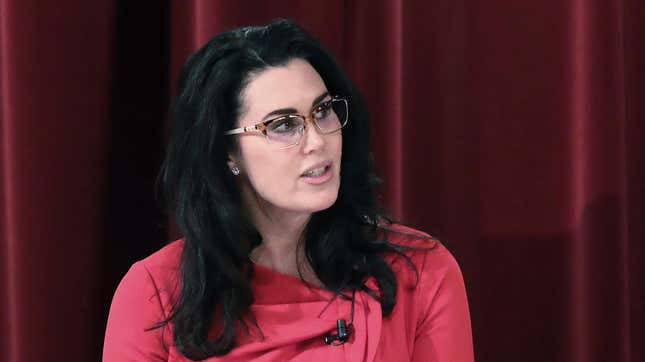 There's a pivotal election in April that you may not have heard about: A conservative judge on the Wisconsin Supreme Court is retiring, and four people are running in a race that could tip the body from its 4-3 conservative majority. It's not hyperbole to say that whoever wins the race will determine whether the state's abortion ban gets overturned and could rule on the outcome of the 2024 presidential election. (The two candidates in the race who support abortion rights are Judges Janet Protasiewicz and Everett Mitchell.)
According to local news reports, Waukesha County Judge Jennifer Dorow, a conservative candidate, and her husband Brian, are developing an indoor gun range that would not only host weddings and other events, but would also serve alcohol. The couple requested a Class B liquor license to sell beer and wine to members and guests in the "clubhouse." The range would also sell firearms and accessories on-site. The Dorows said in city documents that they devised an "alcohol safety policy" consisting of hand stamps to prevent members from entering the shooting range after drinking and a breathalyzer to be used on "suspicious individuals."
The couple purchased the former Hartland Sportsman's Club and renamed it Delafield Oaks Range. The Milkwaukee Journal Sentinel noted in 2021 that the club is no stranger to controversy: "The gun club and the city have been in a series of legal battles for the last decade after the city revoked the club's permit in 2010 when a bullet grazed a pregnant woman who was dining on the outdoor patio at the Delafield Brewhaus about a quarter-mile away."
Dorow mentioned the project at a January meeting of the Republican Women of Southeast Wisconsin in audio obtained by Jezebel. "My husband and I actually are developing a state of the art range in Waukesha County. We bought the old Hartland Sportsman's Club. And so that's just a little project that we have going on."
Dorow's campaign did not immediately respond to Jezebel's request for comment.
Brian Dorow is a former a former City of Waukesha police supervisor who worked in the Trump administration as a deputy assistant secretary at the U.S. Department of Homeland Security. He defended the couple's request to seek a liquor license to the Delafield Plan Commission in 2021. "It's pretty common when you look at Wern Valley (Sportsmen's Club in Waukesha). Clearly, there's a separation," he said. "You're not having a glass of wine and shooting. You're clearly done for the day, your gun and ammunition is in the vehicle, and you come and have a social drink or two."
The city approved the plan in March 2022, and the Delafield Oaks Range was originally expected to open by the end of that year but has not yet.
The New York Times reported on Wednesday that Dorow said in a 2016 questionnaire that she believed the worst Supreme Court decision was Lawrence v. Texas, the case legalizing intimacy in same-sex relationships. She was appointed by former Gov. Scott Walker (R) and was recently endorsed by Wisconsin Right to Life. Democratic Party of Wisconsin communications director Joe Oslund said in a statement that "it would appear anti-abortion extremists have found an ally in Jennifer Dorow."
There's a primary on February 21 that will narrow the field to the top two candidates. Don't say you weren't warned, Wisconsin.