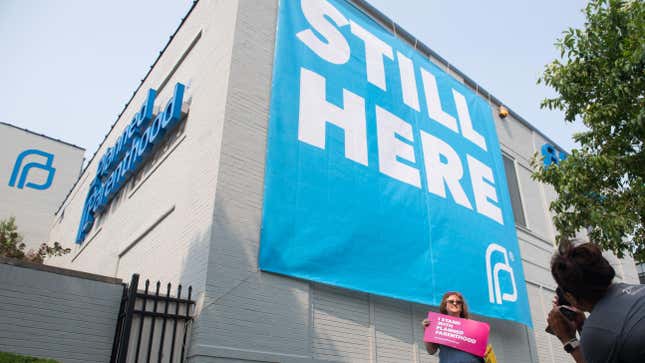 After Wisconsinites went over a year without access to abortion, Planned Parenthood resumed offering abortion services at the organization's clinics in Madison and Milwaukee, Wisconsin on Monday. The news follows a recent ruling from a state judge that determined a pre-Civil War trigger law from 1849—which automatically banned abortion in the state after the Supreme Court overturned Roe v. Wade—doesn't actually apply to medical abortion.

UterUs Weekly: February 11, 2022
"There is no such thing as an '1849 Abortion Ban' in Wisconsin," Dane County Circuit Judge Diane Schlipper ruled in July. She wrote that the law's language, which states that "any person, other than the mother, who intentionally destroys the life of an unborn child is guilty of a Class H felony," is referring to "feticide," not voluntary abortion.
Planned Parenthood of Wisconsin told the Associated Press that appointments for Monday at its clinic in Madison were completely booked within 24 hours of the organization's announcement that they were resuming abortion services.
The lawsuit against the 174-year-old law—filed by Wisconsin Gov. Tony Evers (D) and Attorney General Josh Kaul (D) after Roe was overturned—could still end up in front of Wisconsin's Supreme Court (which flipped to liberal control for the first time in 15 years in August). But, in a video message last week, Tanya Atkinson, PPWI president and CEO, said Planned Parenthood felt confident in resuming services since Schlipper's ruling "made it clear" that the law "is not enforceable." She said the decision to suspend the organization's abortion services last year was "agonizing" but necessary to "protect the physicians and staff who care for patients and communities, to protect those providers from the threat of being prosecuted."
Cynthia Lin, board president of Wisconsin's Women's Medical Fund which funds abortion services, told Jezebel that the 1849 law has been "devastating" for pregnant people in the state, especially as many callers were confused and unaware that they even had the option to get abortion elsewhere after it became illegal.
In the last year, we've seen particularly outlandish attempts by top anti-abortion politicians in Wisconsin to justify the archaic law, including Sen. Ron Johnson (R-WI) stating at campaign events last fall that he'd support a referendum for abortion rights—if and only if voters stared at embryos and fetuses in jars before casting their ballots. Earlier this year, Republicans in the legislature proposed a bill to seemingly soften the blow of their abortion ban with… a $1,000 tax credit offered to "parents" with "unborn children for whom a fetal heartbeat has been detected"—certainly on the low end for compensation for forced pregnancy, birth, and parenting. The Milwaukee Journal Sentinel also reported last fall that Pro-Life Wisconsin intended to use the state's 1849 ban and its language recognizing the personhood of an "unborn child" as an opening to "ban most common forms of contraception and birth control and prohibit in vitro fertilization."
Other abortion providers in Wisconsin will also start offering abortion services again. One provider, Dr. Kristin Lyerly, who also offers abortion services in Arizona, Minnesota, and Illinois, told the Wisconsin State Journal on Monday that she moved across state lines to Illinois to provide abortions with several other native Wisconsin providers last year, and often encounters patients from Wisconsin. "There's always a powerful moment when we are seeing a patient in Illinois and we ask them where they came from and they say 'Wisconsin,' and we say, 'We are too,' and there's just this immediate bond and understanding that all of us know that this is important care, and that we will do everything we can to make sure that they can access it," Lyerly said. She continued, "I'm really looking forward to coming back home. My kids are at home. My whole family's there and has been for generations."
The resumption of abortion services in Wisconsin is a rare, urgently needed post-Roe win, especially as abortion access continues to thin across the Midwest. Still, Lin says she and other abortion rights advocates in the state are being vigilant: "There still remains the shadow of uncertainty that this could be taken away from us, from one day to the next."