Hello, my Constellations, this is huge. Cosmic forces have aligned in such a way that time is just a concept. Pluto is out. Which means we've arrived at the intersection in space that allows for a galactic event of this magnitude wherein three special beings can connect on a cosmic level: Pharrell, Willow Smith, and Jaden Smith.
This is a conversation about LIFE. And the nourishment is supplied to us by Interview magazine, which beamed Pharrell in from his solitary cube, located at 105-degrees longitude in the fifth dimension, to share discourse with a pair of righteous siblings known as Willow and Jaden Smith. And so it starts with Willow "thinking about the world," she tells Pharrell, who asks, "Do you guys ever feel any generational divide when you have a conversation with older folks?"
Willow says adults don't seem to get her and Jaden's "thought process." "I mean, I can definitely see things that have happened in the past that they're holding on to and things that are happening right now that bog them down, but this generation wants to transcend them," she says.
If you're deeply pregnant with wonderment right now, then read on.
This is what's it like to be a teen on social media right now:
WILLOW: Yep. I know so many kids who literally are, like, Instagram-famous. They have done nothing but post pictures on Instagram. And they have followings. People love to see them in person, but it's only because they post on their Instagram. It's literally crazy. Kids will paint a picture of themselves that is so far beyond who they actually are. It's like they're wearing someone else's skin.

PHARRELL: I love that there are pros and cons to all of it. I feel like your generation understands that. Some of them abuse it. And some just purely use it.

WILLOW: And then there's people, like me and Jaden, who want to utilize social media to elevate the consciousness of those people who feel like all they want from social media is to be famous. [laughs] Like, you can actually be a voice. You can actually say something that's inspiring and not just make people feel like you need to buy things and be a certain way.

G/O Media may get a commission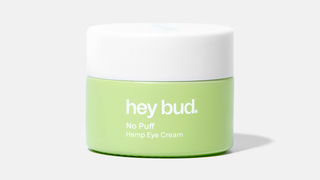 15% off
Hey Bud - No Puff Hemp Eye Cream
So what is it like to have a sibling who's on the same exact brain waves—on a neuron level I mean? Answers:

WILLOW: ...throughout us realizing ourselves and realizing each other, we just opened our eyes and were like, "Damn, you are the yin to my yang." Not a lot of siblings have that opportunity, because they're always being pushed together so much. They need their time apart in order to realize themselves and realize who they are.

Is it possible this is Willow and Jaden's most lucid interview yet? Jaden on sibling rivalry:
JADEN: Willow started making music first. I was like, "My younger sister is, like, 4, and she's making all these fire songs. What's happening?" Willow was doing all these things, about to have record label deals at like the age of 6, and I was like, "I feel like I'm underachieving."
They eventually got past that... around nine years old.
Later, Jaden admits, "Nobody knows that Willow and I were much, much cooler before. Like, before people were looking at the things that we were doing, we were so much more, like, method with fashion. We really went all the way. We went the extra mile on everything because there was no one looking at us. We've been through the roof, with ludicrous fashion ideas since we were extremely young."
Pharrell asks who are their favorite philosophers and the meaning of life arises:
WILLOW: I love Osho. I don't know if you would call him a philosopher; I would just call him a really cool dude. Osho really changed my life. Because the way that he spoke about emotion and the male and female energies in the world and how people react to the world around them, it's so simple, yet it has such a depth.


JADEN: I feel like that's accurate, the entire collective is very strong. And it made us realize that being aware in the moment of right now is just the most important thing. All of our issues come from us not being aware enough or not seeing through our problems to the depths of the issues.

PHARRELL: Do you guys have any philosophical questions that you'd like to present to the world that's going to read this?

JADEN: A question I would like to present to the world is: Where is the love? And what are we doing? Who's making the decisions that are putting us in the predicaments that we are in, with all of these people losing their lives around the world in so many different ways? I feel like a serious revolution needs to take place in order for human beings to evolve in a way where we can truly exist as a society. Because, right now, we do not act as a true society. We act as a world under terror, just scrambling to survive.

Read the whole thing here.