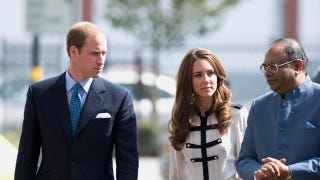 A lucky few can carry royal wedding obsession into the fall by visiting Kensington Palace, the London residence of Prince William and Duchess Catherine, for a Halloween ghost tour. A palace source says:
"For years now there have been rumors about Kensington Palace being haunted. In the evenings, the place has an atmosphere all of its own ... There are lots of strange and unusual stories which the warders have logged over the years. There are bumps in the night and that kind of thing. It's fascinating stuff and not for the faint-hearted."
William and Kate may be living a fairytale, but it isn't all tiaras and horse-drawn carriages. Sometimes you're forced to live in a creepy haunted mansion — and have members of the public traipsing through their home.