In response to the Yale's decision to bar the student-organized "Sex Week" from using the university's name and facilities, organizers have pledged to develop an alternate program. What's not yet clear is whether this program will change the role of corporate sponsors, including controversial sex toy company Pure Romance.
A press release distributed today by the organizers of Sex Week 2012 begins thus:
After campus incidents of misogyny, public intimidation, and complaints of inadequate responses to rape and sexual assault, recent reports have shown that Yale it has room to grow when it comes to sex. As Executive Directors of Sex Week 2012, we hope to help the administration to work with students in seeking answers to uncomfortable and challenging questions about sexuality.
It notes that Yale President Richard Levin offered Sex Week a chance to propose an alternate program in order to regain the use of Yale facilities, and concludes,
We will enthusiastically provide a proposal to President Levin and the Yale administration, including justifications for the week's events. In return, we expect the same thoughtfulness and respectful discourse that these relevant issues deserve.
G/O Media may get a commission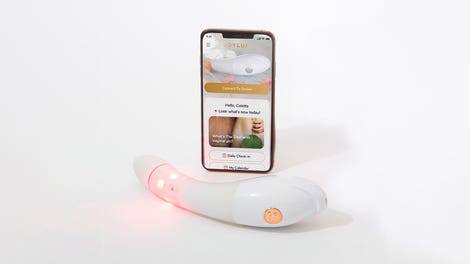 $50 Off
Joylux vFit Gold Device
The release largely takes a conciliatory tone. In an email to us, freshman Julia Calagiovanni was more critical of Levin's position. She wrote,
What I, and other feminists on campus, find especially infuriating is that 1. this was slipped into the report on campus sexual climate when it's quite clear that the overwhelming problem is a rape culture on campus & the administration's less-than-ideal response to it (there are still parties held by a particular offending fraternity!) as well as 2. the misguided argument that sex week/ the hookup culture are somehow contributing to this issue of sexual assault/violence, when I would argue that greater sexual empowerment is a defense against that.
She also felt that the decision to ban Sex Week from Yale's campus was a result of "the administration's squeamishness about seeming too controversial." Unsurprisingly, Bijan Aboutorabi of Undergraduates for a Better Yale College, which has campaigned against Sex Week in the past, has a different take. He felt his group influenced the president's decision, at least in part:
I would be loath to claim all the credit for UBYC — the link between Sex Week's sensationalism and unhealthy sexual attitudes is eminently apparent to common sense, and the Advisory Committee's report seems to suggest Sex Week was the target of behind-the-scenes discussions independent of our organization. That said, I'd be surprised if our advocacy hadn't influenced the Committee, especially since the Committee so explicitly echoes our suggestion that facilities be withheld from Sex Week.
Levin's suggestion that Sex Week had in the past led to the "private inurement" of organizers remains murky. Aboutorabi says his group has no specific knowledge about this:
Those of us in UBYC would certainly agree that Sex Week's corporatism, particularly its intimate ties with American Apparel and the dismally named Pure Romance, has something to do with its problematic nature. Sex Week has operated for years by harkening to the salacious commercial strategies of its donors, rather than attending to any genuine education about intimacy from which Yale students might benefit. On the other hand, if President Levin is referring to any suspected financial misconduct in connection with Sex Week, we can't assess that. It's certainly nothing we've ever heard of, nor does it appear to be alluded to in the Advisory Committee's report.
Pure Romance sponsored this year's Sex Weekwas slated to sponsor last year's Sex Week — the company organizes Tupperware-party-style in-home sex toy sales events, and recruits women to become sellers themselves. Pure Romance announced that it would host two events in 2010, one of which was a sales party at a local bar. Commenter JulieSunday suggested that Pure Romance founder Patty Brisben (pictured above at Sex Week 2006) "recruited students to be reps (as they would do at any such engagement)" — we've asked both Sex Week organizers and Pure Romance if this occurred, and if Sex Week organizers received any free merchandise or personal monetary compensation for facilitating the company's appearance at Sex Week. Sex Week organizers vehemently denied the latter in a Yale Daily News editorial: "it was inappropriate and defamatory to for Levin to implicitly accuse past student organizers of working for their own 'private inurement.'" But at this point, the former still seems likely — that is, it seems quite plausible that Pure Romance used its appearance at Yale as a sales and recruiting opportunity.
Of course, Pure Romance would be far from the first company to recruit at a top-flight university. However, the sex toy outfit has been criticized for its multi-level marketing practices, most famously on Penn & Teller's Bullshit!. Penn Jillette mostly makes silly porn jokes in the clip at left, and appears to find the very idea of a sex toy company amusing, but others (including JulieSunday) have gone so far as to call Pure Romance a "pyramid scheme." Whatever the case, Sex Week isn't supposed to be a career event, and sex education and sales probably shouldn't mix. I've asked the organizers whether their new plans will include a change in the role of corporate sponsors, but I haven't yet gotten a response.
Sex Week executive director Courtney Peters did send me this statement:
You may be wondering why Sex Week continues to use its original acronym, SWAY, despite a university banning of the name "Sex Week at Yale." Feeling more concerned with our newfound opportunities to incite healthy discourse about campus sexuality than with where we do so, SWAY now points to our higher mission: Sex Week All Year.

Let that begin today.
Update: The original version of this post stated that Pure Romance had sponsored this year's Sex Week, based on this press release, which appeared to be dated 2011. However, a member of the Pure Romance public relations team informed me that the release was actually from 2010, and moreoever, that the events described never took place. She wrote that "Pure Romance was not able to participate in Sex Week at Yale in 2010" due to "a number of factors, mainly scheduling conflicts and inclimate weather that prohibited travel" and that "in an official corporate capacity, Pure Romance hasn't been on campus for Sex Week at Yale since 2008." So was Levin's letter actually referring to events that took place in 2008? Were there other sponsors that Levin took issue with? Unfortunately, no one from the Yale administration has yet responded to my request for comment. However, I've contacted Sex Week organizers about the "inurement" allegations, and they've promised a swift response — hopefully that will shine some light on an issue that remains confusing.
Update 2: Courtney Peters sent this statement in answer to my followup questions — specifically, whether organizers had ever profited from Sex Week, whether Pure Romance had recruited at events, and whether they'd be changing the role of corporate sponsors in the future:
With regard to Sex Week's modified program, the Executive Board is still in the process of gathering constructive input from Yale students and student organizations, but we will be as transparent as possible as we progress towards a finalized schedule. Our goal above all else is the betterment of the undergraduate community at Yale, and we view increasing sexual literacy, dialogue, and respect on this campus as requisite.

To our knowledge, statements like "private inurement" or others that might suggest personal compensation for Sex Week Directors are not rooted in any fact. Nonetheless, we will continue to work and communicate with the Administration for the sake of bringing real issues concerning sex and sexuality to the table. We are excited about the opportunity to explain our position, especially in light of the Title IX investigation.

We understand that the term "corporate" is suspect to many, though it is worth noting that such funding is not unprecedented for student groups and that Sex Week sponsors have never had editorial input beyond their specific events.
Let's Talk About Sex [Yale Daily News]