Last July, the "all black" issue of Italian Vogue hit newsstands, but as Milan Fashion Week kicks off this week, it's a "whiteout," says Guy Trebay of The New York Times.
We noted that there were barely any black models on the runways in Milan last year. This year, writes Trebay:

While Giorgio Armani notably cast some black models for his Emporio Armani show, as did Donatella Versace for hers, there was not a single black (or Asian or Latino) face to be seen on the runways at Jil Sander, Missoni, Burberry, Trussardi, Bottega Veneta, Gianfranco Ferre, Roberto Cavalli or Prada.
(Armani and Versace had a few.)
The crazy thing is that there's a tabloid magazine, Urban, that's being given away at the men's shows this week, and the cover line is "Black Fever." The mag's editors claim that "From politics to fashion, photography to art," black is the color. And they don't mean hue — they mean black people. Except, of course, on the runways.
G/O Media may get a commission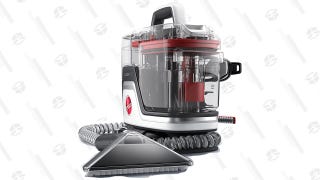 Save $10
Hoover CleanSlate Plus Carpet & Upholstery Cleaner
All of the models were white at the Gucci show, but Frida Giannini, Gucci's head designer, said: "I think it would be great if there was an industry initiative on this issue, because I am always looking for black models, or even Chinese or whatever, for the shows. I'm after a specific kind of look, and I request the agencies — I asked last season — to send me someone interesting. But they never send me anyone very new." And so begins the blame game: Designers and editors blame casting directors and model agencies; model agencies blame designers and editors. In fact, Trebay contacts NYC modeling agency owner George Brown, who flew several of his black models to Milan. Brown says: "They had some amazing options, options I'd never seen before on black guys," meaning some big designers put the models on hold. But: "The options fell off and we found the same line-up of white guys doing all the major shows."
Of course, these are the men's shows, and not the more consequential women's wear, but we'll see what happens: Can Italian designers really look through the "all black" issue and not want to hire any of those ladies?
In Milan, Models Still Come in Only One Color [NY Times]
Earlier: On The Runways Of Milan, Color Just Wasn't Considered Chic
Italian Vogue's "All Black" Issue: A Guided Tour
The "All Black" Issue Of Italian Vogue Is Officially A "Success"
The "All Black" Issue Of Italian Vogue: Both A Success And A Failure
Is Prada To Blame For the Lack Of Black Models?
[Image via New York Times.]