Are William and Catherine, Duke and Duchess of Cambridge, considering—even now—another pregnancy? Am I considering ordering a Belgian waffle for lunch? Who's to say?
When last we heard regarding the royal duo's family life, Vanity Fair was reporting on their countryside idyll at Amner Hall, socializing with "turnip toffs" and living very normally. Like, so normally. ("Mealtimes are hectic family occasions with pots of food served straight to the table.")
Well, we're due for another check-in, and these two stubbornly refuse to produce anything remotely like a scandal, and there's only so much hay one can make out of Kate's re-wearing clothing, and their visit to Canada isn't until the end of the month. Maybe they're trying for another baby? (Covering these two must be like spinning a wheel of fortune roughly the size of a bagel, because they won't ever actually do anything.)
Of course speculation on new royal womb occupants is as much a staple of tabloid news as watching Jennifer "It's a Fucking Burrito" Aniston's waistline for new developments. But this report is worth noting because it does come from US Weekly, the grand dame of the gossip mags. A "family friend" tells the tab—"exclusively"—that the pair "want a third baby soon" and "It would not surprise me if they were pregnant by Christmas." The source continues:
William and Kate are now eager to add to that idyllic family portrait. "I think they both would have been overwhelmed at the thought of a third child a year ago," says the friend, "but now it sounds perfect. They've both always wanted a big family."
G/O Media may get a commission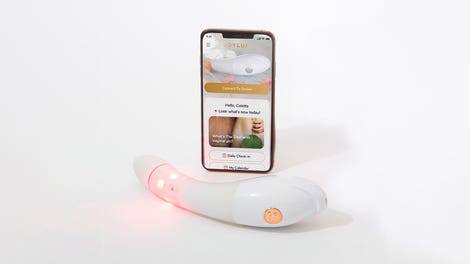 $50 Off
Joylux vFit Gold Device
Question: What family friend of Prince William's close enough to warrant the name would actually go leaking to US Weekly? It seems unlikely they're orchestrating some Mama Kris-style brand-management campaign, if only because they don't actually need American hearts and minds. You'd think any gossipy friends would've been weeded out by the successive births of George and Charlotte. Is it perhaps not so much a "family friend" as a "now ex-girlfriend of one of William's school pals widely ignored by their social circle but not wholly ostracized"? It could be a chatty Middleton friend, of course—less preoccupied with privacy.
Or perhaps it's someone who feels comfortable with the odds that a couple in the mid-30s with two kids aged three years and sixteen months whose job revolves around securing the line of succession would go for a third baby at some point in the near future. After all, it's not like they have to worry about the cost of college or—even worse—the cost of childcare.