You've heard it all before: Relationship totally 100% healthy and not headed for doom in any way; wife picks up dirty book for a little light beach reading; WIFE FUCKING LOVES IT; wife buys erotic underpants and wiggles around in front of husband; husband does crossword puzzle; wife demands intercourse and naughty beatings; husband is like "what, no, that book is gross"; DIVORCE.
An old, old story.
And a story that's currently tearing one family apart:
...'The woman had been reading the book and wanted to spice up her love life.

'She thought their sex life had hit a rut – he never remembered Valentine's Day and he never complimented her on her appearance. So she bought sexy underwear in an attempt to get her husband more involved. She said, "Let's make things more interesting".

'But when he still didn't take any notice she told him he had a boring attitude to sex and she was fed up.

'He went ballistic when he found out the name of the book she was reading and told her, "It's all because you have been reading that bloody book".'
Oh man, I can't believe Fifty Shades of Grey totally broke this couple up—it sounds like they are really into each other and would never, ever have separated if the wife hadn't gotten big ideas about riding crops and such from that bloody book. Curse you, erotic fan fiction!!! ENEMY OF LOVE.
Now she has petitioned for divorce citing his alleged low libido as evidence of 'unreasonable behaviour', one of the five grounds for divorce under English law. The wife's solicitor, Amanda McAlister, a family law expert, believes the case is the first where the new phenomenon of 'mummy porn' has triggered a divorce.
G/O Media may get a commission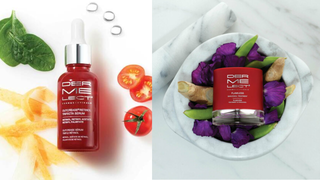 Save $19
Retinol Renewal Kit
LOL @ "mummy porn."
50 Shades of Divorce: Wife 'inspired' by erotic book says husband failed to meet her expectations [DailyMail]
Photo credit: dolgachov / Stockfresh.