Women with $4,000 to spend on a designer dress who wear sizes 10-20: Saks Fifth Avenue will soon deign to accept your cash. In an unexpected move, the retailer will begin stocking plus-sized women's wear from many top designers.
Racked reports that the New York store is going to start by stocking its fall/winter clothes in bigger sizes, and then evaluate the consumer reaction before considering a roll-out to other stores:
Saks Fifth Avenue is about to become the only major retailer in the city to carry plus-sized womenswear by names like Chanel and Dolce & Gabbana. Coming very soon to the department store's super high-end third floor, fall and winter plus-sized pieces will be mixed right in with existing stock — most of which would formerly have only been available in sizes ranging to a 10. Stock will reach size 14 across the board, and in some cases — depending on the brand — will go up to a size 20.
Among the brands involved are Alexander McQueen, Armani, Carolina Herrera, Donna Karan, Oscar de la Renta, Max Mara, Valentino, Michael Kors, Yves Saint Laurent, Fendi, and Roberto Cavalli. These are pricey offerings from top designers' main lines — not the cheaper diffusion collections many of the aforementioned group also offer. While this means very few larger women will be able to actually afford what Saks is offering for fall, it's still significant because designer collections have such industry prestige. Wallets, sunglasses, and perfumes may be where the sales volume is highest, but it's the runway creations that are used in the campaigns and photographed in the magazines. These clothes are the stuff of fashion's image machine.
Considering how plus-size customers, even wealthy ones, have long been treated as fashion's poor relation, this is a pretty significant move. (And, like everything in fashion, we hope one that influences the smaller labels and mass-market retailers that could better serve customers who wear larger sizes.) It's also a move that raises a lot of questions. Could this be happening because the shitty economy no longer gives stores and designers the option to ignore the customers it used to disdain? High-end brands tend to have smaller cuts — how big will a size 20 Valentino dress be, really? A size 16? And which brands will be available in up to size 20, and which will only go up to size 14? How soon are we likely to see plus-size clothing for sale at other Saks locations? Was it hard to convince these labels to come on board, or were they willing?
G/O Media may get a commission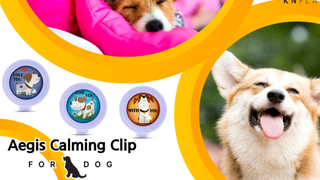 20% off
Aegis Calming Clip for Dogs
The funny thing is, for the past two days, we've been trying to put these questions to Saks Fifth Avenue and to representatives for several of the brands (Chanel, YSL, and McQueen) involved. To date, we've not heard a peep back from any of the brands, and from Saks all we ever got was a 114-word statement ("Saks Fifth Avenue looks forward to the expansion of our designer product offering, which will enable more of our customers to look and feel their best...") addressed to someone named "Kelly."
Sometimes in fashion, it seems like people only want to pay lip service to meeting the needs of a wider range of women, and not actually do anything; but now that someone's doing something, nobody wants to talk about it.