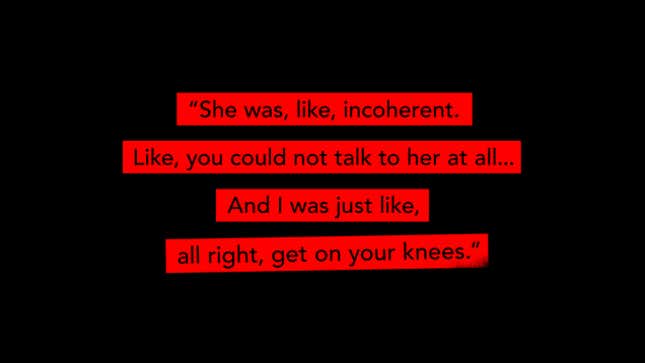 The audio on the recording is clear and crisp. The boy slurs his words slightly, but the sentiment is unmistakable.
"She was asleep," he says. "She was, like, incoherent. Like, you could not talk to her at all... And I was just like, all right, get on your knees. And she did. And I just fucked the shit out of her, man. It just happened. She was passed out. I pulled her little tiny-ass shorts she had to the side and I just fucked the shit out of her."
The families and friends of three teenage girls in Norman, Oklahoma, have contacted Jezebel to allege that they were each raped by a former classmate at Norman High School. They say that the voice on that recording is their 18-year-old assailant, admitting to one of the rapes, a 16-year-old he allegedly assaulted on Friday, September 19. He allegedly also raped another girl, a 14-year-old student, four days later. After the families of those two girls began publicizing what had happened to them through a Facebook group, a third girl, also 16, came forward to allege that he had raped her in January, in a bathroom at Norman High during lunchtime.
The families say the teenager has been kicked out of Norman High—not for rape, but for disseminating the video of himself penetrating one of his alleged victims, the 16-year-old he raped in September, whom we'll call Grace. (The names of all three girls are being withheld, as they are both minors and alleged victims of sex crimes. The names of their family members have also been changed, and other details that could identify them are also being withheld. Since the teenager has not been criminally charged, Jezebel will also withhold his name until it is made public by law enforcement.)
Detective Ron Collett of the Norman Police Department confirms there is an ongoing criminal investigation into an alleged rape involving Norman High School students.
"There is an active investigation, yes," he tells Jezebel. "There is one suspect and multiple victims."
There's no timeline for when charges might be filed against the teenager, whom we will call Brian. In the meantime, he remains free. The girls he allegedly raped have all voluntarily left the school they attended together, Norman High School. Their families say they were hounded out of Norman High by merciless taunting from their classmates about the rapes, and, in one case, a physical assault.
A local feminist knitting circle in Norman has banded together to publicize what has happened to the girls. (They contacted Jezebel with their story and facilitated our contacting the girls and their families for interviews.) Together with the girls and their families, they accuse Norman High administrators of badly mishandling the aftermath of the rapes, allowing all three girls to be bullied mercilessly by their schoolmates until they saw no other choice but to leave. This is despite a detailed anti-bullying policy at Norman, one spelled out in the school's 2013-2014 handbook, which clearly bans both in-person and online bullying, which all the girls say they experienced in spades.
Grace, the 16-year-old who was allegedly raped in September, returned to school after being absent for two weeks following the assault. Word had traveled fast, as had a short video of the assault, allegedly shot by Brian.
The day she returned, her mother told me, Grace was immediately approached in a school hallway by another student.
"I hear you love being raped in the ass," he said to Grace, as she remembers it.
Grace was holding a heavy book bag. She swung it at the boy. Her boyfriend, standing nearby, punched him. All three were suspended.
When Grace's mother contacted the school to complain about her daughter's treatment and its alleged cause, she says a school administrator told her, "Maybe you should keep her out of school until this calms down." When Grace's mother emailed the boy who'd made the comment to ask him to be kinder to her daughter, he replied, according to a screenshot of the exchange provided to Jezebel, "Your daughter sleeps around. A harlet [sic]. I saw a video of her and she was moaning like she loved it."
The other two girls share similar stories: they say they were raped by Brian and then mocked mercilessly at school for it. Norman administrators, they say, did little to respond.
Grace still hasn't returned to school. She's now being tutored at home by a Norman High teacher, although her family says it took nearly a month for that to be arranged. The other 16-year-old who says she was raped by Brian, whom we'll call Katie, has transferred to an alternative high school and is on track to graduate this year, but is still upset that she couldn't finish at Norman.
But while the older girls are (barely) hanging in and getting some kind of education, the 14-year-old, Amber, is struggling. She says she was confronted about the rape at both Norman High School and Norman North, the other public high school in town, when she tried transferring there. For the past two weeks, she's refused to go school at all.
"I'm scared," she says. "I know I'm not safe if I go back now. I just want to get my education and be happy at school and live a normal life."
---

I first called Grace and her mother, Jan, in early November. Jan got on the phone with me, because Grace couldn't. I could hear her in the background, sobbing.
"I've already told so many people!" she said, through tears.
Jan consoled her daughter, and told me that she first became aware that something was wrong on Saturday, September 20, when Grace came downstairs and said to her, "Mama, I hurt."
Grace had attended a party the night before. Brian was there, along with her boyfriend and a few other people. She was drinking and her memory is fuzzy, but she recalls leaving the party with Brian around 10 p.m. to grab a ride home. Her last real memory was arriving at a gas station three minutes from her house. Then she remembers very little until the following morning, when she awoke with pain radiating from her lower body.
"She said, 'Mama, I think something happened last night, I'm hurting,'" Jan remembers.
"What do you think happened?" Jan asked. Grace didn't know. She went to take a bath and found that blood and feces were coming out of her. Then the text messages started.
"She started getting messages saying that people knew she had cheated on her boyfriend," Jan says. Not long after, someone else sent her a video by Facebook message: It was a 10-second clip of Grace being anally penetrated. In the video, her mother said, she could faintly be heard moaning or screaming. (Jezebel has not seen the video and cannot independently verify its existence.)
Grace started texting with Brian, demanding to know what had happened. (Screenshots of those text messages have been provided to Jezebel; again, we cannot independently verify their authenticity. Grace's family says they have also been turned over to the police. Detective Collett writes, in response to our question, "Evidence gathered in one of the cases includes cell phones that do contain SMS and other messaging between victim and suspect.")
"I just remembered laying down in your truck..screaming.." Grace writes in the alleged exchange. "I know something happened."
According to Grace, Brian at first insisted that nothing had happened: "I think I'd remember fucking you, [Grace.]" He also said "u got to stop being the only hot chick drinking." As the conversation wound on, though, Grace kept pressing him, growing more and more upset and more certain that she'd been taken advantage of: "You took a video of you fucking me in the ass. You fucking rapped [sic] me. I can't believe you…"
Finally, Grace alleges—and the texts, if legitimate, confirm—that Brian owned up, texting back: "I wanted to forget about last night, I feel so bad.. that's why I said I don't remember." He also said he was "just as drunk" as Grace, adding, "You want me to send u the video, because you looked like you were enjoying yourself. So stop saying I took advantage of u and we can both learn from our mistake." He also threatened to "sell" the video to the freshman class, then said, quickly, that he was joking. (Note: After this story was published, a knitting circle member got in touch to clarify that Grace believed he was threatening to sell the videos to a "freshman"-themed porn site, not to the freshman class.)
Here are some of those screenshots, as provided to Jezebel: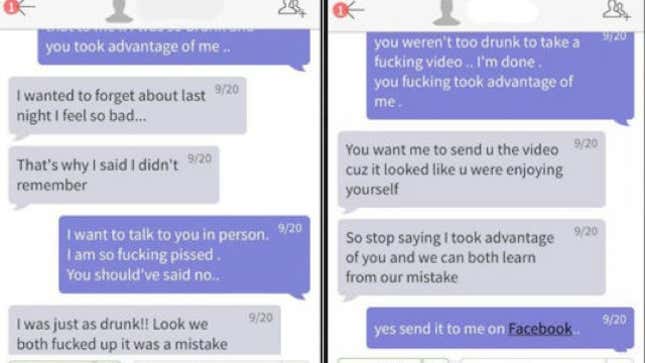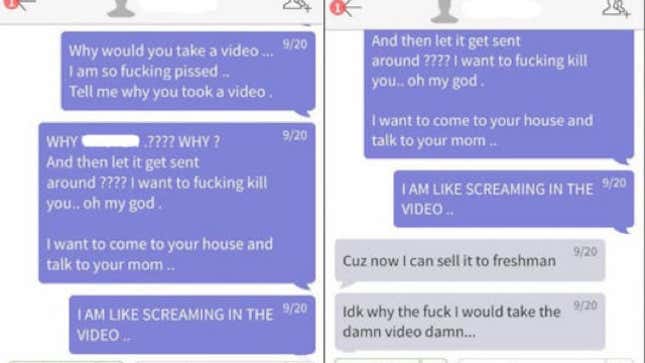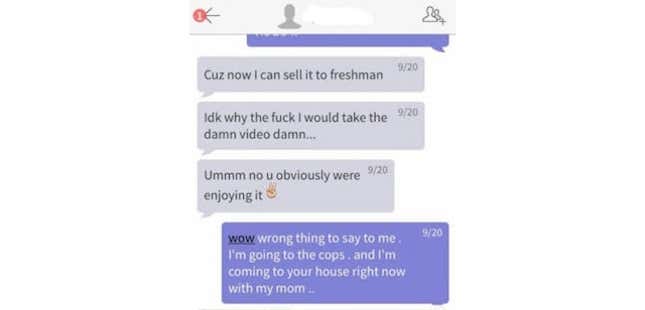 Jan and Grace went to the police later that day. The first police officer they spoke to, a woman, "was really uncool," Jan says. "She didn't give us the right advice." According to her, the officer told them, "Well, because she already took a bath there's no need to go to the hospital for a rape kit." A rape exam was only performed four days later, when a detective was assigned to the case and told the family to go to a rape crisis center.
In the meantime, another student says Brian showed up at his house on Saturday morning and started talking about the rape.
"He was still drunk and stuff and talking about it," the boy told me over the phone recently. (His name is being withheld.) As he listened to Brian talk, he says, "I knew right off the bat it wasn't cool. Like, that's not cool to do. I don't care if you are my buddy, honestly, that's some heinous stuff to do somebody." He says he pulled out his phone and started to record the audio. "What bothered me the most is he thought it was funny."
Later, he shared the recording with Grace, playing the audio through the speakers in his car. She recorded it onto her own phone. Here is the video she recorded, as provided to Jezebel:
The rape allegedly happened on Friday night. Jan went to Norman High School the first thing on Monday morning, armed with the recording of Brian. She says she talked to one specific school administrator. (The school district would not confirm the administrator's identity to Jezebel.)
"They did expel him right away," Jan says. "They did great as far as that goes."
Norman Public School's public relations officer, Shelly Hickman, writes in an email to Jezebel that the teenager was actually suspended for the remainder of the year. She also forwarded us a letter to school parents from principal Scott Beck.
In the letter, Beck referred to one rape, which he said had occurred off-campus months ago, adding, "NHS took the strongest disciplinary action against the alleged assailant permitted by Oklahoma law, and we have also been fully cooperating with the Norman Police Department, who have been conducting an investigation."
Beck also hit back against allegations that the school had punished the victims, writing, "Despite what rumors on social media may indicate, we have not—and would never—discipline a victim for being a victim."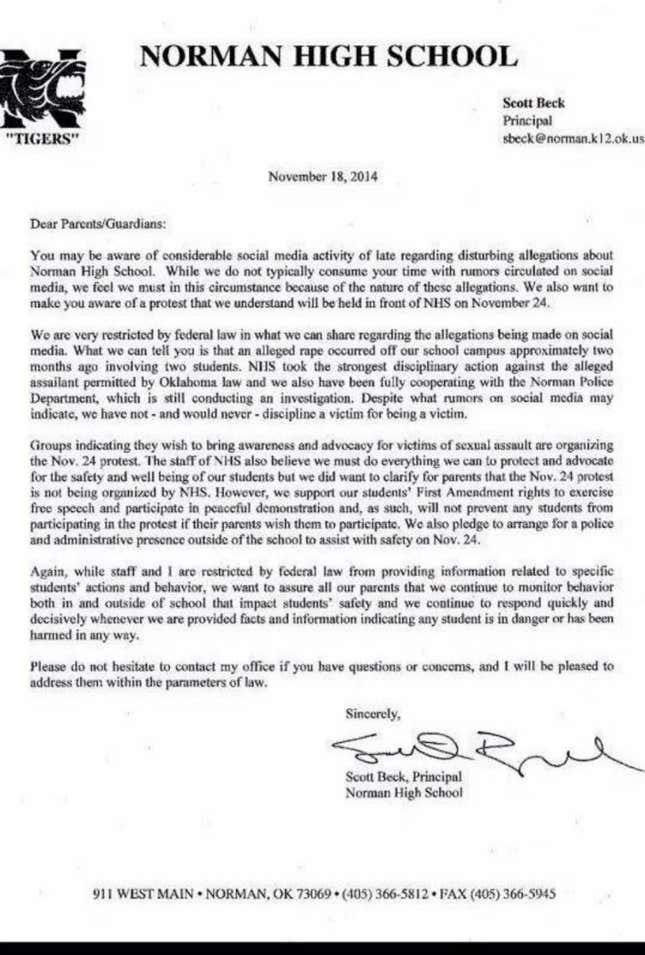 Hickman told Jezebel that federal student privacy laws forbid her from responding to some of our questions about the district's handling of the alleged incidents.
"The district is greatly restricted from commenting or providing information related to specific students because of the federal FERPA law," she said, adding:
While individuals can assert allegations against the district, we are often—as we are in this case—hamstrung to offer facts and information related to the allegations. I am legally able to share that the "strongest disciplinary action" permitted by Oklahoma law that is referenced in Principal Beck's letter is suspension for the remainder of the school year.
Brian, when suspended, was a Norman High senior. When we asked whether he would be permitted to return the following year, or if he planned to, Hickman replied, "It would be speculation on my part to predict what a student and his/her family may decide in the future. I really wish I was at liberty to provide more information, but I hope you understand that because of FERPA I'm just not." Hickman later wrote in an email that the district "categorically denied" Grace and Amber's interpretations of their respective suspensions:
We categorically deny we suspended alleged victims for being victims or are preventing a victim from attending school. Any time a student is suspended, signed paperwork is given to their parent and/or guardian. Moreover, it is illegal to arbitrarily prevent a student from attending school in the absence of a suspension, and suspensions by a school can be challenged by a parent before the superintendent and Board of Education if parents/guardians believe it was unjust. We also categorically deny we knowingly ignore, condone and fail to respond to bullying when we are aware it has occurred or receive complaints that it has occurred. Our policy is to immediately investigate, gather any facts and evidence, and respond appropriately and decisively. Facts and evidence could include but are not limited to documentation like texts, emails, screen shots and statements by victims and/or witnesses and, in the case of it happening on one of our campuses, we even have campus video from which to draw. As you have observed by the wording of our bullying policy, we take it very seriously in the Norman Public Schools.
The very first day Grace was finally able to return to school after the rape—or, in her mother's words, "when she was brave enough to go on and go back"—Jan says that her daughter was approached by the student who made the comment about her "loving" being "raped in the ass." After she swung the book bag at him, Jan says, "she was suspended for three days." As they were in the parking lot after signing the paperwork for the three-day suspension, Jan says, the administrator said it wouldn't be a good idea for her to come back at all this semester. (The administrator did not respond to a request for comment from Jezebel.)
"I just don't think she's ready for school," Jan remembers the woman saying to her. "She needs to come back when it calms down next semester."
Jan says she and her daughter were stunned into silence. "We just went home."
Grace's teachers were supposed to send work home for her, Jan says, but a few days went by without that happening. The school then promised to send a teacher to the house, Jan says, but it was over a month before he showed up.
Jan has gotten progressively angrier about the school's handling of the boy who made the comments to Grace. She wishes she had been prepared to fight it, to ask the school to get rid of the bully instead of her daughter. " I've never dealt with this. I didn't know I could fight this and get rid of the bully instead of my daughter," she says. "I guess they just thought we'd take it laying down."
---
The following Tuesday, a 14-year-old girl we'll call Amber says she met Brian at a youth group night at a large local church. Although she knew some of his friends, Amber, a Norman High freshman, hadn't spent much time around Brian. But he immediately made a good impression as they all stood around his pickup truck in the church parking lot.
"He seemed really cool and relaxed," she said in a recent phone interview. His being kicked out quickly came up, she says. "We were talking and my friend goes, 'Hey Brian, why aren't you in school anymore?' He kind of rolled his eyes and said, 'They accused me of raping [Grace].'"
That allegation was met with scorn by the whole group, Amber says. "Multiple people said 'She's just a whore anyway.'"
Amber didn't quite know what to think. "I didn't know [Grace]. I'd seen her around at school. I thought that it was just some kinda joke."
As she remembers it, Brian soon said, "I obviously didn't rape her," and then showed the group the video on his phone of him penetrating Grace.
"It did not look like she was raped," says Amber. "It looked like she was screaming. If I wouldn't have known her side, then you never would've known."
After that, they all sat around in the parking lot for a while longer. Amber and her friend both said they had headaches, and Brian, she says, quickly offered them both pills from an Advil container. Her friend disappeared off with her boyfriend and Amber remained alone with Brian and a number of other people she didn't know well.
Then, she says, Brian produced a blunt and said to her, "This is for you." The blunt looked and sounded odd, she says. "It crackled a lot. It sounded like glass was in there. It sounded like something was being moved around in there."
She was already feeling lightheaded and dizzy before she smoked; after a few puffs, Amber started to "pass out on and off," she says. "I was hallucinating. I didn't know why it was hitting me so hard. It never crossed my mind that he could've drugged me."
As she sat there growing woozier, the boys in the group were getting "amped," she says. "They were like, let's go beat up [Adam]," Grace's boyfriend. They drove over to the apartment complex where he lives. She doesn't know if the boys actually beat Adam up; they disappeared, while Brian remained with her and a couple of other girls. At that point, she says, she was hallucinating fire in the distance, police cars driving by, and other things that everyone in the group told her weren't actually there. She could feel her eyelids drooping.
When the boys returned, Brian said he would take them and Amber home. After everyone else was gone, "I got kinda scared. We were alone together."
They drove to Brian's house. She didn't want to get out of the car. "He's like, 'You need to come in.'" She did.
"We had to be kinda quiet because his mom was there," she remembers. "He said something about that. We went into his house and I started falling. He said, 'Do you want to sit on my bed?' I said yes. And I passed out. I woke up when it was happening."
Brian, she says, was anally penetrating her. She started thrashing, kicking things off the bed in an effort to get him away or rouse his mother. Brian, she says, just said, "Good thing my mom is a heavy sleeper." (Brian's mother saw but did not respond to a Facebook message from Jezebel requesting comment for this story.)
"I would start to make as much noise as I can and he would just laugh at me," Amber says. She remembers saying "no" several times and asking, "Can we quit?" He didn't, she says. When it was over, he put her in the car and drove her back to a friend's house, who told her the next morning she came in the house "screaming and crying" and had to be held down until she fell asleep. She also says she immediately told the friend, "[Brian] raped me."
The next day, the friend's father drove the two to Norman High School. According to Amber, she tried to go to class, but was still feeling heavy and intoxicated from the previous night. By second period, she retreated to the school office, where she says she spoke to the same female administrator who handled Grace's case.
"I wasn't all there," she says. "I was in pain and still messed up from the night before. I was bleeding and I had a rip. I knew something had happened."
Amber told her story to the administrator and another school official with long blonde hair she didn't recognize. When she got up to the point where she entered Brian's room, memories of what he'd done starting to flood back. "I started crying," Amber says. The administrator, she says, told her to "never mind," and "keep on with the next part." Amber was left with the impression, she says, that, "she didn't want me to tell her that part"—the part about the rape.
The other school employee asked, "Honey, were you sexually assaulted?"
"I was just crying," Amber says. "I didn't say anything."
The administrator, she says, quickly said, "Never mind. Moving on," and called Amber's mother. When Amber's mother, Lettie, arrived, a school nurse was taking her daughter's heart rate.
According to both Amber and Lettie, the administrator said, "Your daughter didn't do anything she said she did last night. She didn't go to church. She went off, did drugs, got into a car with boys."
Amber was horrified. Her mom took her out of school and to the hospital, helping her to the car "because I couldn't walk on my own." The whole way there, she kept repeating the same thing over and over: "He raped me. He raped me."
At the emergency room, a nurse called police, and Amber says they did a rape kit while her mother tried to reach the adminstrator, who wasn't picking up her phone.
A couple days later, Amber says, the administrator left a phone message of her own for Lettie: Amber was suspended for 45 days, she said, for being under the influence of drugs on school property.
---
According to the terms of her suspension, Amber wasn't allowed on school property. Her mom had to pick up her work, but no one except her math teacher actually gave it to her.
Amber sat at home and stewed. "I was just left at home, no work, so stressed out," she says. "I kind of went into a great depression." Her mom set up an appointment with a woman she knew on the school board, and soon Amber got word that she'd only be suspended for 10 days, not 45. A stipulation for her early return was that she attend "drug meetings," she says.
Things didn't go well from the moment Amber came back from suspension, which she had half-expected. "Kids saw me get in a truck with him. My friend came over to my house and said it wouldn't be a good idea to go back because everybody knows." The prevailing speculation, she says, was that the allegations were "just a joke Grace and I came up with."
She says that as she walked in the front door of the school, another student approached her immediately. "You cheated on your boyfriend," she told Amber. "I know you're lying about [Brian] raping you." Another girl jumped in, Amber says, warning her, "You better watch out."
When she went to the office, she was told, "We're handling it." She refused to go back to class, telling school administrators that she was scared.
"They all said to leave school," she says. So she walked home. "My mom got so mad. I wasn't even there an hour."
The next day, Amber tried again. She made it as far as her first class, where, she says, another student turned around and said, "I hear you're telling people you were raped by [Brian]. You better watch your back, because that's my homie."
Amber went back to the office and told the administrator, who responded, "We're working on it." She was sent back to class.
"She seemed like she was really trying, you know?" Amber says. "And yet nothing was ever done."
Things got worse that day, Amber says, with two other female friends of Brian's as well as her ex-boyfriend telling her they were going to "jump" her. Her ex also informed her that Brian "would never do that, and that I was too messed up to really tell what was going on."
Amber retreated to the office of Norman High's main principal, Scott Beck, who sent her to one of the other counselors, a man with a tattoo on his arm whose name she didn't catch. "Just focus on your schoolwork and ignore all these people," she remembers him telling her.
Things were bearable for about a week, she says, and then "I messed up again. This time it was my fault." A group of boys came over to her house, and she performed oral sex on one. Another videotaped her without her knowledge, she says. "He showed the kids. Passed it around school. I was so, so embarrassed."
Amber says she went to the office, where the school administrators seemed to already know about the video. As Amber cried, she says, the administrator admonished her. "All she could say to me was 'You shouldn't have done that. Does this help your case with Brian?'"
She was supposed to go back to her fourth class of the day, biology. But she couldn't bring herself to go. "The teacher hated me," she says. "The kids hated me." So instead she ran across the street, to an abandoned grocery store, where she sat alone for a moment. Then, she says, the boy she performed oral sex on turned up.
"He said, 'First you lie about Brian, then you go and snitch you gave me a blowjob,'" she says, adding that he also told her, "you're going to be a in lot of trouble." He suggested that her boyfriend might be about to get jumped, and told her he'd send his girlfriend to beat her up, "if I have to."
Amber returned to school and made her way back to the office, intending to report these latest threats. "[The administrator] had been writing down a truancy ticket," she says. "She said if she can't help me and my mom can't help me she'd have to send me to the law, because maybe they can help change me. I didn't know what that means. She was dissing my mom, saying is she even at home, does she care about me, do I live by myself. She was talking about suspending me for the rest of the 45 days."
In an already-planned parent-teacher meeting the following day, Amber says her mother was told she was being "disruptive," although her grades were still straight As. Her mother pointed out that Amber had only started "being disruptive" after the alleged rape occurred, asking, "Does this not tell you something? Can you not tell it's because of this situation?"
Sometime during the meeting, Amber says, "someone in there came up with the idea to send me to Norman North," the other public high school. "My mom says it was [the administrator]. I felt like I was a lost cause. Nobody could help me."
Norman North went well for approximately one day, she says, until friends of Brian's told people there she was "bad news."
She started having panic attacks and became a daily visitor at the nurse's office. She made it two weeks and then quit going to school altogether. When I spoke to her, she'd been out for a week and a half. As yet, her mom hadn't been contacted about her truancy.
"Nobody likes me anywhere anymore," Amber says, matter-of-factly. "I can't do it."
Amber's mom says she's looking into online programs, but she remains frustrated that neither school did much to help her daughter.
For now, Amber says, "I just stay inside."
---
In early November, Grace and her mother Jan had grown increasingly frustrated with the bullying at the school. They decided to take their story to a local knitting circle, a group of women whom everyone in town refers to informally as "the feminist ladies."
Stacey Wright, who hosts the knitting circle, knew Jan only as a friend of a friend and didn't know Grace at all. She'd heard vaguely about what was going on at the high school, but didn't think too much about it.
"I thought there was just some high school drama," she tells Jezebel. After Jan and Grace relayed their stories, she says, "we just sat there with our jaws dropped. There weren't any of us in that room that didn't know that night we had to do something. These girls should be able to go to school."
Before they visited the knitting circle, Jan says, Grace was growing more and more despondent, and started to say she should have never told anyone about the rape at all.
"She just cried and laid around depressed," Jan says. She blames that in large part on the fact that she couldn't be in school. "You can't isolate someone who's been through something like this."
Jan says that, before long, Grace was saying she wished she'd never said anything. "Because she wanted to go back to school. That's sad. I asked the school when this was first happening about having an assembly, to bring light to the teachers and students to let them know this wouldn't be tolerated, but they were very hush-hush. [An administrator] basically said, 'We don't want everybody knowing. Only some of the students have seen it."
It's difficult to say how Norman High School administrators should have dealt with the allegations and the bullying, but a set of options nonetheless present themselves. If a video of Grace's assault was indeed circulating around the school, they could have warned the students that by watching it that they were breaking the law. Oklahoma state law specifically prohibits "the possession, distribution, or manufacturing of sexually explicit images of minors," a crime that is punishable with both jail time and mandatory registration as a sex offender.
The U.S. Department of Health and Human Services has a number of recommendations for preventing bullying in school settings, which, though very general, point to ways Norman could have improved their response. Among other things, the HHS guidelines recommend that staff should be trained to "intervene effectively on the spot," and hold follow-up meetings with both the bullied student and the students(s) doing the bullying.
But even to call what allegedly happened at Norman "bullying" falls short. If the girls' stories are accurate, their fellow students were engaged in a campaign of harassment, intimidation and silencing. Amber was specifically warned to "watch her back" if she talked about the rape, a statement that's tantamount to witness tampering.
Norman's own handbook warns that students who "bully, harass and/or intimidate others" will face "immediate disciplinary consequences." Students who participate in "making threats of any kind" are warned that they will immediately be suspended out-of-school for the rest of the semester. Yet none of that happened here. And neither the school district nor Norman High School mentions the words "sexual assault" or "rape" in their handbooks. The closest Norman High gets is saying that "touching someone without permission" is a form of harassment.
That kind of delicacy is unwise. It fails to acknowledge that sexual violence happens to high school students, or to give them a solid framework for how to respond. According to the CDC, a 2011 survey of high schoolers found "11.8% of girls and 4.5% of boys from grades 9-12 reported that they were forced to have sexual intercourse at some time in their lives." A growing number of school districts are creating specific rape prevention education programs, many of them funded by the Rape Prevention and Education Program, created by the CDC.
The Norman Police Department does have a "rape prevention and self defense" program called My Body My Life. But it's aimed only at women and girls and how they can "[learn] to live safely," without addressing boys at all or what they role might be in preventing sexual violence. On the program's homepage, Chief of Police Keith Humphrey praises it in an odd way, writing, " I applaud this program because it assists young women to develop an understanding that they are a precious commodity, and they can control their own destiny." (Calling a woman's body a "commodity" is a weird way to phrase things, and suggesting that they alone are responsible for protecting that "commodity" is perhaps not the precise message one wants to send to young girls.)
The knitting circle women created their own response: they set up a Facebook page on November 9, Yes all Daughters, telling Grace's story and calling for a school-wide walkout on Monday, November 24 at 9 a.m.
"While the school has a 'zero-tolerance' bullying policy, they've not implemented any real anti-bullying education," the page read, in part. "Her friends and fellow students have organized a peaceful walk out protest against this atrocity and her further victimization. They will gather Monday, November 24 outside the school to protest the administration's inaction."
The Facebook organizers also got in touch with Jezebel, asking us to investigate the story. Soon after, they contacted the local news. Things in Norman quickly started to heat up: On November 19, an anonymous YouTube user put the alleged audio of Brian confessing to Grace's rape on YouTube, paired with images of him pulled from his Facebook profile.
On November 20, Stacey Wright, her sister and niece outlined the case for the local media, backed by a group of student protesters. From the Daily Oklahoman:
Not long after the page was set up, a third girl got in touch with the knitting circle, alleging that she, too, had been raped by Brian during a brief relationship in January.
The girl, Katie, says she met Brian shortly after moving to Norman to live with a relative after being sexually abused by a parent.
"I met [Brian] and I really didn't like him at first," she says. "I thought he was a big douchebag, honestly. But I decided I was going to be nice one day. And so I got his number and we started dating. I was trying to be nice."
Katie says that he pressured her for sex throughout the relationship, demanding that she go into the bathroom with him at lunchtime. "So I would have sex with him—like, normal vaginal sex."
One day, the lunchtime routine started up: He pressured and cajoled her until she agreed to go into a bathroom. "I thought it'd be normal like the other days," she says. But instead, she alleges, he forced her into a corner and anally penetrated her.
"I tried to push him off me," she says wearily. "I said no. I told him didn't want to do it and it hurt and all that stuff. You know how that goes."
Afterward, Katie says, she stumbled outside and sat on the concrete, crying. She didn't want to go to her next class, which she had with him, but she pulled it together. "He said, 'Get your ass up, you're not making me late.'"
Katie says she didn't report the rape to anyone out of fear that she wouldn't be allowed to stay with her relative. She kept quiet, but, before long, started getting into fights: first, with a girl who called her a "slut" in the hall, then with another girl who told her to "stop talking shit" about Brian.
"The fights were all related to him," she says. "He also started a big rumor about me that I got trained on by four guys and I cheated on him. He'd sent around these pictures of me that he took. Everybody was mad at me and they were calling me a whore. I was this new girl—haven't even been there one semester and everybody hates me."
The worst fight was also Brian-related, she says. One morning between classes, "this girl comes up behind me, grabs my hair and slams my head down on the concrete floor. [Brian] instigated it." Katie says he later texted her, "You deserved that. I made that happen.'"
Katie was suspended from Norman High for two days for her involvement in the fight. Soon after, she says, "I dropped out of school. I walked out and told them I wasn't coming back."
She got her transcripts and considered going to Norman North, but only if she could attend a night program. "Everybody had seen it on Facebook. I was scared to go to that school."
Instead, she ended up in an alternative program, which she'll finish soon. It doesn't feel like a victory. "I'm graduating early but I missed the high school experience," she says. She gets sick a lot now, which she attributes to stress. She says she's now taking antidepressants, to "help with my anxiety," and that it's been helping. So does her friendship with Amber, whom she met through Stacey, from the knitting circle.
"We're like best friends now," Amber says proudly. The knitting circle also helped her to recently file a police report against Brian. (Detective Collett writes, "Two of the victims did submit to exams by a SANE [Sexual Assault Nurse Examiner]. There is a recently filed report on an incident that occurred in January. There was no SANE examination in that case.")
Jezebel contacted Brian for comment on this story, asking if he would like to respond to the allegations or refer us to an attorney who could do so on his behalf. He responded by asking, "How did you hear about this?" He declined to talk on the phone or via email, responding, "How about in person? Bc im still not sure what your intentions are so id like to meet u." When I offered a Skype or FaceTime interview with him or his lawyer, he stopped responding.
On November 18, principal Beck circulated the letter to Norman High's parents, generally referencing the allegations about Brian and Grace and promising no one was being victim-blamed. It concluded,
We want to assure all our parents that we continue to monitor behavior both in and out of school, and we continue to respond quickly and decisively whenever we are provided facts and information indicating any student is in danger or has been harmed in any way.
The letter also said that the students would not be prevented from protesting on November 24, and that the police and school administrators would be present to keep the students safe.
If you have more information about this story, please contact Anna Merlan.
Image by Jim Cooke