Congresswoman Debbie Wasserman Schulz disputed on Meet The Press yesterday that this is a "Year Of The Woman." It was a rare pronouncement — in part because it came from a female elected official on a Sunday show.
She also pushed back at Carly Fiorina about the oil spill and government accountability. But it was only her second appearance on a Sunday show this year. While the shows aren't as central as they used to be, they are still some of the most prominent, agenda-setting platforms in politics, but according to facts cited in in a Politico story today, only 13.5 percent of the congressional guests on the shows this year have been women.
Those aren't the only women who appear on the shows, of course — Doris Kearns Goodwin is a standby, as are several journalists and commentators, as well as Obama administration figures like Valerie Jarrett and Hillary Clinton. And the picture has gotten slightly better when it comes to the hosts — Candy Crowley now has her own show on CNN, and Christiane Amanpour is about to take over This Week. Still, the dynamics Politico's interviewees cite may also apply to any discussions of getting more women onscreen in influential positions. They basically break down to the following:
Men Still Hold The Influential Positions.
Politico notes, "In addition to Pelosi, only four women in the 111th Congress - all senators - currently sit in committee or leadership roles, according to the Center for American Women and Politics at Rutgers University." These shows are jockeying to get powerful people to say something newsbreaking; those powerful people are still mostly men. But given how press prominence can fuel other aspects of a political career, including fundraising and influence, this may partly be a chicken-and-egg situation.
Women Decline Invites.
Although some women do say they aren't being asked, an indisputably powerful woman, Nancy Pelosi, is said to refuse most invitations — partly because her press team doesn't want her to be "overexposed":
"I've probably asked her 25 times. She is just unwilling to do it," Betsy Fischer, executive producer of NBC's "Meet the Press," said of Pelosi. "Literally, I have our booker e-mail her every Monday, but she's not available. She does not seem to be making herself accessible."
G/O Media may get a commission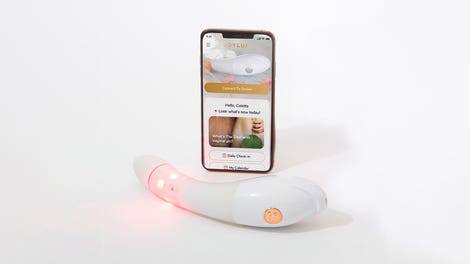 $50 Off
Joylux vFit Gold Device
There is also the implication that female elected officials are being undermined by their own family commitments — some semblance of work-life balance:
Sen. Claire McCaskill goes home almost every weekend to Missouri, where family plans often take precedence over Sunday shows. Sen. Olympia Snowe (R-Maine) tries to appear via satellite from her home in Bangor, Maine, where she travels almost every weekend. But it's a small media market with few studios to provide a remote shot.
Pelosi, Feinstein and Boxer - all key women - live on the West Coast, which would mean that even if a remote shot were possible the taping would have to be early, putting them in the chair as early as 6 a.m. for some shows.
it's not clear whether male elected officials have declined to appear on these shows on a similar basis — or even whether 6am call times have actually led Feinstein and Boxer to turn down invitations to appear on these shows.
Year Of The Woman or not, it's at least clear that this weekend on Meet The Press, it was boys against girls! They even got matching team uniforms.
Women Scarce On Sunday Shows [Politico]
Fiorina Regrets Bad Hair Day [NYP]
Wasserman Schulz: 2010 Not Yet A Year Of The Woman [Politico]