We recently spoke with Pussy Riot's Yekaterina "Katia" Samutsevich about her philosophical influences, sexism in activism, and the meaning behind the punk feminist collective's purposefully shocking name. Here are some highlights, culled from the questions you asked. (Side note: her Skype name is a play on "ass to mouth.")
Where does the name "Pussy Riot" come from?
From the very beginning, what attracted us was this idea of opposites, in terms of word juxtaposition, sort of, like power of contrast between words...a riot is something that is more associated with a male thing, that women don't participate in. And so, we played around with the other word, and the idea was taking something like Riot grrrl a little bit further and making it more radical. The term "pussy," which is used for young girls, seemed like the perfect contrast. But it was mostly about this opposition between two words and maximum power through juxtaposition.
Who are Pussy Riot's musical and ideological influences?
Each one of us is influenced by different philosophers, including [Gilles] Deleuze, [Roland] Barthes, and [Michel] Foucault, as well as more [modern] movements like Riot grrrl, The Yes Men, and Wikileaks.
G/O Media may get a commission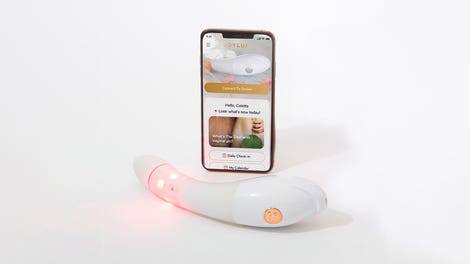 $50 Off
Joylux vFit Gold Device
What do you think of all the celebrity support you've received? Do you regret that any supporters co-opted your message?
All support is good support. It's hard to say who is more important or what is more important...we've had the support of superstars as well as the support of street-level activists, and I think the important thing is that the two have to be seen as interconnected. It's hard to disentangle them. All support is helpful.
Some Pussy Riot members have said in interviews that the collective is "open source." Can you talk more about that?
It's a completely open source idea, and on our website, when we would document performances, we would show everything; we'd put the text, and we'd even show some of the ways the performance was accomplished, because we are creating this conception of a performance group, hoping that other people across the world can do it in their own countries. The important thing is to diagnose problems in your own country. That being said, we're open, but we're not totally open: a group member has to be a female, has to have certain kinds of political views, has to be essentially a like-minded individual with us.
A lot of Western activist movements have really struggled to deal with sexism and inclusion of women. To what extent is that also true in Russia?
It's very similar in Russia: in activist circles, in terms of artistic activism, for anarchists...it is a very chauvinistic scene, in Russia as well as the West, you can be sure of it. We want to inspire people to take a stand against sexism in activist circles.
Do you feel what happened to Pussy Riot is a uniquely Russian issue, or is it part of a broader problem regarding freedom of speech throughout the world's most powerful countries?
There are two sides to it. Of course, there is a uniquely Russian part of the story, in the specific ways in which the charges were fabricated against us. But when one looks more broadly, one has to realize of course that the idea of trumped-up charges is nothing new and it occurs in places all over the world, unfortunately, so of course it's also a universal issue.
What does feminism mean to you?
Feminism means struggle for my gender. It's a struggle for visibility, putting gendered equality up front, instead of the second and third tier where it's usually placed.
Are you afraid of staying in Russia?
No. Why should we be afraid? This is our country. We speak the Russian language. What happened to us just makes us come up with new ways to defend ourselves. [Related: check out their new video.]
What can people outside of Russia do to help Nadezhda Tolokonnikova and Maria Alyokhina, the two members who are still in jail?
It's possible to make a difference without trying to push the government. You can write them letters, but they have to be in Russian; all of the information is at Free Pussy Riot. There's also a support fund set up at The Voice Project where you can learn more about helping with legal fees.
Special thanks to Maxim Pozdorovkin, who translated in real time and also directed Pussy Riot: A Punk Prayer, which you can and should watch on HBO GO.