Whitney Port is coming to the Internet cap-in-hand for money to pay for her September runway show at New York fashion week.
Port is making her request on Indiegogo — a crowd-funding site that, unlike its competitor Kickstarter (which has stringent rules for qualifying charitable and creative projects), allows anyone with an Internet connection to post any plea for any sum. No idea is turned away. "Showing [your line] can actually be one of the most exciting moments of a designer's life," explains Port in the accompanying video. "I'm doing something that's never been done before: the first-ever fan-supported fashion show at fashion week in New York. That means I'm asking you, the friends and fans who've made everything I do possible, to join the crowd-funding campaign."
Click the image above to see a screengrab of Port's Indiegogo fundraising page.
Port is seeking $50,000 "to put towards the hair and makeup, the space, the models, and so much more."
G/O Media may get a commission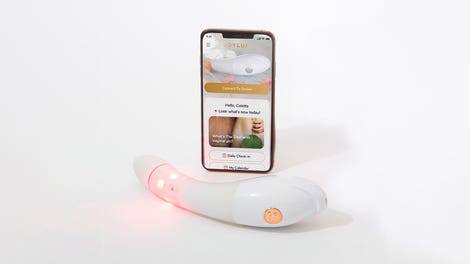 $50 Off
Joylux vFit Gold Device
What separates Port from your average friend-with-an-idea-for-a-movie-and-a-Kickstarter — aside from a lucrative background in reality TV — is that Port is essentially seeking a $50,000 investment for her small business. Only she's calling it a donation, as if her fashion line were a charity. Putting on a fashion show is a standard business expense for a designer fashion brand. Why isn't Port doing what other young designers do to grow their companies — get a bank loan, a financial backer, borrow money from family and friends, apply for industry awards and grants for emerging talent, or dig into her own pockets? Why isn't she seeking funding from individuals and institutions that understand the risks inherent in this type of investment and who are savvy enough to negotiate for an ownership stake? In exchange for your donations, Port is offering only recognition that ranges from "special thanks on my Facebook page" ($1) to a front-row seat at the show ($450).
Putting on a fashion show can be very costly, especially at Port's chosen venue of Lincoln Center. Last year, IMG — the entity that owns Mercedes-Benz New York Fashion Week — raised the rates on all of its show venues by an average of 8%. To rent the Box, the smallest space available for just the few hours it takes to mount and strike a show now costs $16,500. Last season, Port's line Whitney Eve showed at the Studio, a mid-sized venue that goes for $30,000. And then, of course, there are PR expenses, invitations, a stylist, a casting director, key makeup and hair artists and their teams, security, and all of the other budget line items that need to get paid. Nobody said working in fashion was easy. But Whitney Eve is a business. Port expects to make money from this show. Why should the public pay her for the pleasure?
Whitney Port seems an unlikely candidate for charity. The Hills, the reality show that launched her to fame, paid her a reported $20,000 per episode. Then she did her own spin-off, The City, for two seasons. She got a book deal. She endorses a zit treatment and John Frieda hair products. She's a judge on Britain & Ireland's Next Top Model. A single sponsored Tweet from Port will set you back $2500 (but if you give her $5 on Indiegogo, she'll Tweet at you in thanks). Her CAA Speakers profile page doesn't list a rate for securing her services as a public speaker, but does suggest topics a Whitney Port speech might address, including "Style: Injecting a Bit of Brightness into Every Outfit," "Living Life To Its Fullest: Accept the Invitation, Take Chances, and Enjoy Yourself!" and "The New Consumers: Using Technology to Connect and Communicate with a Changing Demographic."
Port also comes from a wealthy family. Port's father, Jeffrey Port, is the head of a Los Angeles apparel company called Swarm. He backed his daughter's fashion line at its inception in 2008, when it was called "Eve & A." Port and her four siblings all attended Crossroads, a tony Santa Monica prep school. (Tuition there is currently $31,900 per year for grades 6-12.) Whitney Port's net worth is estimated at $3.5 million.
Port's fundraising campaign has 40 days left. She has raked in a grand total of $415 so far.
Whitney Eve [Indiegogo]