In the past year, I've done a considerable amount of dating and I'm honestly exhausted. Dates are not only frequently disappointing, they're also expensive—I always insist on paying for myself. Well, after being introduced to the world of Sugaring, I may never do that again.
Ana Gasteyer Satirizes the Girl Boss in 'American Auto'
On Friday, I attended the Sugar Baby Summit, a conference organized by Seeking Arrangements, a website where Sugar Daddies connect with their Sugar Babies for mutually beneficial arrangements. Sugaring is mostly for rich men (and a small, small handful of wealthy women) who want companionship and are willing to pay for it. But becoming a popular Baby means networking, just like everything else these days, and the Summit was supposed to help with that. My expectations for the event were low. Men are often creeps, and they're often creeps everywhere, but it seems especially creepy to want to be called Daddy.
The summit was on an upper floor of a glass building at Columbus Circle with a view of the park; the rooms and halls are a neutral beige where brightly dressed and glamorously made-up women stand out like design accents. The invitation said business casual, but business casual means something else to people whose business depends on their physical appeal. I am underdressed and under-accessorized.

I briefly attended a panel on the main stage called "Sugar For Entrepreneurs," where both Babies and Daddies answer questions from moderator Alexis Germany, who hosts a podcast dedicated to the lifestyle called Let's Talk Sugar, and is PR manager for Seeking Arrangements. A speaker asked audience members to raise their hands if they're interested in starting their own businesses. Arms shoot up across the room. This was my first moment of surprise—the scope of the Sugar Baby ambition. I thought it stopped at cocktails and Louboutins, but some hopefuls want a Daddy to provide seed money for a whole company. Both a branding specialist and Baby, panelist Christina Friscia built her business with the assistance of her Daddy. She told the assembly it's important to see your Daddy as a partner, not a wallet, and that frequently, older successful men have more to share than cash, like experience and connections. In a way, that sounds much harder to find than someone with money.
G/O Media may get a commission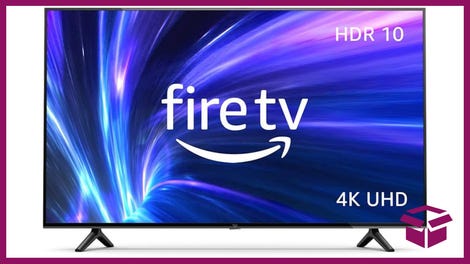 42% Off
Amazon Fire TV 50" 4K Smart TV
The day's panels have titles like Cultivating Confidence and Understanding Sexuality In The #MeToo Era. Some of the latter is playing on a monitor, and I catch a brief moment where a guest says she's tired of accusations that Sugaring promotes abuse. Most people in the lifestyle seem more frustrated by outside pressure than their own special arrangements. Since I feel fairly good on Confidence, I focus on my curiosity and end up talking to Baby after Baby about their Sugar journeys.

I'm introduced to Shannon Roy-Wyatt, who had told her story on the entrepreneur panel; she says her SD (Sugar Daddy) gave her the funds for cosmetology school and eventually her salon business. Roy-Wyatt now does hair—and still dips in the Sugar Bowl. She later tells me that the money from her SD allowed her to start a new program with girls from the Washington D.C. foster care system, called Beauty Besties. With the organization, she arranges for groups of girls to go out to lunch with successful women from the area, and get some lessons on things like styling hair, make-up, and what she calls the basics of being a woman.
"It's hard going through puberty when you have no mother," Roy-Wyatt says. "I wanted to show them it doesn't stay so hard. It gets hard, but it doesn't stay so hard."
Every Sugar Baby I speak with is quick to point out that the most common misconception they face is the idea that they are sex workers. None deny occasionally having intimate relations, but most want to emphasize that being a SB is just another style of dating. A better one.
Roy-Wyatt says she truly enjoys educating people about what she does.
"I'm honestly not what they expect of a Sugar Baby. When they hear that they're like, 'You?" she says, "Yes. Me. Like, I've just broken your concept of what a Sugar Baby is, So now you have nothing to do but listen to what I have to say about this."
She adds, "People are scared of what they don't think is traditional."
At the summit, I mostly feel the differences between myself and the women invested in being full-or-part-time Sugar Babies. Aside from missing their special polish, I just don't think I have the temperament. Could I be friendly, even to a man I wasn't attracted to? Would I be able to extricate myself from a situation if someone made me uncomfortable? Would I be able to fashion my personality to please another person? But something else Roy-Wyatt says haunts me:
"We've dated a lot of people who can give us nothing. Why?"
A series of wasted evenings flash through my mind. Most women who have given dating men a shot have probably experienced what it's like to date guys they're not into, without a guarantee those guys will respect their boundaries or personhood, for whom they may have changed some aspect of themselves. And they probably had to cover their own drinks the whole freaking time.
Only a week before attending the summit, I was ranting to a friend about how many men message me on regular apps asking for what amounts to, in my mind, free sex work. They don't want to spend money on a professional, but they also don't want to invest the time and energy connecting to a regular date before asking for explicit sexual favors.
Connection doesn't even mean love. It's simply making sure someone feels safe in your company, and like you're interested in their pleasure and enjoyment. A low bar that so few people even try to get over. No, I won't watch you jerk off, stranger. No, I won't arrange a threesome for you. I was starting to think I should message these hopeful perverts my Venmo handle for all the administrative work they're demanding. You pay for company with emotional labor or you pay with cash, bud. You can't skip the line.
Sugar Daddies are at least recognizing that what they're asking for has value. Women's time has value. Looking good costs money, far more money for women than men. If you want a woman who looks good to you, help her the fuck out with that. And if you can't afford it? Then you better be a damn good listener! I'm usually paying to dye my hair in a salon, using fancy skin cream, and waxing my legs to be smooth to the touch just to sit across from some guy who could as easily be talking to a sack of potatoes, given the amount of interest he has in my responses.
Well, not today, Satan! The more I think about it, the more steamed I get. But I'm still afraid. If wading through the average dating app is like a pig pen, how bad could it be on a site where dudes think they can literally buy your attention? They all already think they deserve so much of it gratis!
The next Sugar Baby I speak with, Jenn, playfully calls herself a Sugar Baby Junior. Only 20, Jenn discovered Sugaring when she needed money for her college applications. She tells me she set up two dates in one day. The first was with a man in his late 70s, who took her to lunch at the Hard Rock Café. At the end of the meal, he stated that they were friends, and she obligingly agreed.
"I don't pay for friendship," he told her. Jenn was so discouraged she almost didn't go on her second date. But she's glad she did.
"That was the experience that thrusted me into Sugar Babying," she says.
The next man was considerably closer to Jenn in age. She says he was a freelancer who worked in tech and traveled around the country. They clicked, and worked out an arrangement where anytime he visited New York, Jenn would be available for a date. He handed her $200 that night, covering the application fees she was so worried about.
Jenn strikes me as the kind of girl that Seeking Arrangements wants to advertise to the Sugar Daddies out there, and it's true. She was featured on their calendar, after winning a contest she says she entered on a dare. She has a pleasant openness, and seems to just be enjoying whatever possibilities the Sugar Bowl can offer without depending on it. And yes, she's in college, studying marketing. Her goal is to one day open "a really popping noodle place everyone wants to go to."
It's hard not to worry about what a toxic waste dump her dating inbox must be, but Jenn says she's good at weeding out the freaks. She now tries to only talk to people she might actually be interested in, and puts the money second.
"Yes, there's a financial aspect, but you can't forget these Sugar Daddies are people, too," she says. "You should treat it as a regular dating site, because that's the respect people deserve."
I catch the event co-ordinator Kimberly as she's shuffling Babies from reporter to reporter, wearing rhinestone-crusted flip-flops. This is a huge promotional opportunity for the whole community, and the Sugar Bowl wants to work on its image. I want to find a Sugar Daddy to talk to, but they're mostly kept out of the proceedings; Kimberly says the girls can't relax when the daddies are around. There will be a meet-and-greet party the next night.
A few days later, she connects me to Timothy Shannon over the phone, who runs AskASugarDaddy.com and tours around the country as a "lifestyle" dating specialist. When Shannon got started it wasn't called Sugaring. He met his wife on some sort of site, not SA, though he won't say more. Shannon explains that as a younger man, he chose to be a Sugar Daddy so he could have companionship with extremely clear boundaries and a low demand on his time, allowing him to focus on his work. Surprisingly, he admits that he probably didn't need it.
"If I'd had the skills to communicate what I needed, I probably could have had both," he says, "I thought a woman wanted me to be around all the time. They don't."
Despite this refreshing moment of self-awareness, Shannon does start talking about Darwinism, and relates a woman's need for a male provider to a convoluted story about female eagles dropping sticks to test male eagles. I am 99.9 percent sure this is a made up eagle fact, and I certainly don't find it relatable. But in his defense, Shannon does not seem to have a problem with "modern women," as he describes them, providing for themselves. When a woman has money, the sticks she's dropping for her man are feelings.
"They still need emotional support, to feel safe and secure. And some women get that from their Sugar Daddies as well," he says.
Shannon also seems invested in changing people's perception of what Sugaring is. He mentions Anna Nicole Smith and the persistent image of a young woman with a geriatric man, and says fiercely, "If you're doing this to abuse people, you're doing it wrong."
I wonder who Shannon thinks is being abused in that scenario, but he clarifies that he worries for women, and tries his best to educate them on how to be safe in his coaching. Also, how to present themselves.
"A lot of women make their profiles so business. Most men don't care about your level of education. They don't want a resume," he says, adding that many women also make the mistake of being too hot. He claims high-powered men are already stressed out. They don't want to imagine they'll be fist-fighting other dudes at Per Se over their terrifyingly sexy dates. They want "the girl next door."
While this grosses me out, it is basically what you hear about regular dating, and not terribly shocking.
The only other man I manage to speak to at the Summit is a Sugar Baby. Ja'Breyon describes himself as pansexual, and says he was introduced to Sugaring by a Sugar Momma. According to Ja'Breyon, the gender split on SA is not great. He is mostly approached by men. He has two profiles: one that's the real Ja'Breyon, and one that's more dominant. On the dominant profile, he tells prospective Sugar Parents that he'll be making the plans. That's what CEO-types want.
"It's great to have somebody who says, 'We're gonna do this, we're gonna eat this.' And they're like, 'Great, I don't have to do anything,'" he explains.
I ask what kind of dates Ja'Breyon plans for people and he smiles to himself. He says one of his SDs was very into art. "So, I shook his world by saying, 'We're gonna body paint each other.' I body-painted him first, and he was completely mortified. But he loved it."
Ja'Breyon doesn't talk much about what he gets financially; rather, he seems to approach it like he's showing these rich idiots how to live.
"They have the funds," he says. "Let me show you how to enjoy your life. What are you doing with your life? Like, a lot of culinary things, I cook. I'm not being biased, but black people, we use seasoning. So, I use seasoning and they're like, 'What is all this?' And I'm like, 'It's food.'"
It's hard not to be sucked into the allure of this idea. There's a lot I could show rich idiots about how to spend their money, too, and I wouldn't need to depend on them for rent. So, I started a Seeking Arrangements profile.
It's funny that OKCupid recently came under fire when it forced subscribers to abandon their former user names, while SA warns me on their site, "Stay safe, don't use your real name." Though the Summit painted a rosy picture of what's possible in the Sugar Bowl, the site itself is littered with warnings for both Babies and Daddies: don't give out bank account info, no nudity, etc. My bio is flagged because I use the word "pay," though the sentence is, "I don't need you to pay for my lifestyle."
In a post from April 11, SA's CEO Brandon Wade addressed the recent closure of Backpage.com in a YouTube video, saying that the site was on the alert for the migration of "prostitution" to his platform. Most comments on the post seem to be from Daddies, who allege that on their side of things at least, SA isn't as dedicated to "real relationships" as they claim. One reads:
What Brandon is saying is just bullshit for public consumption and to pre-empt any legal troubles. Reality is quite different, this website has been tacitly approving/supporting/encouraging various legal/gray activities specially for girls. The stated policy is not to allow online arrangements, I've reported many such profiles where girls have clearly listed online ONLY arrangements. How the heck such profiles get approved? Not only that, despite reporting, no action has been taking against those profiles.
At the moment, my inbox on SA is about what you'd expect. A mix of bots saying I should clear out my bank account and give them the routing number because they'll be providing an allowance; and older men offering to take me on potentially amorous adventures. After pouring through the Sugaring Reddit sub, I discovered a range of complaints about SA and the Sugaring community from both sides. Critiques of Splenda and Salt daddies (men who don't really have money or who are stingy), Rinsers (scammers), the accusation that Sugaring is just discounted sex work, and lots of SDs annoyed with all the women seeking "platonic" arrangements; unsurprisingly, the option to just be a man's hot companion at gorgeous events is basically a myth. There is also a general vibe that SA and sites like it used to be good—now they're not. But that's something everyone says about every site, isn't it?
Still, it clearly works for some people. I respect the Sugar Babies who figure out how to use the effort they put into finding love to a secondary purpose, whether it's paying for college applications, travel, a new handbag, starting a business, or just finding someone who can afford to show them more of the world than a split bill at a dive bar. As one Sugar Baby told me, "I'd never had oysters until a Sugar Daddy introduced me to them. Now I order oysters for myself all the time."