Three words: debt ceiling negotiations.
While our countrywomen have making all of us proud over in Germany, stateside, our mostly male government officials have been pig headedly using America's fiscal future as a political bargaining chip. (I'm surprised that Republicans haven't yet demanded that we ban all abortions and birth control as part of the "compromise).
It's a bummer for our US women that they won't have the visible support of the President or Vice President during the championship game, and part of me thinks that if the men were in the World Cup Championship, that the President sure as hell would take Air Force One to Germany for a few hours and just Skype the debt ceiling negotiations. Or he could at least have sent Joe, in Air Force Two.
The President tweeted his support earlier today,
"Sorry I can't be there to see you play, but I'll be cheering you on from here. Let's go. - BO."
Our nation's highest ranking female government official won't be making the trip, either.
While Secretary of State Hillary Clinton can't attend the game in the flesh because she's in Greece trying to help avert financial crisis there, she'll be paying attention.
"I am going to be watching" on television, Clinton told Greek Prime Minister George Papandreou during a visit to Athens today. "I'm so excited. I am so proud of the U.S. women."
G/O Media may get a commission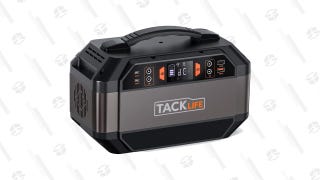 Tacklife Portable Solar Generator
She added,
"The game that they played against Brazil, which Bill and I watched on the Internet, was one of the best soccer games I've ever seen."
Something about the image of Bill and Hillary Clinton huddled together behind a computer monitor watching the US women beat Brazil warms the cockles of my black heart.
She also called the team this morning, informing them that she'd made a bet with her Japanese counterpart (although she didn't specify what the bet was) and yelled "Go USA!" at the end of a Greek press conference earlier today.
With Hillary Clinton unable to attend and Joe and Barry engaged in a neverending shouting match, America's official delegation at the Women's World Cup Championship game in Dresden includes Joe's wife Dr. Jill Biden and Chelsea Clinton.
Coverage of the game has already begun. You can watch on your friendly local television, or follow here.
Watching the game? Talk about it here!
Hillary Clinton calls U.S. women's soccer team before World Cup final, Obama tweets his support [NYDN]