In the immortal words of the classic holiday song: Oh, the weather outside is frightful, but Jessica Simpson is pregnant. It's been seven months and at least 109 headlines since the birth of Maxwell Drew and Simpson's subsequent public struggle to drop the baby weight/become a momshell/shed her human form/whatever everyone's been obsessing about, and now we get to do it all over!
Although Simpson's Twitter remains as silent as Grant's Tomb on the subject of being re-pregnant, the info comes from a source close to Simpson and her husband, former NFL player Eric Johnson, who adds:
"It definitely wasn't planned."
Yaaaaay? More on Jessica Simpson's womb and things that will probably come out of it in Midweek Madness. [Us Weekly]
---
G/O Media may get a commission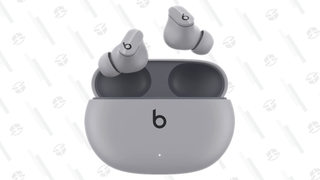 Demi Moore might, maybe, be dating Vito Schnabel, a 26-year-old art dealer and the son of Julian Schnabel. Their demure, even Austen-esque courtship began on the dance floor at Naomi Campbell's insanely decadent birthday party for her boyfriend in India ("They were dancing and grinding all over each other, openly, in front of other guests") and they've apparently been seeing each other since. Take that, Kutcherkunis. (Kutchnis? Kutchnis Everdeen?) [Daily Mail, Page Six]
---
Melrose Place alum Amy Locane-Bovenizer, who also starred in Crybaby opposite Johnny Depp, was convicted of vehicular homicide in a 2010 drunk driving accident in New Jersey that left a 60-year-old woman dead and her husband injured. She was sentenced to five to ten years in prison. [NYDN]
---
Because we are basically living in a romantic comedy written by my dad's accountant, Britney Spears and Kevin Federline will once again join forces to pay the whopping $37,712.71 tax lien given to them by the State of California. It's from 2004, the year they were married; I'm gonna assume Brit-Brit's picking up the check on this, since Federline's "assets" are limited to track jackets and Funyuns. [TMZ]
---
Kevin Clash's third accuser apparently wrote a 2009 book about their sexual relationship: "Mr. Tickler is what I will call him. And the game we played was father and son." [TMZ]
---