This young week has already brought us a bounty of questionable fashion choices: great judgment-haver Chris Brown is displaying a fresh tattoo of a Venus de Milo's head, maybe, or someone who's just had a traumatic tooth extraction—tough to say. Meanwhile, white rapper Yelawolf published a full-throated defense of the Confederate flag on Facebook. He's a fan.
So many questions here, but chiefly: who wore it worst?
Let's proceed with the evidence: Chris Brown's new tattoo, of a head on his head:
TMZ notes that it might be a Venus de Milo. Sure. Or a lady with an atrociously swollen cheek, wondering how she became permanently appended to the thick, thick skull of a real charmer. Tough break, Venus, or whoever you are. No more needs to be said about Chris Brown. Everything's been said.
In the other corner, we've got Yelawolf, who's on Eminem's Shady Records and also all up on Facebook having some kind of Dixie-lovin' breakdown about this shirt, which he doesn't like:
G/O Media may get a commission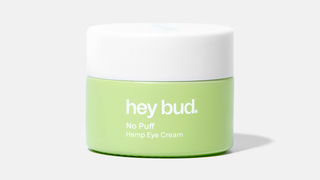 15% off
Hey Bud - No Puff Hemp Eye Cream
The text:
Ain't no way I'm letting some ones ignorance tear me from my roots .. you fucking fuck boys can save it with this anti Dixie SHIT !! .. You media succubus in fashion and news are taking full advantage of yourself's business .. Not knowing at all the damage you're creating by giving a false impression of who we are in the South .. We're GOOD PEOPLE !!! .. We love our small towns and we love our folks .. For me and me only I'll tell you like this ... Rip DIME BAG DARRELL !! and Long live PANTERA !! .. Long live Lynyrd Skynyrd !!... Long Live Dukes of Hazard . .And mother FUCKER ... The DIXIE WILL NEVER DIE !! ... Do you want Me to mention my black inspirations on the Dixie side .. like Big Gipp who I saw in a full Dixie Flag outfit at Madison Square Garden in 05 ? , or Andre 3000 rocking a Dixie Flag Belt buckle in " Sorry ms Jackson ? " , maybe little Jhon or Pastor Troy who rocked the Dixie Flag in a protest against ignorance ? ... I saw the GROWTH and the POWER !! NOT THE DEMISE !!! And here we have these fucking yuppies from the west coast and world wide jumping on this band wagon .. Who know NOTHING ABOUT US .. Other than the movies and misrepresented news reels they see .. Lied too at school and at home .. Further deepening the injury of social perception .. With this wack ass image of a burning Dixie Flag .... Fuck that !! ... Well I can tell you that a #slumerican will never support you .. We're beyond you all .. More open and way more prepared than you are.
The shirt was designed by Babylon, a clothing company partly owned by Lee Spielman of the band Trash Talk, who responded succinctly on Twitter:
Yelawolf—who made his money and gained his fame in a musical genre invented by black Americans—also previously posted photos of himself in a Confederate flag jacket, and a bunch of other Confederate flag-themed stuff from his Slumerican clothing line. Another Facebook post, from 2014:
In his latest post he argues that black musicians like Andre 3000 have worn the flag, so it's cool for white Southerners to continue wearing it. (He doesn't mention Ludacris, who wore a Confederate flag suit in a VMA performance, then tore it off to reveal a red, green and black Afrocentric version, and who subsequently wrote, "This flag represents the oppression that we as African-Americans have endured for years; this is a symbol of segregation and the racism that reigned not only throughout the South but throughout the entire United States.")
It's worth noting here that even Lynyrd Skynyrd, the most Southern band of all time, is much more cautious these days about using the Confederate flag. Gary Rossington, the band's only original member, said in 2012 on CNN and in a subsequent Facebook post that he began to feel more comfortable displaying the American flag in its place, though they still use both onstage.
Meanwhile, Patterson Hood of the Drive-By Truckers, another truly great Southern band, wrote a beautiful essay in the New York Times magazine in July about Southern heritage, pointing out there are other and better things to celebrate: "It's time to study and learn about who we are and where we came from while finding a way forward without the baggage of our ancestors' fears and superstitions. It's time to quit rallying around a flag that divides."
Enough of the deep thinking, though. It's time to ask: what's worse? Another truly hideous and permanent tattoo on a man who sucks the worst already, or some questionable shirts/jackets/historical interpretations from Yelawolf? Let's vote:
---
Contact the author at anna.merlan@jezebel.com.
Public PGP key
PGP fingerprint: 67B5 5767 9D6F 652E 8EFD 76F5 3CF0 DAF2 79E5 1FB6
Yelawolf performs in Las Vegas, June 2015. Photo via AP images