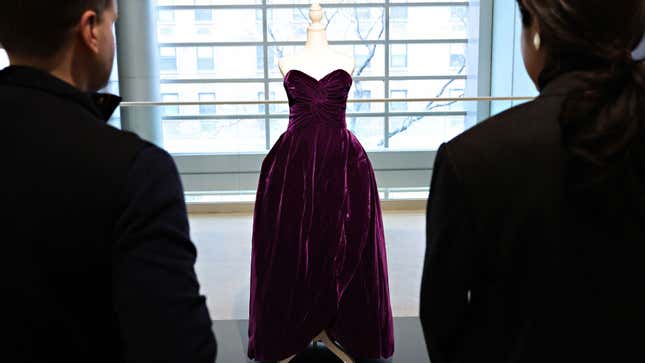 "We want to start a rumor that Kim Kardashian is trying to buy it," a young woman working at Sotheby's joked with me. "It" was Princess Diana's iconic purple velvet evening gown, her first designed by longtime collaborator Victor Edelstein, which is going up for auction on January 27th. While Kimberly hasn't publicly indicated that she plans to buy the gown, her recent acquisitions of celebrity artifacts (specifically Diana artifacts) means the threat (or hope!) that Kardashian might scoop up this historical object looms large.

Lisa Rinna Finally Reveals the Story of Her Iconic Hairstyle
In fact, the feedback Kardashian received for her collector's hobby was one of the reasons I recently found myself on the third floor of the famed auction house on Manhattan's Upper East Side. Early last week, Kardashian purchased Diana's famous Attallah Cross, a large amethyst necklace, from Sotheby's for just under $200,000. Almost immediately, from the fiery depths of Twitter, sprung a new meme. "Kim Kardashian has purchased the Shroud of Turin," joked one user. The logic of the meme devolved into inanity, as the best ones often do. "Kim Kardashian has purchased Hilaria Baldwin's fake Spanish accent for $97,600!" read another tweet. The trending conversation was a continuation of one this past May when she lost 16 pounds in under a month to wear Marilyn Monroe's gold sequined cocktail dress for fifteen minutes as she walked up the Met Gala steps. An incensed corner of the internet has likened the damage she did to the dress to burning down Notre Dame.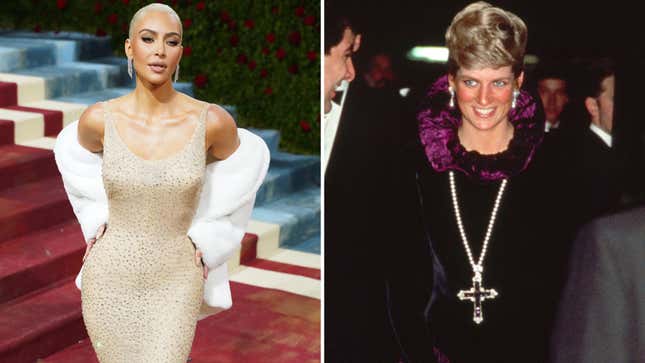 But what does someone like Kim get out of owning artifacts like this? She's nowhere near the first celebrity to collect other famous people's stuff. Mariah Carey owns Marilyn Monroe's piano, yet she's never suffered the same wrath turned toward Kardashian. I don't necessarily think folks are wrong for their anger towards Kim, even though at times I'm tempted to temper the discourse with Kourtney's famous saying: "There's people dying..." But, there is something that feels faithless about a woman who made her name (and face and body) by capitalizing off of other women's (notably Black and brown women's) likenesses.
At the auction house, I was escorted by not one, not two, but three lovely employees up two escalators to see the gown. It sat on display in the middle of the floor. The soft velvet absorbed the surrounding spotlights. It was small, which shouldn't have surprised me. Diana was notably, to the detriment of her health, very small. I was sort of shocked that it wasn't behind any sort of enclosure, that it was just out in the open—like it was ready to just be snatched up.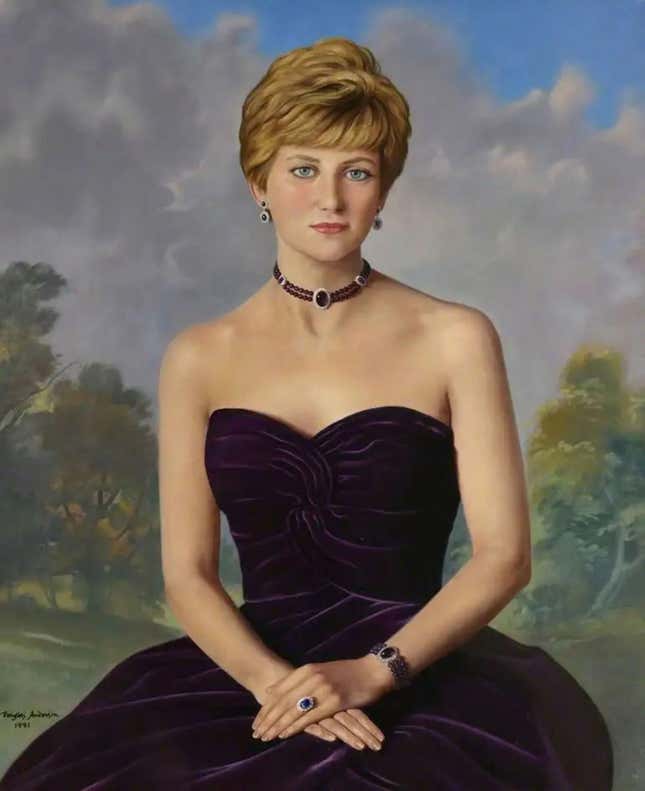 Diana wore the Edelstein gown a number of times throughout the 90s, most famously in her formal portrait by Lord Snowdon in 1991 and in her last formal photoshoot by Mario Testino soon before her death in 1997. However, the most startling wear of the dress—at least for me—was in her 1991 portrait painted by Douglas Hardinge Anderson that hangs in London's Royal Marsden Hospital. I don't see the affable public persona she came to inhabit toward the end of her life; instead, she looks lost and a bit overwhelmed, a truth the public now understands defined her marriage. Six years later, much more comfortably posed on the floor beside a living room couch in Testino's portrait, the dress seems an extension of her notable and easy charm.
Cynthia Houlton, the Senior Vice President and Global Head of Fashion and Accessories, told Jezebel that "celebrity fans, museums, and private collectors or archivists" are who usually buy items like Diana's evening gown from Sotheby's. She feels that people's enduring interest in Diana as a royal was that she was "ultimately an outsider" and that she was "accessible" and her "own person." I hung on the idea of Diana being "accessible" and how that's pretty different than the perceived right to access her.

How does Houlton feel about "celebrity fans" like Kardashian purchasing these iconic items? "Sotheby's service is as a marketplace," she coolly explained, clearly less peeved than some online mobs I've stumbled upon.
While I wasn't personally offended by Kim wearing the Monroe dress, my stomach churned seeing her receive a lock of Monroe's blonde hair. The anger following Kim's tornado through historical auction houses might be less about the revitalization of these objects and more about her intent behind doing so. What would Kim stop at collecting, if she's so eager to pocket what are essentially human remains? This hobby of hers feels like an extension of her amassment of idealized body parts. And her growing collection of artifacts, which also includes a Michael Jackson jacket and his Smooth Criminal white hat, feels like she's creating horcruxes out of items that belonged to famous people who died tragically. Her own sense of self only emerging from being able to slip into these different aesthetics or cultural touchstones.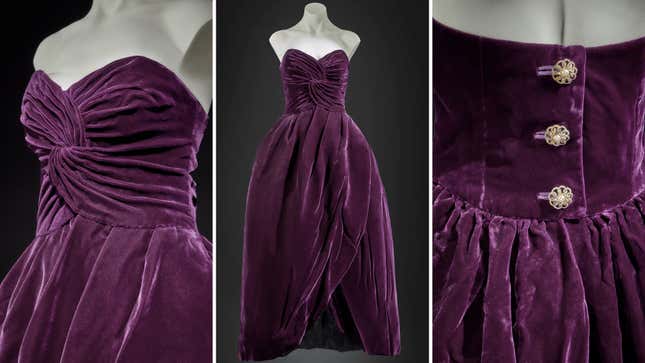 Despite being made of silk velvet with three ornate gold buttons, the dress appeared luxuriously understated. What was I expecting? A glowing royal energy to radiate from the frock? For it to whisper the behind-the-scenes take on Spare, as I paced around it to view from each angle? Some sort of sartorial harbinger hidden in the dress' soft pleats, cursing any future Kardashian owners? N0—it was just a beautiful gown with a notable provenance, fascinating in and of itself.

To me, it's clear that it was Diana who made the dress, and even then, she didn't always pull it off, as I saw in the Anderson portrait. That reality, I think, is at odds with Kardashian's apparent motive and what ultimately upsets a hungry-to-hate public. Diana's a bona fide icon—the one label you can't really buy with just money.