Now that her relationship with DJ Adam "Calvin Harris" Wiles has ended, Taylor Swift is once again a single woman. And though only she can know the next place love will take her, plenty of strangers are busy speculating her heart's next move.

Since my guesses are as good as anyone else's, and since all of our guesses are of life-and-death importance, I've created a list of eight people Taylor should definitely fall for now that the Calvin Harris era is over.
---
Zayn Malik
Who Is He?

Zayn Malik is a robotic singer created by English music producer Simon Cowell for use in the boy band One Direction. After abandoning the group in March of 2015, he kicked off a solo career with the release of his debut album Mind of Mine. Malik began dating Instagram user Gigi Hadid in late 2015—he even featured her in video for his single "Pillow Talk"—but the two called it quits this week.
G/O Media may get a commission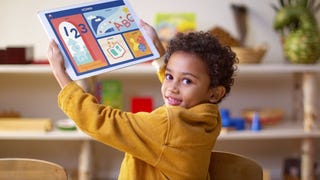 30-Day Free Trial
Homer Learn & Grow Program
Why is he perfect for Taylor?
Even though they're great friends, I can see Gigi giving Tay her blessing for a quick fling. No one said anything about love—it's just a case of two people looking for a little fun! Can you say "rebound"?
How long will it last?
Even though this relaish may not stand the test of time, it would definitely be "Cool for the Summer"!
---
Jack O'Connell
Who is he?

Jack O'Connell is the rising 25-year-old star of movies like Angelina Jolie's Unbroken and Jodie Foster's Money Monster. He's well on his way to becoming one of Hollywood's hottest hunks, and may even be cast as the next James Bond!
Why is he perfect for Taylor?
We all know how much Taylor likes men from across the pond, so the accent alone might be enough to sweep her off her feet. Additionally, both he and Swift are hardworking, career-oriented people. (Rumors have been flying that Calvin Harris was jealous of his ex's success, but that wouldn't happen here, as O'Connell's star shows no signs of dimming!)
But the real reason Swift should choose this O'Connell is because of his name. In her unreleased single from 1989, "Jack Off," Swift sings:
I had a John, John, John

and he was wrong wrong wrong.

When I had a Jake, Jake, Jake

Earth didn't shake, shake, shake.

Then there was Joe, Joe, Joe

A big hell no, no, no!

There's only one J I've missed,

It's time to cross Jack off the list (off the list!)

I gotta cross Jack off, Jack off, Jack off, Jack off, Jack off, Jack off, Jack off the list!
How long would it last?
This has all the makings of her longest-lasting romance yet. I give it at least 24 months!
---
Jake Gyllenhaal
Who is he?

Y'all know Jakey G! He's the successful (and hunky) actor (and brother of Maggie) whom Swift dated wayyyy back in 2010 and 2011. Remember that song "All Too Well" from Red? It was about their doomed relationship! Aww.
Why is he perfect for Taylor?
You may not agree, but I saw the very definition of love when looking at these two together. Just look at this photo! It's about time Taylor gave an old flame another chance. Back in 2011, she was transitioning from country starlet to pop superstar and couldn't handle someone as mature as Jake. But now she's a different person, and this relationship may benefit from a new perspective. Sure, the night Maggie finds out about this rekindling she'll show up to Taylor's TriBeCa home uninvited and bang on the door until she's allowed in. Yeah, maybe she'll grab a knife from in Taylor's kitchen, slice open a pillow, pull out the feathers and scream, "THIS IS WHAT YOU DID TO MY BROTHER FIVE YEARS AGO, AND I WILL NOT LET YOU DO IT TO HIM AGAIN." And sure, Taylor will watch with an unnerving smile on her face during Maggie's outburst until finally applauding softly and saying, "Excellent performance, Maggie. How sad that you don't have an Oscar." But I can see this being a satisfying relationship for both of them!
How long would it last?
1 very happy month, and—after Maggie finds out—one considerably less happy one.
---
Ed Sheeran
Who is he?

He's a mop-headed English pop sensation who happens to be Taylor Swift's best guy friend. Oh come on, you know who he is! You may have even cried to "Thinking Out Loud" more than once in the past year! Ed is a total sweetheart, and basically owes Taylor his entire career, as his appearance on her album Red—as well as his long-running gig as that tour's opening act—helped make him a star outside his native England.
Why is he perfect for Taylor?
First of all, they're BFFs! Is there a better person to fall in love with than your best friend? I don't think so! Second of all, they're both singer-songwriters and love collaborating on music. How cute would their lives be if they spent every day writing songs together and then...you know...while listening to their romantic demos? It's a Pinterest board come to life, only redder!
How long would it last?
After the first official date? 20-50 seconds, depending on how much wine he's had.

---
Tiffany Trump
Who is she?

She's Republican Presidential Candidate Donald Trump's 22-year-old daughter. AKA, she's just a few months away from having access to the White House!
Why is she perfect for Taylor?
As far as I know, Taylor Swift has never dated a woman, and now just might be the perfect time to explore that side of her sexuality! After a series of very public burns with men who just can't live up to her expectations, why not give a woman the same chance for over-scrutinized public failure? Tiffany just graduated from the University of Pennsylvania, and is very likely eager to get started in the "real world." A relationship with Taylor Swift would guarantee her a much-publicized entrance into it.
How long would it last?
Long enough to provide material for 13 songs + 3 Target exclusives.

---
My Barista
Who is he?

I'm not sure what his name is, but he's super sweet when I order coffee and I recently overheard him mention to another customer that he was just accepted into an MFA program at Columbia.
Why is he perfect for Taylor?
After dating nothing but famous people (or the children of famous people) for the past several years, it's about time to Swift to see what it's like to spend time with a normal guy. You know, like in Notting Hill! I have a feeling my barista would ground her. They'd have quiet conversations at night in his normal-person apartment during which he'd say things like, "I don't know how you do it."
She'd say, "Do what?"
And he'd say, "All of it."
And then she'd smile and nuzzle herself deeper into his side, just before his roommate barges in and screams, "LOOK, SHE'S GONNA HAVE TO START PAYING RENT IF SHE'S GONNA STAY HERE EVERY NIGHT. I KNOW SHE HAS THE MONEY."
How long would it last?
Long enough for E! Online to begin using his full name in headlines.
---
Jason Sudeikis
Who is he?

He's the actor/former SNL cast member/husband of actress Olivia Wilde!
Why is he perfect for Taylor?
The element of danger! The potential for scandal! Taylor has dated all kinds of men in her day, but (as far as we know) never a happily married one. Having an affair with Sudeikis would give Swift the opportunity to experience what it's like to destroy a marriage and break up a family for no other reason than "because I can."
It would begin innocently enough, with a lunch meeting scheduled by her manager to discuss Sudeikis appearing in a future video of hers. But then, after a few Pimm's cups, Sudeikis would realize there are no plans for a video shoot in the near future, and, wait, is that Taylor's foot rubbing up against his legs? He'd end the meeting there for made-up reasons involving his child, but the seed will have already been planted.
As the days go on, it would take root in his animal brain, and he'd wonder if he was crazy—if he had just seen things that weren't there. Then, one Sunday night a few weeks later while eating dinner with his beautiful family, he'd get a text from Swift. No "hello." No emojis. Just the address to a swanky hotel in midtown Manhattan...and a room number. He'd tell Olivia a lie as she fed their child, and would grab a cab to the hotel, sweating through his linen shirt the entire ride and paying in cash once arriving. After pacing back and forth in front of her room door, he'd ultimately decide to knock. A knock he'd regret for the rest of his life.
How long would it last?
One month, but Swift would continue receiving voicemails of Olivia breathing heavily for years.
---
Glenn Close
Who is she?

An actress and living legend!
Why is she perfect for Taylor?
Just look at her! Who wouldn't date this queen?!
How long would it last?

Seven wonderful years that neither of them would regret.

---
Images via Getty.