Take a deep breath and get ready for an ovary-explosion, because the folks at J. Crew's Crewcuts have cast some adorable little whippersnappers. Free shipping!
Kudos to the art direction team — construction paper is an under-utilized medium. And kudos to whomever got that little boy to wear lavender sneakers. Whether he knows it or not, they're awesome.
Three stories from my youth still tug at my heartstrings: The Wizard Of Oz, Alice In Wonderland, and Eloise. So the Yellow Brick Road is charming. But even Dorothy wouldn't recommend gingham on gingham. And she wanted to dye her eyes to match her gown.
G/O Media may get a commission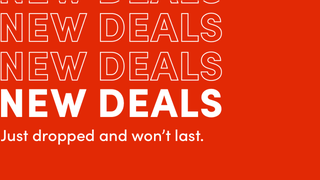 Up to 70% off
Wayfair - Cyber Week Deals
"Auntie Em, it's a twister! I hope it takes my fugly sandals."
Hair! +Sneakers! = Awesome.
These new generations of boys with shaggy haircuts. It's like 1972 all over again. But with less polyester.
"Mish, plz."
This kid! That face. This image actually made me want to reach for my credit card and the phone. "I'll take him!"
If you discover that I have painted my bedroom a rich midnight blue and affixed glittery origami-paper stars in the place where the headboard should be, you'll know why. Don't judge me.
Love: The ruffles, the plaid, the jewelry, the nail polish, the sass.
Hate: The lipstick.
What he have here is the age-old bifurcation of the human spirit: Joy and pain. Comedy and tragedy. "Whee!" and "This sucks."
This blush is a much better use of makeup than the pink lipstick we saw previously.
Gasp! A tiny ham! I IM'd this image to Anna Holmes, who replied, immediately, "WANT." Sigh. If only we could all be like this: young, carefree, with spiral paper hats! Except without the socks pushed between the toes so the sandals fit.
Has the catalog used this wee pixie before? Yes. Does she remain a delight? Yes. (And so Amelie Jr!)
"Avast ye mateys! Let us sally forth by the light of the construction paper moon!"
GAH!!!!
The author was not able to write a caption here, because she, as the saying goes, "died from the cute." Do not be alarmed. This is only an internet-based expression which conveys that a person has become overwhelmed with excitement or feeling and, in the throes of thrill, cannot manage to type anything coherent. Thank you for your understanding.
Related, sorta: J.Crew's Ovary-Busting Child Models Should Come With A Warning
The Best Sears Kids' Fashions For Spring… Of 1972
Earlier: Anthropologie, Translated As A Southern Gothic Novella
J.Crew's Summer Abroad: Sweet Swimsuits, Sharp Shorts & Dreadful Dresses
Memorial Day With Williams-Sonoma: Nom!
Catalog Fantasies: The Life Your Life Could Be Like
Inside The Very Pink & Very Pricey Barbie Catalog
The Pyramid Collection: Shopping For Free Spirits & Black Widows
See also: All catalog posts