This morning, Jezebel Culture Editor Julianne Escobedo Shepherd entered our work chat room and shared a new song entitled "Just Call (feat. Bella Thorne)" by Prince Fox, an artist I've never heard of. "[Thorne is] now a vocal diva on Steve Aoki's EDM label," Shepherd explained in a gleefully detailed and straightforward tone (her trademark), not knowing this was not the young star's first foray into the music world.
Ana Gasteyer Satirizes the Girl Boss in 'American Auto'
"Do you not know about her iconic first single?" I asked.
"No......" Shepherd responded.
I will not bore (or perhaps torture) you with a full transcript of the Bella-related back and forth that followed, but I will share how it ended:
I respect Edwards (who is not, by the way, an elderly woman) far too much to let this request go unfulfilled, so let's get started.
---
Who Is Bella Thorne?
In short, Bella Thorne is a 19-year-old actress/singer who achieved widespread fame after starring in the Disney Channel sitcom Shake It Up for three seasons (2010-2013) alongside Zendaya Coleman.
G/O Media may get a commission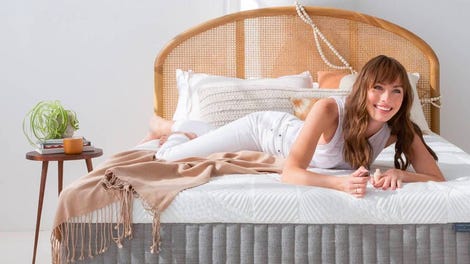 Sleep Sale
Sleep Sale - Brentwood Home
Here's a photo of her:
But Bobby, I Have Never Heard of Shake It Up! So Why Have I Heard of Bella Thorne?
Shake It Up was not her only role! Some of her more notable early roles include an appearance in The O.C. as the flashback version of Taylor Townsend, several episodes of Big Love as one of Bill Paxton's daughters, and the horrendous 2015 teen comedy The DUFF as the school bully/Mae Whitman's high school enemy. Currently she's starring in the Freeform series Famous In Love as the titular famous person who happens to be in love.
OK So I Definitely Don't Care That She Was the Flashback Version of Taylor Townsend In The O.C. I Also Forgot Big Love Even Existed. Plus, I Haven't Even Heard of Famous In Love. Side Note: What the Hell Is Freeform?
Freeform is the young adult arm of Disney's TV empire formerly known as ABC Family, which was formerly known as Fox Family Channel, which was formerly known as The Family Channel, which was formerly known as The CBN Family Channel, which was formerly known as CBN Cable Network, which was formerly known as CBN Satellite Service. Basically Freeform is where Disney wants kids to turn after they've outgrown the offerings on Disney Channel.
And if you haven't seen Famous In Love, you may know Thorne from headlines on just about every celebrity news publication in America. She has recently received a lot of coverage thanks to a fling with Scott Disick.
Oh! That Might Be How I Know Her! She's the Woman He Took to Cannes, Right?
Well, she's one of them! Disick brought Thorne along to Cannes last month, but she bailed after less than a week after being turned off by all the alcohol.
Thorne described the experience in an interview with Complex, saying:
"Scott is really nice, sweet, charming. I don't drink, and he really drinks a lot. It just ended up... I just wasn't down. I was like, 'I gotta leave.' We were [in Cannes] a day and a half before I was like, 'I'm booking my flight and leaving.' I love to go out and have fun, I love to fucking dance, but I just don't party hardcore like that and it was way too much for me. I was like, 'Woah, this is not the way I live my life, bruh.'"
Scott's the Only Person She's Been Romantically Linked To, Right?
Absolutely not! Below is a list of some of her more notable alleged boyfriends:
Jake T. Austin

Garrett Backstrom

Cody Simpson

Gregg Sulkin

Tyler Posey

Charlie Puth

Who the Hell Are Any of Those People?
You must be out of your goddamned mind if you think I'm answering that right now.
Fair Enough. Let's Move On From Her Love Life. Does She Stand For Anything?
Weird question, but I have an answer. She was (perhaps still is?) a Neutrogena brand ambassador, and is a vocal anti-bullying advocate. She's also an out bisexual who has made headlines for celebrating Bi Visibility Day.
Earlier You Said She Was an Actress/Singer, Were You Being Snarky and Rude With That Descriptor Or Is She Honestly an Aspiring Singer?
Well, Shake It Off was a show about backup dancers, so music was a pretty major part of its DNA. Couple that with the fact that it was produced by Disney (a company we all know will do whatever it can to merchandise/squeeze money out of its stars) and being a singer is practically a requirement for the job. As such, both she and Zendaya recorded some singles that you probably only heard if you happened to be listening to Radio Disney in the early 2010s. (Which, who knows! No judgment here.) Most of them sounded exactly like this.
After Shake It Off was canceled, Thorne tried (or was perhaps pushed) to make a pop career happen. It didn't, but a relic from the failed attempt—a video for her debut solo single, "Call It Whatever"—still exists on YouTube. Based on the high production values, it's clear someone in a position of power thought this was maybe a good idea.
While promoting the single (which flopped, by the way), Thorne seemed almost exhausted by the very idea of being a pop star. In an interview with Billboard, she came across as disinterested in both the song and the industry itself.
"I don't think, 'Well, Miley went this way, and Selena went that way, so I have to go in the middle.' That's not it. I'm just being me. My song is called 'Call It Whatever.' You can call me whatever, if you like me or not like me. I really don't care."
The piece ends with a quote from Thorn that encapsulates why it's so hard to pin her down:
"I want to try everything. And I want to be great at everything, if it's the last thing I do."
Wait! It's All Coming Back, It's All Coming Back To Me Now! Wasn't She the One Who May or May Not Have Started Dating Her Brother's Ex-Girlfriend?
Yes! Good memory.
Her Name Was Bella, Too, Right?
Great memory!
In Your Expert Opinion, Was That Whole Thing Was Bullshit?
"Expert"?! You flatter me. But yes. Thorne has been famous for so long at this point that she, like many attention-hungry celebrities, has figured out exactly how to utilize her social media channels for maximum tabloid coverage. I don't believe she and long-time BFF Bella Pendergast were ever dating, I just think they wanted to see if they could leave some vaguely exciting breadcrumbs the media would be excited to follow. And they did!
OK, So You're Saying She's Just a Teen Who Is Very Good At Getting Attention.
Basically. But again, she probably wouldn't receive the amount of attention she receives without having actual work on her resume. We're not talking about someone who has nothing going on outside her social life. She's about to star in the new Xavier Dolan movie!
Who?
Good question. Xavier Dolan is a hotshot French-Canadian director who specializes in gay melodrama and whose movies always receive rave reviews at Cannes despite how painfully derivative almost all of them are. Not to mention—
Bobby I'm Going To Stop You Before You Go Off On Some Weird Gay Rant That Only Two People On This Planet Will Care About.
Thanks. That was a little rude of me, so I will add that it's nice to see a queer director shamelessly making films for queer audiences. Especially because—
Wow I Literally Do Not Care. Please Go Back to Why Should I Give a Shit About His New Bella Thorne Movie, Please.
Oh! Have you seen the cast? Look at the IMDB page! This is a big deal! Bella's sharing the screen with major A-listers! And Jacob Tremblay!
Damn, So Bella's Really Going Places!
Maybe!
OK, I'm Done Here I Think.
I hope so.