Last year, in honor of Black History Month, Essence Magazine chose a familiar, powerful phrase to brand its February 2016 issue: "Black Girl Magic." In a corresponding video, the women featured on three separate covers were asked to personally define what the phrase meant. Actress Teyonah Parris described it in terms of confidence, some inexplicable "ethereal" quality. Johnetta "Netta" Elzie, a prominent social activist, called it something that can't be replicated. Black-ish star Yara Shahidi explained it as a tangible movement and added, "Just look around you, because there's plenty of Black Girl Magic around you."

Four months later, at the BET Awards in June, Jesse Williams stood on stage and gave the speech of his life. Besides challenging white people to comprehend the complexity of blackness, he evoked Black Girl Magic, too, urging everyone not to mistake black people as invincible. "Just because we're magic doesn't mean we're not real," he said.
"Black Girl Magic"—a declaration of pride among black girls and women that began as a viral campaign on Twitter—has played a central role in discussions about black female visibility, how we're seen and not seen. Over the past two years, the statement has served both as an affirmation and a root of contention. The expression is prevalent enough on social media that it's come to represent more than just a hashtag. The phrase has spawned lists (Nylon's "44 Women Weigh In On The Meaning Of "Black Girl Magic," BET's "10 Amandla Stenberg Black Girl Magic Moments"), essays (Elle's mystifying piece "Here's My Problem With #BlackGirlMagic"), a literary magazine, and plenty of merchandise sold as part of the movement.
When The New York Times wrote about the Essence Black Women in Hollywood event around this year's Oscars—where an unprecedented number of black women were nominated—"Black Girl Magic" was part of its headline. After interviewing Amandla Stenberg for Teen Vogue's February 2016 issue, Solange wrote: "I sure as hell felt inspired by our honesty with each other and ready to take on the world—sprinkling black girl magic in every crevice of the universe."
The point of the statement is for black girls and women to deify ourselves and definitively claim the recognition and specialness we're often denied. But when it comes to using the expression for business, who gets to claim "Black Girl Magic"?

Last year, online discourse about the phrase quietly entered the legal space, in the form of a trademark dispute between Essence and Beverly Bond, the founder of the organization Black Girls Rock! The dispute—which I found out about through Erika Stallings, a trademark lawyer, via Twitter—is currently in litigation with trial dates set through March 2018. Essence (Full disclosure: I've been published in the magazine numerous times) wants to trademark "Essence Black Girl Magic," and Bond is attempting to trademark "Black Girl Magic" with the United States Patent and Trademark Office, which reviews and issues all patents and trademarks in America.
To the average person, the trademarking process may seem, in a word, boring. On top of that, the legalities of intellectual property are inherently confusing. But in the case of cultural signifiers like "Black Girl Magic," the simple act of filing for a trademark can trigger compelling debate. Recall that in 2015, for example, Taylor Swift filed to register "This sick beat" (a phrase she used in a song on her album 1989), which fed criticism about her history of appropriation.

What's happening between Essence and Bond is a standard dispute. What elevates it beyond that is the significant, collective use of "Black Girl Magic" over the past two years. And what complicates it is that a woman who claims to be the originator of the "Black Girl Magic" social media campaign feels excluded from the conversation while others capitalize on the movement.
---
The concept of "black girl magic" is by no means novel. Writer Joan Morgan's book of essays, When Chickenheads Come Home to Roost: A Hip-Hop Feminist Breaks It Down, released in 2000, contains these lines: "I wrote. Spent lots of time near the water. Heard Oshun's laughter twinkling like bells, urging me to recapture the feminine and discover the fierceness of a black girl's magic." This uplifting characterization stands in contrast to a familiar, tired archetype in film—the Magical Negro (which includes the supernatural black woman), a character relegated to being the white lead's sidekick.
The origin of "Black Girl Magic" is easily buried by the annals of time and the speed of information, to the point that the average person likely has no idea where they heard it first. But there is one widely recognized source of the social campaign as we know it today: Cashawn Thompson, who's publicly stated—including in a September 2015 interview with The Los Angeles Times—that she originated and spread the expression "Black girls are magic" through social media. Thompson says her use of the phrase was inspired by interactions with women in her life.
On March 30, a day after I reached out to her for this story, Thompson posted a series of tweets to her more than 10,000 followers. "I've already put a lot of myself into #BlackGirlMagic, only for others to try & take credit or siphon its greatness w/o ever looking my way," she wrote. "A lot of ppl thought #BlackGirlMagic just came from the ether. Well, I am the Ether. Recognize."
Thompson has tweeted about "Black Girl Magic" as early as February 2013, in reference to Ntozake Shange, Erykah Badu and others. However, many other "Black Girl Magic" tweets also exist from 2009 through 2017. When I brought up these prior tweets in an email, Thompson's representative responded: "Intellectual property rights are not assigned to whomever 'tweets' it first. Although it is of note that Twitter and BET both recognize Ms. Thompson as the author, as she will be participating in a joint study of 'Black Twitter' as the creator of the 'Black Girls Are Magic/Black Girl Magic' movement."
Indeed, Thompson—who tells me she wasn't aware of the trademark dispute between Essence and Bond until I contacted her—became known as the originator of the "Black Girl Magic" campaign largely because of t-shirts she sold that took off online. The problem arose when Thompson tried to take her campaign to the United States Patent and Trademark Office.
For the purpose of this piece, even if you think you know what a trademark is, the law makes it entirely confusing, so it's helpful if I break it down. In short, a trademark represents a brand. Legally, it serves to identify the owner or source of goods or services; in turn, it also serves to distinguish you from competition. The trademark can be a word, phrase, symbol, design or any combination of those. Colors and smells can also qualify as a "mark."
This fun, informational video from the United States Patents and Trademark Office simplifies the definition by using the example of Coca-Cola and Pepsi logos: "When you see each mark [the word and the logo] on a can or a bottle, you immediately know the source of the beverage," the video states. "You also know that it's not the competitor's beverage. See, it distinguishes them."
There's also a difference between a trademark (which is for a product) and a service mark (which is for a service). Federal registration isn't required for you to use your (or other people's) trademarks on goods or services. But a registered trademark—i.e. Facebook, Sesame Street, Pepsi, Nike or whatever has this symbol ®—lets everyone know you're the owner and gives you the right to restrict others from using your trademark for similar products or services, or in a way that would cause consumer confusion (Apple is notorious for this). It also gives you the power to sue for trademark infringement.
Note the recent trademark dispute between Kylie Minogue and Kylie Jenner when Jenner tried to trademark "Kylie" for advertising services. Minogue, who had several "Kylie Minogue" trademarks, filed a notice of opposition, arguing that Jenner's use of the mark would confuse the consumer. The USPTO rejected Jenner's application.
A catchphrase, like any qualifying trademark, needs to be associated with a product or business—in other words, it has to be a brand. "A trademark isn't a patent or a copyright. You don't acquire trademark rights simply by inventing a word or a phrase or a design," Jane Ginsburg, an author and professor of literary and artistic property law at Columbia Law School, explained to me. "You have to use it or intend to use it in connection with some kind of business. So a person may deserve recognition morally for having come up with a phrase, but that doesn't make it a trademark. It's really all about: What does the relevant consumer perceive? What do they understand when they encounter this word, phrase or design?"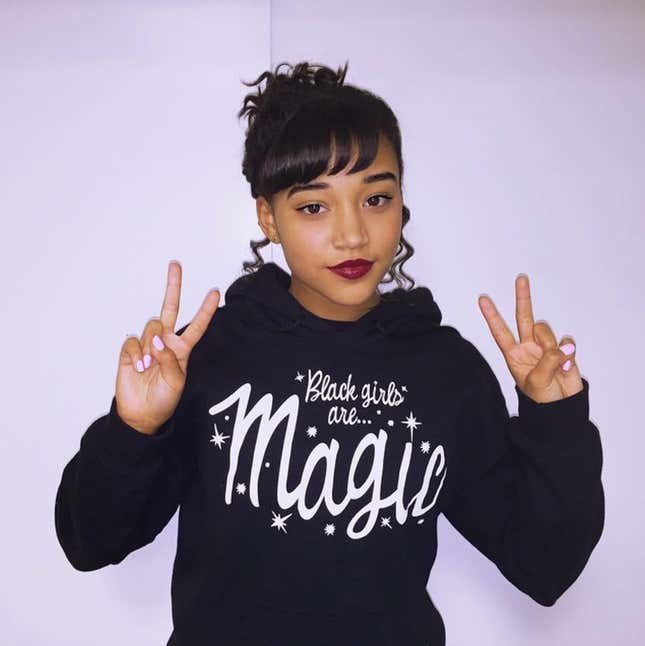 To the law, it doesn't matter who came up with the phrase "Black Girl Magic." And though Thompson had begun selling t-shirts designed with her slogan "Black Girls Are... Magic" in January 2014—Amandla Stenberg, pictured to the left, has worn her t-shirt—that alone doesn't qualify as a trademark if the shirts weren't recognized as part of a product or business, according to experts.
Here's a handy explanation of "ornamental" use of a phrase/slogan (in other words, decorative) versus as a trademark:

A small, neat, and discrete wording/design located on the pocket or breast portion of a garment (for example, a small design of an animal) may create the commercial impression of a trademark, whereas a larger depiction of the same wording/design prominently displayed across the front of a garment may be more likely to be seen as a purely decorative or ornamental feature of the goods.
Do consumers, then, associate "Black Girl Magic" with any one person?
The first instance of anyone filing an application for "Black Girl Magic," according to the USPTO database (where applications and disputes are public record), was on August 11, 2014, when Bond filed to register "Black Girl Magic" as a service mark for: "Providing advertising, marketing and promotional services, namely, development of advertising campaigns provided through cable television broadcast, web casts, radio broadcasts, newspapers, magazines, online banners, outdoor billboards, wild postings, bus and subway ads." And for: "Broadcasting of radio and television programmes."

In the application, Bond classified her use of "Black Girl Magic" as what's known as First Use in Commerce. As Georgetown University law professor Rebecca Tushnet, who specializes in trademark and copyright, explained it to me, "Trademark 'marks' are based on use. So when you apply, you tell the PTO, this is when I used it first. As long as you used it before you applied, you're probably going to be okay." Of course, the applicant still has to prove that he or she used whatever they're looking to trademark in connection with a business.
Bond's application was labeled "Abandoned" on October 6, 2016, at the applicant's request, according to the USPTO. One trademark expert I spoke to suggested Bond may have retracted it because she wasn't formally making use of "Black Girl Magic" in commerce at the time. Last April, notably, at the annual Black Girls Rock! awards show, Bond worked the phrase into her speech: "Today, Black Girl Magic is in full effect," she said. "To all the black girls all over the world, own your magic."
Following Bond, on January 7, 2016, Thompson filed a trademark application that looked to register a distinguishable mark—"Black Girls Are... Magic" in a specific style: "Done in the 'Bewitched' font with stars all around it," as seen on her t-shirts). Thompson's application was abandoned on October 27, 2016, after she failed to respond to a USPTO office request about her trademark. Over the phone, Thompson admits she didn't know much about the process at the time. "After I put [the phrase] on t-shirts and a lot of people started copying that, I figured that I should trademark it," she says. "But I didn't have a lawyer and I didn't have the money and I didn't have any understanding of the process, so I had to abandon that trademark pursuit."
On February 15, 2016, Bond again filed a service mark application for "Black Girl Magic," for the purpose of: "Creating and developing concepts for television programs." This is where the current dispute comes into play.

A month later, on March 14, 2016, Essence applied to register "Essence Black Girl Magic" as a service mark for its own entertainment programs: "Educational and entertainment services, namely, a continuing program about the lives of young girls and women in the form of a multipart documentary or docuseries accessible by means of video, web-based applications, mobile phone applications, and computer networks."
Though Essence has released its six-episode docu-series Essence Black Girl Magic online, the publication appears to be requesting use of "Essence Black Girl Magic" as a service mark for other ventures as well. A representative for the company declined to comment on the legal proceedings, stating via email, "As a policy, we do not comment on ongoing legal matters."
Since both potential marks from Essence and Bond were for television programs involving the use of "Black Girl Magic," Essence had a reason to challenge Bond's previous registration in order to move forward with their own (remember, trademarks look to avoid confusing the consumer). So on November 2, 2016, Essence filed an opposition to Bond's application.
---
As "Black Girl Magic" has evolved into a popular movement, one recurring argument is that no one person should be able to "own" such a huge cultural phrase. Legally, trademarking a cultural slogan is difficult by nature. Unlike popular slogans that become registered trademarks—think of "Got milk?" or even Donald Trump's "Make America Great Again"—"Black Girl Magic" functions as a social movement that's almost impossible to quantify or link to a specific brand. This is essentially what Essence is arguing in its dispute with Bond before the Trademark Trial and Appeal Board.
Of note is that Essence filed a trademark for "Essence Black Girl Magic," which seems to support that argument, since Essence added its own brand in front of the phrase to distinguish it. As part of the legal proceedings, Essence is requesting that the Board deny Bond's registration of "Black Girl Magic." The most recent document in the opposition, submitted by Essence's legal team on March 17, reads:
"The phrase 'Black Girl Magic' has been widely used by the public since at least 2013, well before Applicant's application filing date and claimed date of first use. What started as a hashtag widely used on a variety of social media platforms, #blackgirlmagic, BLACK GIRL MAGIC has quickly become a wide-reaching, affirming, positive message, concept and movement. BLACK GIRL MAGIC represents, in the simplest terms, the confidence, power, beauty and achievement of black girls and women."
The document further calls Bond's application into question, stating:
"The phrase BLACK GIRL MAGIC did not originate from Applicant and was widely used by the relevant public on social media and in connection with a wide variety of goods and services as an informational social slogan before it was allegedly adopted by Applicant. On information and belief, when Applicant allegedly adopted the phrase BLACK GIRL MAGIC, Applicant was aware of the important informational concept and well-known movement and social message associated with the phrase."
Essence's attorneys for the case, Ralph H. Cathcart and Jennifer Kwon from Ladas & Parry, declined to comment on the dispute. Bond's attorneys at Goodman, Allen, Donnelly did not respond to multiple requests, and Bond's rep also declined comment.
"Essence is basically making two arguments," says Tushnet. "First, that the applicant didn't have real 'use' of the term when she says she did, so she can't apply if she didn't use it. Essence is saying that the only thing she was doing was pitching a show called Black Girl Magic!, which is not the same thing. Essence's second argument is that, you have to show that people recognize that [the trademark] is coming from you and [Bond] hasn't. That, in fact, people use 'Black Girl Magic' to describe anything black girls are doing that makes them proud."

At the forefront of this dispute is the issue of ownership, which remains tricky in the digital era, where flashes of brilliance are loosely shared in 140 characters as creators—particularly black teens on social media—get stiffed for their bright ideas. In terms of protecting and preserving intellectual property, there's a glaring gap in the way the system operates and the way the social media world works now. Doreen St. Felix sharply explored this dilemma in a piece for The Fader, where she wrote:
What things come to those who innovate? And who can be called an innovator? When we talk about technology, the designation of "digital innovator" is usually reserved for the engineers who create platforms or the entrepreneurs who instruct them to. Rarely do we see that language applied to the users populating those platforms, though they are tech's bread and butter.
In this case, the trademark dispute isn't a matter of a white corporate entity taking from a black creator, but rather two known brands that service black women capitalizing on a broad, positive social movement—which one could argue is fair game—while a small fish, Thompson, fights for credit. It's unclear if either party was aware of Thompson's #BlackGirlsAreMagic campaign prior to filing trademarks, but none of the dispute documents mention Thompson by name. How does she prove that the reason everyone's talking about "Black Girl Magic" is because of her?
"More than anything, I'm just disappointed that two brands like Beverly Bond and Essence would be attempting to trademark something that came into popularity because I originated it online," says Thompson. "I'm not a big name at all, and people like me are the ones coming up with the innovative ideas everyday and everyday getting erased in the process, and to me that's just not good. I'm hoping the law catches up, so it won't be so hard for people like me."
Thompson has found herself in a similar situation before, albeit on a smaller scale. In September 2015, when the online magazine Black Girl Magic launched, Thompson tweeted her disapproval: "I expect ppl to latch on to #BlackGirlsAreMagic. I wanted that to happen. But damn, give credit where credit is due." (Thompson later worked the issue out with the magazine's creator.) A popular writer, activist and social worker who goes by Feminista Jones supported Thompson at the time, tweeting: "I find it extremely interesting that there's now a 'literary magazine' capitalizing on the brand w/o consultation or involvement of creator."
Feminista Jones disagrees with the idea that one person can't claim "Black Girl Magic," citing the way the campaign spread. "Most folks in-the-know remember when #BlackGirlsAreMagic was a conversation that became a movement, and we were very early supporters of the concept," she wrote in an email. "People weren't talking about Black Girl Magic before the shirts, so the merch is what propelled the movement. We bought the shirts and hoodies, shared photos, and began attributing the hashtag to tweets that exemplified the magic of Black girls." She adds, "Of course it spread—we were hyping up the diverse 'magic' of Black girls and women. I don't think she was the first to use the hashtag, but I know she is the one who made it popular and pushed the concept into larger discourse."
The vexing part perhaps is that the trademark process is built to protect brands and inform consumers, and it certainly doesn't give weight to culture. Any push to evolve the system should presumably include helping to educate the young creators getting left on the sidelines. "There should be a certain understanding in this day and age about first, early use and accountability for respecting intellectual property," says Feminista Jones. But the ideal situation, we know, isn't always the legally viable one.

"You've probably noticed that anytime a phrase suddenly gets picked up in the news media, there's a flurry of people who try to lay claim to it, to register it as a trademark for a whole host of things," says Ginsburg. "But those cases almost always fail because the words don't signify any particular source of goods or services. A trademark symbolizes to the relevant public that it's a brand. Trademark law isn't intended to bottle up cultural meaning."
No matter who technically owns the trademark, what's substantial is that something that started as a hashtag now serves as a way to ritualize black female brilliance in three words. Though social creativity, self-grown, has increasingly become currency—and no one wants to be excluded from the power of ownership—at least this phrase belongs to us.
By March 28, a day before I contacted her, Thompson had hired representation and filed another trademark application for "Black Girls Are... Magic." Though she's ready to try again, she says of the process, "I honestly don't understand it much more than I did before."
This story has been corrected to state that Thompson began selling her t-shirts in January 2014, not January 2015.