The videos depicting security officers forcibly dragging an elderly United Airlines passenger in Chicago have drawn outrage that is both widespread and entirely justified. Most of the resulting news coverage has focused, correctly, on United's tone-deaf response and the larger question of how much power airlines wield over our lives. Certain news outlets, however, decided to go in a different direction. Instead of investigating the security officers depicted in the videos—and, perhaps, those officers' supervisors—these outlets have focused on the passenger.
Ana Gasteyer Satirizes the Girl Boss in 'American Auto'
The victim, a 69-year-old Kentucky doctor named David Dao, was quickly identified thanks to the reporting of a local Louisville paper, The Courier-Journal, whose editors decided to publish sordid details from Dao's past, based on publicly available court records. Outlets like The Daily Mail, The New York Post, TMZ, and The Wrap later aggregated the paper's coverage. The editor of the Courier-Journal defended his newsroom in an interview with The New Republic by arguing that Dao was "familiar to people in the local market" and imploring his critics "to make sure they're commenting on [his paper's coverage of Dao] with full context and perspective."
Meanwhile, the identities of Dao's assailants remain unknown. Their employer, the Chicago Department of Aviation, refused to name any of them in a press release announcing that one of them had been placed on leave. Despite the agency's evasiveness, and the fact that their employees' actions were captured on video, a significant number of news outlets decided that it was the victim—not the perpetrators—who deserved the bulk of their coverage.
We've asked the Chicago Department of Aviation for the names of the involved security officers, and will update this post if we hear back. In the meantime, if you know their names—or any details of their backgrounds—please get in touch.
G/O Media may get a commission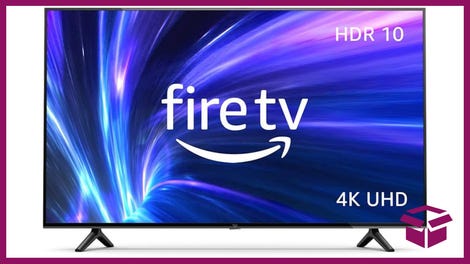 42% Off
Amazon Fire TV 50" 4K Smart TV
Email the author at trotter@gizmodomedia.com