Whether you're on the blue feed or the red feed, chances are you've seen reports on Facebook of clashes amongst white nationalist protests Charlottesville, VA which began at the University of Virginia Friday night and moved to Emancipation Park Saturday morning. The governor has declared a state of emergency. Riot gear and tear gas was involved. Several injuries have been reported.

Ana Gasteyer Satirizes the Girl Boss in 'American Auto'
G/O Media may get a commission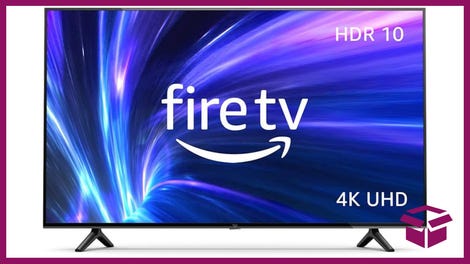 42% Off
Amazon Fire TV 50" 4K Smart TV
At what was ostensibly a "Unite the Right" rally over the removal of a Robert E. Lee statue, it was also another chapter in the longtime war between white nationalist groups and Anti-fascists, enemies who seek out opposition rallies for sometimes-violent battles. This is undoubtedly one of the biggest clashes yet.
"This is a whole other ball game, I think," a journalist who's been covering white nationalists for 15 years told Jezebel. "This is because of the monument, which unites the South (which is proud of its Confederate heritage) with the racists. It's the perfect storm."
"I think it's a game changer for society, for how we're all going to be dealing with this," said Philadelphia ANTIFA chapter leader Daryle Lamont Jenkins over the phone from Charlottesville. He says that he'd heard about the rallies long before this morning, and wasn't able to speak long in the midst of the protests as factions of three or four hundred ANTIFA members were regrouping.
"They're referring to it as the white supremacist Altamont [the 1969 Woodstock festival which turned violent]."
Unite the Right marchers have reportedly been chanting "White lives matter!" "You will not replace us!" and "Jews will not replace us!" Jezebel was not able to reach members of Black Lives Matter, which was represented in the counter protests, at this time.
"From indications there's about 1200 on our side with the Nationalist Front, Unite the Right, and all the different groups," said Butch Urban, chief of staff of the Nationalist Socialist Movement, a nationwide group with roots in the neo-Nazi movement. The NSM is part of the Nationalist Front (originally, the Aryan Nationalist Alliance), including the Traditionalist Worker Party, which is reportedly in Charlottesville.
"If there's 1200 people down there on our side, it's not gonna stop," Urban told me. "Unless they bring in the national guard and completely shut it down." He's heard reports that groups from the West Coast, the Dakotas, and Texas have travelled for the event. "It's not just like it's over and everybody's gonna leave."
He continued:
These fucks wanna rewrite history and erase the Confederacy from the history books. The Confederate soldiers that fought during the war–they're US military. They're in our military cemeteries, they were acknowledged as soldiers even though they fought for the south.

But today isn't just about removing Confederate monuments and statues and renaming parks. I think people are tired. They're tired of the bullshit, the political correctness, using our tax dollars to bring in people from Syria and Somalia, all this other stuff with homosexuality.

It's come to a head, and today's a prime example.
The protest has been declared an unlawful assembly, and the scene has been cleared for the time being.
If you're in Charlottesville, please send tips to whitney.kimball-co@jezebel.com.
Update 8/12, 3:11pm EST: The Daily Beast is reporting that a car has plowed into a crowd of anti-racist protesters, injuring at least four.
Update 8/12, 3:38pm EST: The mayor of Charlottesville Mike Signer reports that one person has died in the crash.
Update 8/12, 7:28pm EST: The victim was a 32-year-old woman. The car injured at least 19 others. Governor Terry McAuliffe is urging protesters ("the white supremacists and the Nazis") to go home.
Update 8/12 7:55pm EST: A police helicopter crashed today seven miles outside of Charlottesville, killing two state police.
Further developments are coming in live from reporters at the scene on Splinter News.