The National Enquirer has published a "piece" or "article" called WHITE HOUSE RUN WILL KILL HILLARY. It reads like The Onion decided to take every article written about Hillary Clinton in the past few years and mash them together into a Hillary Clinton conspiracy theorist's wet dream.
Seriously, I've never read one article that manages to recap the last 6+ years so effectively. Here's a list of every Hillary-related news item they managed to cover in roughly 900 words. Spoiler: they got to them all.
Hillary might be running for president
HILLARY CLINTON has secretly decided to run for president in 2016, but doctors have warned that pursuing her dream of becoming America's first female commander in chief could kill her!

...

Sources say the 66-year-old former first lady and her husband Bill are already laying the groundwork to build a $5 BILLION war chest to fund her campaign, with their daughter Chelsea playing a major role.
Previously: Hypothetically, Hillary Clinton Is For Sure Running for President
Not Even a Star-Studded Tribute Can Convince Hillary Clinton to Run for President (Yet)
G/O Media may get a commission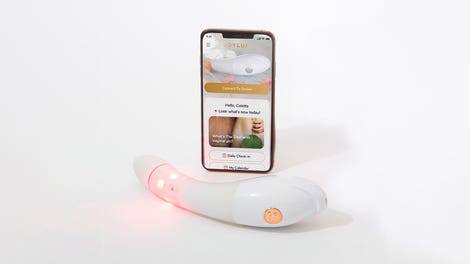 $50 Off
Joylux vFit Gold Device
Hillary Clinton's Presidential Poker Face Is Completely Inscrutable
Hillary Insists She Isn't Running For President In 2016, Or Ever
But Hillary's really too old to run...
"Hillary's doctors have painted a grim picture of her health," said a close source. "Behind the scenes, they're telling her, 'Running for president will kill you.'

But Hillary wants to ignore her doctors because she's so desperate to be America's first female president.

"She believes it's what she was put on earth to do, and there's no convincing her otherwise.
Previously: 101 Things Older Than Hillary Clinton
GOP Says Hillary Clinton's Too Old, Because That Surely Won't Backfire
...because she has a lot of health issues
As The ENQUIRER has reported, former secretary of state Hillary has struggled with a number of health concerns. She faced a brain cancer scare after a faint- ing spell resulted in a concussion in December 2012.

Following extensive testing, doctors discovered a blood clot in a vein between Hillary's brain and her skull behind her right ear. The dangerous clot was dissolved with blood thinners during a frightening hospital stay.

She also fainted while speaking in Buffalo, N.Y., in 2005. In 2009, she broke her elbow in a fall in the State Department garage, and in January 2011 he collapsed while boarding a flight in Yemen.

"Hillary simply cannot be stopped. Even when she was suffering from the blood clot near her brain, she told Bill and Chelsea that she was intent on raising a '$5 billion war chest' for her campaign. "They tossed out names of possible supporters while Hillary was still in her hospital bed."
Previously: Is The New York Times Concern-Trolling Hillary Clinton?
Hillary Clinton Is Recovering Just Fine From Her Blood Clot Scare
Even so, Chelsea's going to be a part of the campaign
"Bill and Hillary are intent on Chelsea having a baby soon, and then having Chelsea campaign with the baby," said the source.

"They believe Chelsea's presence as a new mom will attract young female voters. That's not going to sit well with Marc, who's continually felt frozen out by the Clintons. But Chelsea will do whatever she can for her mom. She's a Clinton first and a wife second."

The political insider added: "Having Chelsea and the baby involved will make the family look younger and give a Kennedy-like 'Camelot' touch to the campaign."
Previously: Hillary Clinton's Relationship Status With 2016: It's Complicated
This is all happening because Bill really wants it
"As badly as Hillary wants to get back into the White House, Bill wants it more. It would be like a third term for him and give him a chance to build on his presidential legacy."

...

"With the president and Democrats going up in flames over the Obamacare fiasco, Bill told Hillary, 'You have to save America.'
Previously: Bill Clinton Thinks a Woman Should Be President. Hint Hint.
Bill Clinton: Leave Hillary ALONE (Sob)
Finally, Hillary still hates Barack
It would also give the Clintons the opportunity for payback with President Barack Obama, said the source.

"Hillary felt she deserved the nomination five years ago, and Barack stole it right out from under her," said the insider. "Ever since then, a Clinton-Obama feud has been simmering right below the surface.
Previously: Hillary Clinton and President Obama Veg Out
Barack Obama Really Wishes Hillary Clinton Would Stop Drunk Texting Him
The Many Ways To Say "Hillary Stole Obama's Balls"
Hillary Clinton, Obama's New Best Friend In The Administration
Image via Win McNamee/Getty