During a White House event honoring three surviving Navajo Code Talkers, including 97-year-old Fleming Begaye, the oldest living World War II veteran, President Donald Trump declined to read from his prepared remarks (which he described as "the most beautiful speech") and instead took the event as an opportunity to use a racial slur.

"I just want to thank you because you're very, very special people," Trump said as he stood in front of a portrait of former President Andrew Jackson. "You were here long before any of us were here, although we have a representative in Congress who, they say, was here a long time ago. They call her 'Pocahontas.'" The president turned his attentions back to the three Navajo Code talkers, Thomas Begay, Fleming Begay and Peter MacDonald, saying "I like you because you are special. You are special people."
Trump's "Pocahontas" remark was a reference to what he's called Massachusetts Senator Elizabeth Warren in the past. Ostensibly the "they" in this remark was both Trump and the conservative media who coined the nickname "Pocahontas" for Warren after it was reported that she once self-identified as a descendent of the Cherokee tribe, a family history that was later reported to be fictitious. The derogatory term became in fixture in Warren's 2012 Senate race against Scott Brown.
Trump has repeated the insult on numerous occasions and, apparently, believed that today's event was an appropriate time to reiterate the insult. Shortly after the event, Warren told MSNBC,"It is deeply unfortunate that the president of the United States cannot even make it through a ceremony honoring these heroes without having to throw out a racial slur."

G/O Media may get a commission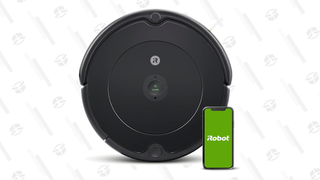 35% Off Black Friday Deal
iRobot Roomba 694 Robot Vacuum
In today's White House press briefing, Press Secretary Sarah Sanders defended the president's comments, arguing that "Pocahontas" is not a racial slur and that the president's comments were not disrespectful to the men being honored. "Why did he feel the need to say something offensive to many people?" one reporter asked Sanders. "What most people find offensive is Senator Warren lying about her heritage to advance her career," she responded.
In a followup, Sanders was asked whether or not the president's remarks constituted, as Warren claimed, a racial slur. "That's a ridiculous response," Sanders responded, emphasizing the "context" of the insult. Asked again, Sanders finally offered this defense: "I don't believe that it's appropriate for him to make a racial slur [...] I don't think that it is [a racial slur] and I don't that it was certainly not the President's intent."

Sanders was also asked whether or not the President "lacks decency," a question to which her answer was equally unconvincing.