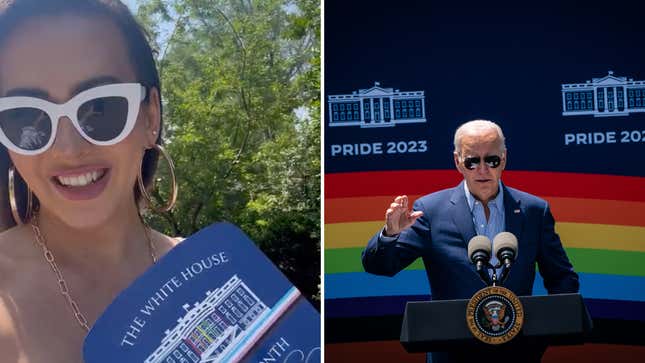 Republicans are losing their minds because a woman briefly went topless in a vlog about her experience as an attendee at the White House Pride event on Saturday. Rose Montoya—a model, influencer and prolific TikToker—posted her vlog to the app on Monday. In the 58-second recap video, the trans activist meets President Joe Biden at a meet-and-greet line, poses in front of the Truman Balcony, and posts clips of Biden and Dr. Jill Biden's speeches.
Also tucked into that 58-second video is a 3-second clip of Montoya and two trans masculine friends posing topless. Her friends are showing off their top surgery scars as Montoya sort of dances next to them while covering her boobs with her hands. It's that moment, obviously, that's sending conservatives into a tailspin. The National Review misgendered her throughout their story on the incident, saying she "violated basic standards of decency." Fox News used the transphobic "biological male who is transgender" descriptor. And the backlash made its way to the White House, which responded with a heavy scold.
"This behavior is inappropriate and disrespectful for any event at the White House," a spokesperson for the White House said in a statement to The Messenger. "It is not reflective of the event we hosted to celebrate LGBTQI+ families or the other hundreds of guests who were in attendance. Individuals in the video will not be invited to future events."
Montoya then responded to the backlash in a new TikTok. "It has recently come to my attention that conservatives are trying to use the video of me topless at the White House to try to call the community groomers, etc. And I would just like to say that first of all, going topless in Washington, D.C., is legal, and I fully support the movement of freeing the nipple, because why is my chest deemed inappropriate or illegal when I show it off?" she said. "However, before coming out as trans, it was not. All you're doing is affirming that I'm a woman."
Montoya said she wasn't trying to be "vulgar" or "profane" when the trio posed for the short video. "I fully support the movement and freeing the nipple," Montoya said. "My trans masculine friends were showing off their top surgery scars and living in joy, and I wanted to join them. And because it is perfectly within the law of Washington, D.C., I decided to join them and cover my nipples just to play it safe."

I type this with all the reverence for the position of president I can muster: Joe Biden has seen an areola before, even a full boob. Yes, the move was provocative, and I would not recommend people go topless at the White House of all places. But Montoya did covered most of her boobs with her hands, a la most Sports Illustrated Swimsuit photoshoots. I guarantee the president and any adult in America has seen at least that much tissue before.
Rightwing weirdos are choosing to obsess over a 3-second clip from a TikTok because it allows them to position trans people as predators, which serves their greater agenda of demonizing trans people and the rest of the queer community.
The Biden Administration already banned the woman from the premise. This was not that scandalous. Everyone can move on now!