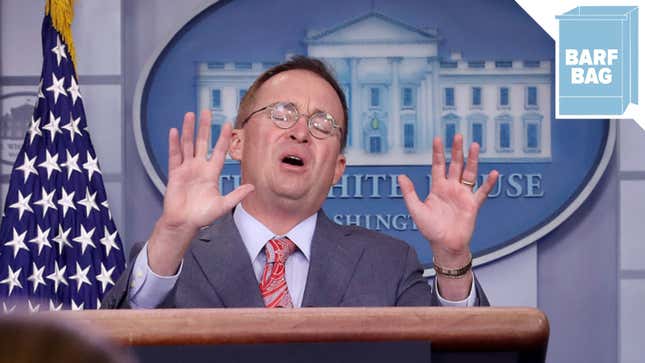 Can I write off Diet Dr. Pepper as a work-related expense?
Here's all the shit we couldn't cover today:
White House Acting Chief of Staff Mick Mulvaney confirmed during a press conference that, contrary to Donald Trump's many, many denials, the Trump administration did in fact hold up aid to Ukraine to force them to investigate the Democrats. [Politico]
He also said that next year's G-7 summit will be held at Trump's Doral golf resort, confirming that the administration loves to secretly commit crimes AND openly commit crimes, as well as give world leaders bed bugs and diarrhea. [Washington Post]
Did you know we have an ambassador to the E.U.? We do, and he testified today that Rudy Giuliani was acting on Trump's behalf when he pushed for Ukraine to investigate the Bidens. [NBC News]

I'm dying! [New York Times]
I'm dead! [Washington Post]
Now I'm really dead!
Here are some tweets the president was allowed to publish:
This has been Barf Bag.