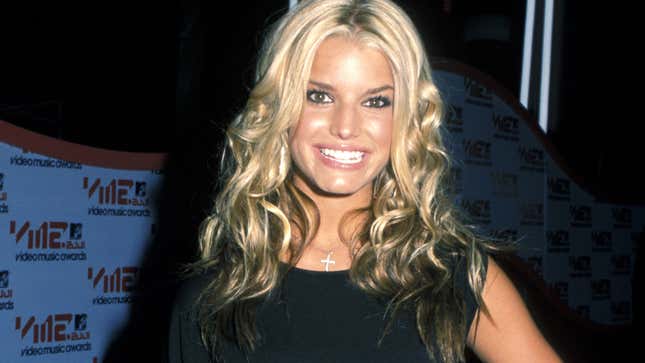 Jessica Simpson's game-changing 2020 memoir Open Book was so vivid so often that, when it wasn't, it was legit frustrating. Case in point: When she discusses life after her split with Nick Lachey, she writes that around February 2006, "I was free to date and explore, like some Jane Goodall studying the mating habits of Hollywood's celebrity bachelors. I would meet guys in clubs, or their people would call my people. Our shared fame would mean we couldn't be seen together, or we'd fall into the sausage grinder of the tabloid fame machine. We rented cars or met on private planes, probably loaned or rented to impress me, who knows. It was intensely glamorous and all completely secret." I practically groaned when I read this part of a book I otherwise loved. Tell me the stories. I want to know how these famous guys smelled and what their dicks are like. Why gloss over what could make several books of material?
Is Emmy Rossum Old Enough To Play Tom Holland's Mom?
The answer to that question seemed a bit clearer on Wednesday, when Simpson dropped "Movie Star," an "Amazon Original Story" that is, per the marketing copy, "a short and true story about a world-famous actor and a fantasy Hollywood romance gone wrong by Jessica Simpson." The 28-page chronicle just happens to be set largely in 2006. Well, well, well. She's returned to let us know what life was like amongst eligible bachelors. Why not do this in a series of short and true stories to keep us entertained for years to come?
"Movie Star" details a courtship of sorts with "a massive movie star" that Simpson met near the red carpet of the 2001 MTV Video Music Awards (she calls them the "MTV Awards," but reports that the Sept. 11 terrorist attacks occurred days later, and the VMAs that year took place on Sept. 6). "As our mutual friend, my bodyguard, talked, this megastar, who I grew up thinking was so hot, eyeballed me up and down," Simpson writes. "Like he was undressing me with his eyes, which was fine, because I had plenty of reasons to ditch that outfit and change." She ran into him again at the gym soon after, she writes, but after 9/11 reunited her with Lachey (and then they did their whole Newlyweds reality show thing), it would be years before anything actually happened with the "movie star."
And what did happen was...not very much. They hung out and kissed: "We would find a quiet place to talk. We kissed sometimes, and I felt that same rush each time. But mostly we just talked." She discovered fairly early after reuniting that he had a girlfriend, spotting them together on a red carpet, but when confronted, he told her: "It's completely over. She's actually moving out, but—look, if I don't go with her places, then it's a story we have to deal with. You of all people get that. I swear, we are not together. You are the only girl I want to be with. You're it."
He ended up getting frustrated with her when she refused to have sex with him after he flew her to a hotel near the set of a movie he was shooting. "We didn't have sex, and he had the nerve to be pissed," she writes. "But it didn't matter—I knew all of this was ending. I didn't care if he was my teenage fantasy come to life, this was not a choice that same girl, my younger self, would be proud of." And that's about it. Kind of an uneventful story, actually. And yet, intriguing. Who was the guy?
If Simpson did not intend to send the internet on a guessing spree, well, that's what she did. The most outstanding clue she gives regarding the movie star's identity is that he wore jeans and a T-shirt to the 2001 VMAs. An industrious observer at ONTD pointed out:
Guys in jeans & t-shirts: Kid Rock, Johnny Knoxville, Mark Wahlberg, The Edge (lmao), Moby (lmao again), Will Smith (he had a jacket on over a white tee), Jay-Z even had on a white tee for the red carpet (that'd be a hell of a reveal)

Jamie Foxx and Ben Stiller had on button downs, Will Ferrell was in a 70s-looking shirt, Usher had on hideous leather pants not jeans.
I went through Getty to look at all the red carpet pics that are up (which may have been an incomplete representation of the stars out that night, but still), and some guy in No Doubt, some members of 112 and O-Town, Busta Rhymes, Justin Timberlake, Bon Jovi's Richie Sambora, Ja Rule, maybe Pauly Shore, and maybe Carrot Top also wore jeans and a T-shirt that year (sometimes with a jacket—very smart!—over top). None of them were movie stars at the time. (Additionally, Knoxville appeared to be wearing Dickies or some other kind of broad chino, not jeans.) It seems that Smith and Wahlberg are the only two who could be reasonably referred to at that point as movie stars, and Smith was married at the time, which means that Simpson wouldn't have referred to Jada Pinkett Smith as his "girlfriend." That leaves Wahlberg, who started dating Rhea Durham in 2001 and finally married her in 2009.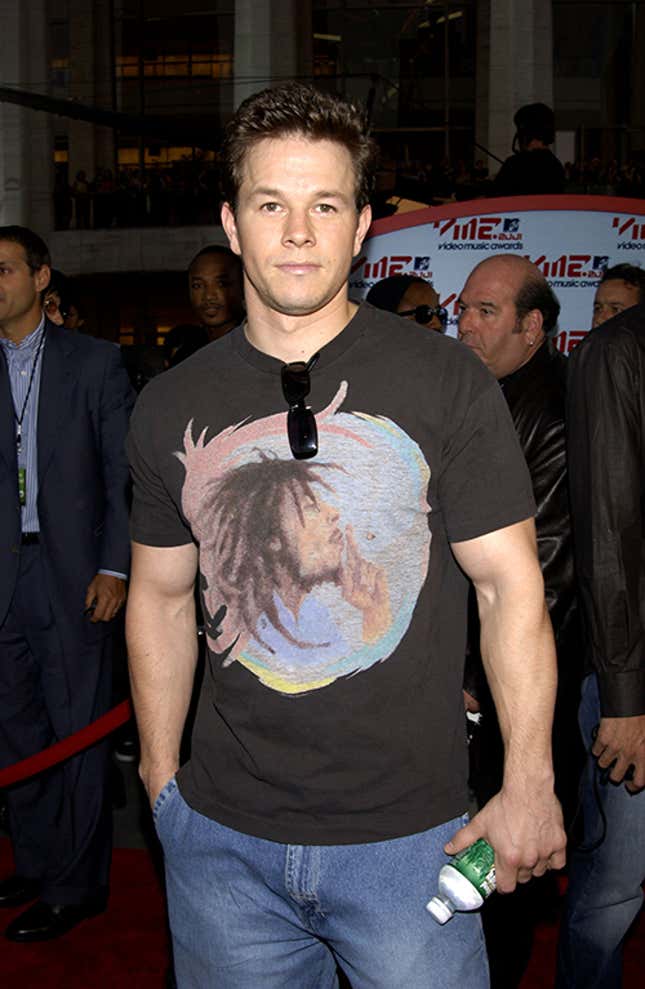 Just saying!
Another clue that tips things toward Wahlberg: Simpson writes, "We had different faiths, but the same reverence for God." Simpson's father Joe Simpson was a Baptist minister; Wahlberg is notoriously Catholic. This is how that played out:
"You know, how much I want to have sex with you." Oh, Lord, I thought. He continued, "And how it makes me want to repent."
Kind of fun. Anyway, I'm not saying it's definitely Mark Wahlberg, but I'm certainly not not saying that. And neither is Simpson.
---
A moment of zen from the recent Variety profile of Doja Cat:
"A lot of people think I'm not good at handling trolls because I respond to them. But that's the art of it: I love to go to fucking war with trolls. That's just what I've grown up with; I've been on the internet for 1,000 fucking years and it's just part of me: that I need to respond. People think, 'Oh, if you're defending yourself, you're weak.' But I always rest on 'Everyone can suck my dick from the back.'" She hesitates, peers into the camera and says, "I don't know if you want to write that down." Oh, consider it written. "If somebody wants to fight me on the internet," she continues, "I will gladly join in, balls to the wall. It's fun for me. I'm a very messy bitch."
This concludes today's moment of zen with Doja Cat.
---