For the June issue of Elle, Elizabeth Kaye penned what is essentially a very long blind item. The short version? She went to the movies, developed a crush on an actor, set up an interview and subsequently bedded him. Repeatedly.
"Reader, I loved him," she writes, "and you did too." So who is he? Kaye doesn't say. A web search and a Nexis search bring up very little information. But here's what we know:
1. He is hot, and famous.
In the piece, he's called a "screen god," and Kaye calls him "a man handsome enough and famous enough and rich enough to have any woman he wanted." She mentions his "tapering fingers," his "machismo," and his "inquiring eyes."
2. He was a romantic lead in a film — more than once.
Kaye writes, "He touched my heart, simple as that. He touched a lot of hearts that year because he'd starred in a movie configured for that express purpose." She adds, later, that the actor worried that he was a sellout because of "his roles in romantic movies."
3. In the movie, he makes out with the female star.
"I watched him kiss his leading lady while tracing his thumb — ever so gently — along her perfectly rounded cheek."
G/O Media may get a commission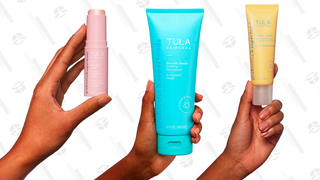 4. He has an "intense fragility."
A "male vulnerability." Also, she mentions "his tears," so he maybe cries in the movie.
5. He got around.
Kaye claims that he had "already amassed a run of conquests that read like a list of who got the best tables at Spago."
6. He's probably not Rob Lowe or Kevin Costner.
Well, he could be. But Kaye mentions both of these actors in her piece, and it seems highly unlikely that she would actually name the man whose identity she seems set on not revealing.
7. Somewhere out there is a profile of this man, by Elizabeth Kaye.
"I wrote the piece, of course, because I had to , both for him and for me. It was a surreal experience. It didn't feel like writing: Every word I committed to paper felt like penance."
8. He is still alive.
Kaye admits that she still thinks about him, and ends her piece: "Lately, I've come to dread the possibility that some day I'll open the paper ad read on the front page that he has died."
9. He made a movie in which he wore a certain outfit.
Kaye mentions that the third day she hung out with the actor on set, "I had never seen him out of costume."
Since Elizabeth Kaye wrote about her mid-life crisis in 1995, we're going to assume that the mystery man is her contemporary, and that this incident occurred around that time, if not before.
Some guesses:
Clint Eastwood?
Signs point to yes: He was on the cover of Rolling Stone in 1985, when Kaye worked at the magazine — she did a cover story on Julian Lennon in the same year. He was in a very romantic movie, The Bridges of Madison County. Which was released in 1995. Hmm. In a piece about outhouses, Kaye mentions Eastwood, in an off-hand manner. Also, Kaye has written extensively about horses, and Eastwood is the quintessential cowboy. 1992's Unforgiven? Costumes! Also, he's old, so the whole, "I fear I'll pick up the paper and he'll be dead" thing makes sense.
Signs point to no: Was Clint ever considered a player?
Warren Beatty?
Signs point to yes: Duh.
Signs point to no: Beatty made 2 movies in the '80s: Reds and Ishtar. The incident with Kaye could have happened in the '70s (we don't actually know her age) but it seems unlikely. And if you slept with Warren Beatty, wouldn't you just tell people? Because there are 13,000 women out there who have done just that. A huge support group!
Charlie Sheen?
Signs point to yes: Sheen was, and is, most definitely a ladies' man. Between Ferris Bueller's Day Off, Young Guns, Eight Men Out and Major League, he made quite a few flicks between 1986 and 1990.
Signs point to no: Can you recall Charlie tenderly kissing a leading lady? Besides Jeannie in Ferris?
Jeremy Irons?
Signs point to yes: While working for Esquire in 1997, Elizabeth Kaye wrote a lengthy profile on Irons — and the film he was promoting at the time, Lolita. She also mentions him in that outhouse piece.
Signs point to no: Irons didn't make a lot of romantic movies in the '80s and '90s — the role of Claus von Bülow in Reversal of Fortune isn't exactly swoon-worthy.
Rob Lowe?
Nah.
Kevin Costner?
Signs point to yes: Costume dramas and romantic leads galore! The Untouchables, Bull Durham, Field Of Dreams, Dances With Wolves, The Bodyguard, Wyatt Earp. Kaye notes that when she first met her mystery man, "his face was covered with tan makeup." Like this?
Signs point to no: Besides Elle MacPherson, Costner's dating life wasn't very A-list. And she mentions him in the article.
Then it must be…
Richard Gere!
Gere was on the cover of Rolling Stone in 1980, in 1982 and in 1985 — each cover to promote movies those years, American Gigolo, An Officer And A Gentlemen and Breathless. In 1990, Pretty Woman hit theaters, and if ever there was a movie that was "configured" to make women fall for the male lead, that was it. Buddhist and friend of the Dalai Lama, Gere seems like the kind of person who might worry that he's a sellout. Plus, Kaye quotes her mystery man as asking her, when they got intimate, "Do you believe in other lives?" Reincarnation! Gere was married to Cindy Crawford, has been linked to Tina Chow, Diane von Furstenberg, Kim Basinger, Julia Roberts, Diana Ross, Barbra Streisand, and Uma Thurman. So, yeah, he's been around.
Signs point to no: Having a tough time figuring out what kind of "costume" Gere may have been in while shooting in L.A. and having a torrid affair with Kaye.
Due to the details as outlined here — and because he once hit on my mom — we're going to surmise that Gere is Kaye's man. In which case, wonder how he feels about the piece in Elle.
But that's just our theory. We're open to suggestions!
Access Hollywood: Romancing A Movie Star [Elle.com]