In today's Times of London several writers rant about the children's television programs they hate the most. Barney the Dinosaur, The Tweenies, Charlie and Lola, and Bob the Builder all come under vicious parental attack.
"Can we fix it? No we can't. Not ever. It's just too dreadful," writes Alice Thomson of Bob the Builder. Thomson's children adore the show, and though she's tried, she just can't get into it. "I have watched the DVDs, read the books, slept with Scoop, Muck and Dizzy and my son all squeezed into the same bed, but the charms of Sunflower Valley elude me. But I know when I throw out the children's toys, the much-cherished, half-mangled builder is the one I will have to keep."
Simon Mills has an equal amount of rage for Barney: "Mostly I hate Barney ("I hate him, he hates me, we are not a happy family") because his kiddie-centric political correctness invaded the nice shouty mayhem of our house like a saccharine virus," Mills writes, "My eldest actually met him once (the photos still give me shivers). You do not know what hell is until you have had to watch Barney's Christmas for the 700th time ... in July."
After babysitting my beloved niece and nephews on several occasions, I can firmly say that I could easily live in a world without the Wonder Pets. Especially the little duck who yells, "This is seewious!" in every single episode. "He's promoting a speech impediment," I told my sister.
"He's a cute little duck who saves the day," she frowned, giving me her best "bish plz."
G/O Media may get a commission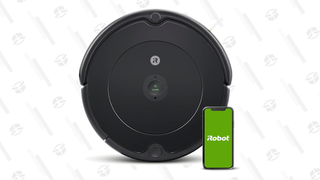 35% Off Black Friday Deal
iRobot Roomba 694 Robot Vacuum
Luckily, my niece and nephews also enjoy such awesome programming as Yo Gabba Gabba, Oswald, and The Backyardigans (which I can only take in small increments- after a while the singing becomes too much) so we can avoid The Wonder Pets when necessary.
Are there any children's shows that drive you insane? Do you suffer through them for the kids? And if you could give any character a piece of your mind, what would you say? Would you tell Blue to get a clue? Tell Diego to just go, forever? Or perhaps you'd ask Miffy to just say something for once? Remember: this is seewious, you guys.
Why Children's TV Drives Us All Barney [Times of London]