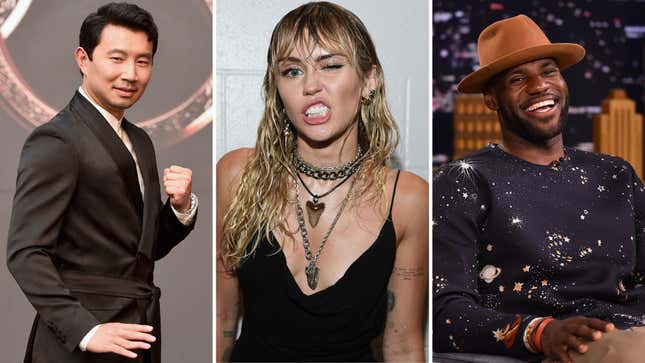 Looming large over the Twitterverse like a dark cloud has been the threat of Elon Musk taking legacy blue check marks away from journalists and notable people to force everyone to pay him $8 a month for "verification." This threat has until now been sort of nebulous, often getting pushed off into a distant tomorrow. Yesterday, though, on 4/20 of all days, the legacy checks did indeed disappear.

Infamously Thin-Skinned Man Joins Twitter's Board
What remains are blue check marks for users shelling out $84/year to subscribe to Twitter Blue. The subscription service I suppose has some perks, but mainly serves to signal that you're shamelessly willing to pay a right-wing billionaire to use Twitter. Embarrassing!!
Yesterday's unveiling of which users pay for Twitter Blue felt like the moment at the end of Scooby Doo episodes where they unmask the mighty villains, and it's just a a weird, old dude underneath. So which celebs have been exposed as loyal Twitter Blue users?  
Simu Liu's and Ryan Reynolds' blue check marks remain, and a quick hover over the icon shows that they are subscribed to Twitter Blue. Arguably these two dudes are maybe our most eager and earnest leading men. This feels fitting.
Then accounts of Rihanna, Taylor Swift, Ellen DeGeneres, Britney Spears, Jimmy Fallon, and Miley Cyrus are also still emblazoned with the blue check. With the exception of Ellen and Fallon, this list feels a bit more surprising. Not that these people can't afford $8 a month, but it does feel entirely uncool at this point, and those celebs seem either on top of their public image enough to know to dissociate from Musk or not on top of it at all to not even know what's going on with the platform.
Other late night hosts like Stephen Colbert, Jimmy Kimmel, and Seth Meyers have all lost their checks. Their shows' accounts, however, have kept them because they're affiliated with official television networks.
But where things get sort interesting (read: stupid) is that LeBron James, Stephen King, William Shatner all have their blue check marks and their accounts say that they subscribe to Twitter Blue, despite all three of them being critical of Musk and this dumb subscription service in recent months. King and reps for James have both confirmed they are not paying for Twitter Blue. So who is?
Turns out, Musk is personally paying for James, King, and Shatner's Twitter Blue subscriptions, I guess just to troll them? Teach them a lesson? Put like $250 of his own money into his own crumbling platform? It's unclear. He confirmed this to the reputable account "Pop Base" last night, not even 12 hours after one of his Space X rockets prematurely exploded four minutes after launch. Priorities, man.
---