Last night, Los Angeles' Museum of Contemporary Art held a gala for An Artist's Life: Manifesto, directed by Marina Abramovic — any Hollywood celebs wouldn't be Hollywood celebs if they didn't show up in their best attempts at looking "artsy." If having a stylist and a hair and makeup team for the purpose of creating a public image that is essentially a completely manufactured commodity is still within the confines of art, then yes, some succeeded.
Complicated is not always complex and complex is not always interesting. What am I saying? There's nothing more useless and visually uncomfortable than a pair of open toe booties, especially when paired with a long-sleeved turtleneck dress that hits mid-shin, but somehow Rosanna Arquette makes it work. The dot pattern makes it look like she has superhero boobs, which is awesome or weird, depending on how pervy and/or nerdy you are. Nicole Richie's dusty mauve dress is intricate, but I'm struggling to find beauty in the details. Bright aqua blue looks good on Kirsten Dunst, but c'mon—the dress looks like two bolts of fabric with some lace ruffles sewn on.
Jaime King came in a beautifully draped black velvet gown, looking every bit like an old-school Hollywood siren, from the hair and makeup right down to her accessories. Want want want that little beaded clutch.
G/O Media may get a commission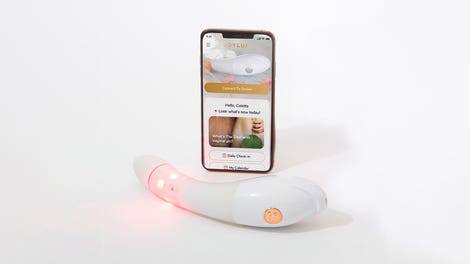 $50 Off
Joylux vFit Gold Device
Rose McGowan's halter dress is also gorgeously draped, but the color—which is either aqua blue or aqua green depending on the photo—is a little too unsophisticated for a bombshell dress like this. That bronze bag also has to go.
Here's a tip: TRY A COLOR. Just kidding! It's Marina Abramović, the woman who used to flay and whip and cut and burn herself all before 10pm, the curfew her mother in Yugoslavia mandated for her. Marina: my chest tightens with curiosity and admiration for you, and anyway, you always look nice in your white shirt-coat and black pants.
It pains me to say it, but every one of these ladies looks like they are trying too hard, even Dita Von Teese. Designer Monique Lhuillier's dress calls for better styling, especially in the hair and makeup. Gwen Stefani's wrinkly dress is supposed to look edgy, but instead she's got one perky boob and one droopy boob, and a skirt that balloons out around her hips and then gets inexplicably tight around her ankles. Dita Von Teese looks flawless as usual, but the bodice of her dress has one design element too many. At least get rid of that three-leaf clover thing pressed up against her left boob.
The three best dressed ladies of the night, and what's even better is that Devon Aoki, Miranda July, and Dakota Johnson probably picked out their own dresses and tux, and did their own hair and makeup. (I just sense this. I don't know why. I'm going with it.) I love that they don't look too polished, even though their outfits are incredibly chic and tailored.
The best dressed pairs of the night, from left to right: Phoebe and Annette Stephens prove that pink and red look great together, especially when they come in the form of silky caftan dresses, accented with lots and lots of gold; Jeremy Scott and Rosson Crow look like contestants for Dancing With the Stars: The Young and Demented edition; Nancy Corzine and Bruce Helander look eccentric and wealthy—why don't more men wear orange Chaplin hats and pale blue pinstripe suits with a tropical tie?
Lady Victoria Hervey has an almost-mullet and her dress narrowly avoids excessively-beaded territory. Minnie Driver looks hot, and she makes me want to invest in better strapless bras. Michelle Chan's dress is stunning. Maybe it'd be even better minus a couple dozen beads, but will you look at the magnificent pleats on her skirt?
This one's just for fun. It looks like they handed out Abramovic-esque shirts to the guests as party favors. How hilarious is that photo of Gwen Stefani trying to pose all hot and sultry in what is essentially a white lab coat? And with that, I bid you ado.