The government will close again on Friday unless Congress and the White House reach a deal or pass another temporary spending measure. But as another shutdown looms, domestic violence shelters that depend on federal funding are still dealing with the repercussions of last month's historic shutdown.
"The most constant word I've said is uncertainty," Jean Collins, the executive director of Huntingdon House, a small domestic violence organization that runs a 16-bed shelter in rural Pennsylvania, told Jezebel. "My biggest problem as executive director is that I'm getting virtually no information."
Despite the fact that the government is re-opened for the time being, there is little assurance that it won't close down again by the February deadline. Donald Trump hasn't ruled out the possibility of another shutdown, indicating that he is willing to double down on his strategy of holding the government hostage for border wall funding, and negotiations reportedly broke down again over the weekend.
This uncertainty is trickling down to the women who depend on shelters like the Huntingdon House. "It's been scary for all of us, for myself, wondering what would happen if this place was shutdown," one woman who has been staying at the emergency shelter for the past month, and who requested anonymity,
told Jezebel. "Where would I go?"
More than half—51 percent—of Huntingdon House's funding comes from the federal government and the organization has virtually no reserve funds, according to Collins, meaning that any delay or shortage of federal funding would directly impact their services. During the shutdown, the organization originally had a plan in place to start cutting back staff hours by at least 25 percent on February 2; now that plan is delayed until February 17.
G/O Media may get a commission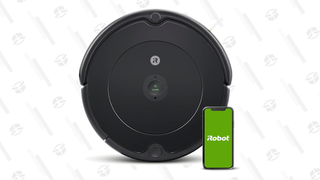 35% Off Black Friday Deal
iRobot Roomba 694 Robot Vacuum
Smaller domestic violence organizations in rural areas that are often more dependent on federal grants, are the first to feel the brunt of the unstable government shutdowns and re-openings. As Cindy Southworth, executive vice president at the National Network to End Domestic Violence explained to Jezebel last month, "Suburban and urban areas are more likely to have United Way funds, perhaps more generous donors in the community. Tinier non-profits may be literally living month to month."
Domestic violence organizations usually provide services that work in concert with each other to keep women safe—an emergency shelter is a temporary space, while rehousing programs help get survivors into more permanent new homes. There are staff that help refer or connect women to other government services they might need after leaving an abusive relationship, like food stamps, job services, and housing vouchers. Delaying any of these programs while the government decides which are considered "essential" during a shutdown throws a wrench in an already-precarious and codependent system.
"We're already very thinly staffed, none of us can do the same with less," Collins said. "It all translates into less availability of vital life-saving survivor-centered services for people fleeing domestic violence and that is a major safety concern." What that means in practice, according to Collins: The organization would keep the emergency shelter and their 24-hour hotline running for as long as possible, but would have to begin cutting back services like counseling, helping women file protection from abuse orders in court, and housing case management services for families trying to move into new homes.
"People start to not see you as a resource because you're not there right now," Collins said of the uncertainty. "And that's a very big concern."
And it's not just the availability of the shelter's services that impact victim safety during a shutdown. While SNAP benefits are shored up through March, the woman staying in the shelter told Jezebel she's uncertain about future payments. And, because she's trying to move out of the shelter, she's worried about not getting government-subsidized housing. "There's a lot of uncertainty about it," she said. "But the shelter needs to stay open for women like me."