"Lindsay Lohan is the star of the film, but she was a no-show at the Los Angeles premiere of The Canyons," proclaimed the Daily Mail proudly on Wednesday. "So in her absence, her co-star Tenille Houston made sure all eyes were on her with a racy outfit choice." While Tenilee Houston's cleavage is "ample" and stunning, what's more interesting is Lohan's current publicity deal that allows her to just not attend movie premieres. Considering this is her most recent attempt at fame based on actual work and not just being photographed lying around a gutter, how is she just missing the premieres for the only movie she's done since a cameo appearance in Scary Movie 5?
After being rejected from SXSW, The Canyons opened in New York last weekend, and had its Los Angeles premiere Tuesday night. It will open at the Venice Film Festival in late August. Lohan has showed up at neither U.S. premiere.
Lohan's absence at the New York premiere was because she was still in rehab; she sent her mother Dina to fill in for her, a sure-fire way to prove that everything is on the up-and-up. But at this point, Lohan is out of rehab and back in New York. She allegedly spent Monday night having a fun family evening with her other amazing parent Michael Lohan and her brother and sister. Her time in New York didn't exempt her from hosting an episode of Chelsea Lately – which tapes in LA – that aired Monday night. In early July, E! News reported that she'd be making an appearance at the premiere of the movie in Venice.
G/O Media may get a commission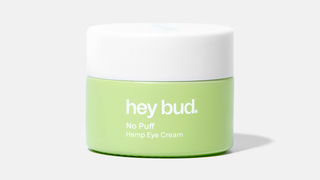 15% off
Hey Bud - No Puff Hemp Eye Cream
As far as we know, nothing about the terms of her rehab or court-mandated anything has said that she can't travel or attend these premieres; her only requirement at this point is that she attend three 50-minute therapy sessions a week for 15 months. She's doing her own publicity instead; hosting Chelsea Lately is about the Lohan brand, as is doing an interview with Oprah and getting her OWN show on OWN. Nothing about these promotional appearances is devoted to the movie; instead, they're all about Lindsay. Which makes one wonder whether that choice was a calculated move on the part of the producers of the film (who know that the movie will both live and die by Lohan's appearance in it) or Lindsay's call (given how honestly atrocious she looked the last time she did red carpet appearances for a film, Lifetime's dreaded Liz & Dick).

In a Q&A about the film at the premiere in New York, director Paul Schrader – who bounced into fame outside of Hollywood after his appearance in the fantastic New York Times Magazine piece about The Canyons – said of Lohan and her co-star James Deen:
"Everyone likes to think that this is stunt casting. The fact is that they were both the best for these roles."
Deen has spent his time doing promotion for the movie discussing his place in pornography and reiterating that despite the fact that he is a "new" type of pornstar that straight women like to watch, he is still uninterested in leaving the sex industry. He has also repeatedly said that he does not want to talk about Lohan any longer. Perhaps that's because she's all about Lindsay. Whether or not it's the healthy for her to be skipping glamorous events like premieres, Lohan's still not an actress you cast in your movie because she's right for the role, as much as Schrader says so. You cast her because she's Lindsay and you hope she will be good once again and that this will finally be her last comeback before she comes back and that everyone in history will remember your movie as the one that did it.
Images via Getty