Let me start this off with a rant: Particularly irksome to me is the prevalence of the plus size sex pot. Every plus size blogger is decked out in five inch heels and nine inches of cleavage. Joan from Mad Men has everyone with curves thinking she should dress like Joan and actually look like Joan. (It's been reported that Christina Hendricks is a size 14 but I don't believe that for a second. I think she's smaller.) What about those of us who just want to look cute going to the hardware store and Trader Joe's on a Saturday?
Here's a list of my favorite plus size retailers who make cute clothes for everyday life:
---
Asos Curve (sizes 16-22)
Because sometimes you want to be as stylish as those super-skinny broads.
---
Kiyonna (Sizes 10+)
First of all, size 10 is not "plus size," but whatever. This place is my go-to for occasion dresses including my wedding dress and the dress I wore to officiate Jane Marie's wedding. Also, check out their Sunset Stroll Bellini. I adore that piece and as I'm writing this, I'm wondering why I don't own every color?
---
"Fun" fact: 1x measurements in plus are actually smaller than XXL in regular! Can you believe that? If you are in-between plus and regular, try both. You literally have double the options.
G/O Media may get a commission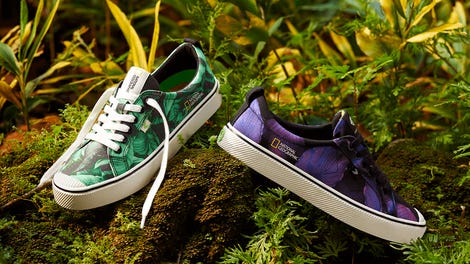 New New New
Cariuma + National Geographic
---
QVC (xxs-3x)
Super cute tunics and unusual hoodies but you need to scroll through a lot of stuff to find the good items. Usually my mother points them out to me.
---
Swak Designs (sizes 14-36)
Their Pretty Cami is a dream. I own it in at least 10 colors because they come out with new colors every season. It is the perfect tank if you need to hide a little of your middle. I often belt it under a cardigan. I also love their "Jersey Pants" for right after work. I own a few of their casual dresses. I offer a boob warning here. If your cup runneth over, beware.
---
J. Jill (up to size 28)
I know, I know. You're going to say, "But my mom and grandma shop at J.Jill!" Well, you know why? Because their clothes last forever and many of their linen, ponte and knit styles are timeless. I own their ponte skirt in a million colors. This is another retailer where us in-betweeners can find a generous cut XL in a brick & mortar location or order a 2X online if something in their misses department just isn't fitting. They have tons of timeless styles that are updated seasonally. Their Pure Jill ballet sleeve tunic and elliptical tee are two of my faves. If you need something for work but don't need a super formal suit, check out their Wearever collection: knit styles that pack beautifully and look professional. If you are prone to weight fluctuations, this collection is perfect for you. Note that these are NOT Old Navy prices, so look for sales.
---
NYDJ (sizes 00-24)
These jeans aren't cheap. I usually try to get them on sale at Macy's or at flash sale sites like Zulily or HauteLook . I recently had a discussion with a round bottomed woman about Not Your Daughter's Jeans and she said to me (in her best New Jersey accent), "Oh Moy Gawd, those are the BEST jeans! I just told my sister to buy a size down because they are so great." And she is right. They are super stretchy but keep their shape. They have excellent rinses and don't even get me started on their cropped styles.
---
Brick & mortar locations will have both plus and regular sizes for us ladies who aren't skinny. I love their regular sized cardigans and tunics in XXL. However, their coats in regular sizes just don't fit. Basically anything without a little stretch doesn't fit. What blows my mind about Target is the size of their XXL bathing suits. An XXL bikini top (not that I would wear that) wouldn't have fit my boobs when I was 12. Literally, I would be arrested for indecent exposure….yet, an XXL sweater dress fits perfectly.
---
Where are your favorite unskinny shopping places? Please tell us in the comments.
A. Katie Shannon is a sharp-dressed paralegal living in Chicago.