HOUSTON, TEXAS—Shortly after 9 p.m., when MSNBC announced that Beto O'Rourke would not be the next senator for the state of Texas, some groans could be heard from the crowd gathered at the chic gastropub where the Harris County Democratic Party was holding its election night watch party. But the mood quickly picked back up.

There was, after all, a lot to cheer about for Houston's Democrats on Tuesday night, a far cry from the typical midterm election in Texas. Congressperson Pete Sessions, a truly monumental fucker? Gone. His fellow Tea Party Caucus member John Culberson? Also voted out on Tuesday. Voters in Harris County had chosen Lina Hidalgo, a progressive, 27-year-old immigrant from Colombia and political newcomer to replace a popular Republican as the county executive.
And this year, 19 black women were running for judgeships in Harris County, several on a criminal justice reform platform; they had united under the banner of "Harris County Black Girl Magic." On Tuesday night, 17 of them won, buoyed in large part by the excitement and on-the-ground organizing generated by O'Rourke's campaign. If these hyperlocal races had barely made a blip on the media radar, the women who ran—and won—understand how critical these positions can be.
Consider who they are replacing: Glenn Devlin and John Phillips, two Republicans who lost their re-election bids to remain juvenile court judges. As judges, Devlin and Phillips alone were responsible for more than one-fifth of all Texas children sent to juvenile prison in 2017; almost every single one of the children and teenagers they sent to prison were black and Latinx. (Phillips' replacement will be Michelle Moore, one of the slate of 17 black women, who has said she wants to focus instead on providing rehabilitative services.)
"To a large degree, our local races are probably more important than voting for a president," Germaine Tanner, who won her race to be a family court judge, told me as we watched the results roll in.

G/O Media may get a commission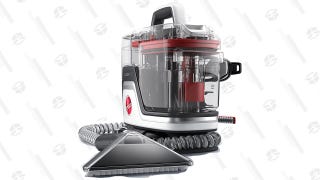 Save $10
Hoover CleanSlate Plus Carpet & Upholstery Cleaner
Tanner, who has been a practicing family law attorney for more than a decade, announced her candidacy last June. She had long been troubled by the stark racial disparities in the court system. "People coming through these courts were looking like me, but there was no leadership on the bench looking like me," she said of her decision to run. "We needed to see more women, we needed to see more women of color, so I said, 'I'm going to go for it.'"
Of Tuesday's victories, Tanner was ebullient. "It feels like a new time," she said. "It's a new time in the history of Harris County."
This was a message repeated over and over to me from the people who had gathered on Tuesday night—from long-time party activists excited that the moribund Democratic network was finally, fitfully, beginning to revive itself, to Beto campaign volunteers who had door-knocked and phone-banked for months, to people who had voted for the first time: Texas had changed. They felt it, they had seen it. "Texas has never been like this," one woman said, radiant.
The horizon of the possible had shifted, and would continue to shift. For all of the strange takes that have posited that O'Rourke's campaign didn't appeal to the state's voters—that he doomed himself by taking positions that were too left, too radical for Texas—Ted Cruz won by less than 3 percentage points, pointing to a different interpretation: that the Democratic base in the state is far more receptive to an expansive progressivism than pundits and consultants assume.
So one of the most closely watched elections in the state's recent history had ended, but now the real work begins, Kyle Maronie told me. Maronie had volunteered for O'Rourke's campaign, spending a good chunk of the last two months canvassing and doorknocking throughout Kashmere Gardens, a largely black neighborhood in Houston. "You have to continue to do the hard work, to hold people accountable," he said. "No matter what happens, I'm extremely focused on what happens after this moment."
He added: "This is just the beginning."