Bad timing for a love story about Nazi Germany.
Last week, Variety posted a still from Where Hands Touch, describing the film as "a story of forbidden love in Nazi Germany." In it, Amandla Stenberg plays a 15-year-old with a black dad and a white mom (German). Her love interest is the son of a Nazi officer, aka Hitler Youth. According to the filmmakers, the plot goes as such: "They fall helplessly in love, putting their lives at risk as all around them the persecution of Jews and those deemed 'non-pure' slowly unfolds."
This, of course, seems like the most inconvenient time to release a movie that appears to promote any type of love involving a Nazi, when we have our own Hitler-esque figures at work. Would its presumably good intentions be overshadowed by the persistent, simplistic idea that love heals all? Over the weekend, Amma Asante—the director, who's behind another film about interracial love, Belle—addressed the initial criticism on Instagram, first in her caption and then in response to subsequent questions in the comments. Asante writes:
So many of you have had questions and concerns about this First Look image so I want [to] assure you that this film does not romanticize Nazis in any way. My full quote with the image clarifies that my passion has been to shine a light on the existence of the children of color who were born and raised under Hitler. These children were also persecuted and my wish has been to explore how black and bi-racial German identity was perceived and experienced under Nazi fascist rule. This girl's experience sits along side the Jewish experience and the experience of others who were persecuted.
Asante goes on to point out that the film was made under the context of the current national presence of white supremacy ("I dont know about you but i see these pervasive factors moving through society and it scares me," she writes. "I want to know how evil can find its way to ruling our lives because it matters today too"). And she also notes that critics should withhold judgment and see the full narrative:
Amandla's role in this film brings attention to an as yet untold story in the arena of drama cinema, to the existence of the other 'others' who suffered during the holocaust. This does not mean that the Jewish experience is not also key to our story. It is. I hope that this at least clarifies some of your concerns.
G/O Media may get a commission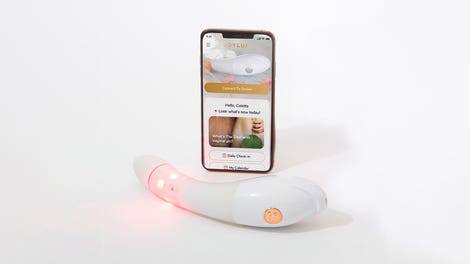 $50 Off
Joylux vFit Gold Device
Answering questions in the comments, Asante continues:
By having a white lead who was a compulsory member of the Hitler Youth, I am able to shed great light on the privilege he had, but also the different expectations each had placed upon them. Why did 'love' come into it? Because in my research interviews i understood how as children without a full knowledge of what was going on, the need to feel 'normal', to 'fit in' and have the normalised rites of passage journies into adulthood was something that was yearned for.
It sounds like a lot to take in right now.