A new trailer for Christopher Nolan's World War II drama Dunkirk was released today and it got us thinking about all the teen girls that will flock to the theaters for Harry Styles only to watch him die (probably) on a French beach.

We began to reminisce about all of the very bad movies we have watched solely because it had a hot lead. The list was long and included much of the cast of Dunkirk—a movie many of us will likely end up seeing because there are many attractive men in it. My favorite answer was from Madeleine Davies who watched Black Hawk Down, a Ridley Scott epic about the Battle of Mogadishu, because Orlando Bloom was in it. "Turns out, horny teens were not the intended audience for that flick," Madeleine notes.
Jezebel EIC Emma Carmichael made her apparently very patient father take her to see Broken Arrow because she was obsessed with John Travolta in Grease. She also had a Ben Affleck crush that led to viewings of Pearl Harbor, Forces of Nature and Gigli. Emma has very bad taste in men with one exception: Cillian Murphy. Both Emma and I have watched every season of Peaky Blinders primarily for Murphy but Tom Hardy is a nice bonus (Madeleine has too but she insists that it's a good show).

The oeuvre of Tom Hardy featured prominently on this list, both Locke and This Means War were mentioned repeatedly. I diverged from my colleagues on this one, I sat through This Means War for Chris Pine who I've loved since Princess Diaries II. Just FYI, Chris Pine has made a lot of very bad movies. Leonardo DiCaprio inevitably made an appearance or two—Joanna Rothkopf saw Man in the Iron Mask and Alex Dickinson enjoyed Gangs of New York. 
Apparently, it's an unwritten rule of Hollywood that hot men have to star in lady-friendly costume dramas or epics; we all sat through Troy (pick your poison: Eric Bana, Brad Pitt, and/or Orlando Bloom) and Four Feathers for Heath Leger. Madeleine also enjoyed the down under charm of Ned Kelly. Julianne Escobedo Shepherd watched Pompeii to get a glimpse at Kit Harrington as well as Netflix's Frontier for Jason Momoa. As a teen, I also watched every bad costume drama Ioan Gruffudd made. Inevitably there were a lot Brad Pitt movies besides Troy on this list, too.
There were some sweeter choices like Prachi Gupta's who watched Wild America when she was 11-years-old because she was in love with Devon Sawa. Meanwhile, Kate Dries sat through Burnt for Bradley Cooper which seems insane.
G/O Media may get a commission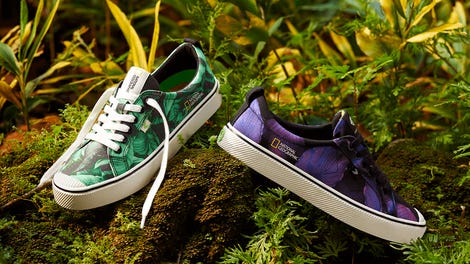 New New New
Cariuma + National Geographic
What terrible movies have you sat through solely for the sake of a dumb crush?