The biggest mystery on Scream Queens isn't who's terrorizing campus in a red devil mask. The biggest mystery is why they keep dressing unexciting good girl Grace in so many stupid hats.
Overall, the costume design is one of the most visually delightful parts of Scream Queens. The Chanels (Emma Roberts, Billie Lourde, Abigail Breslin, and Lea Michele)—with their voluminous pastel layers of marabou, brocade, and woven silk—dress like walking cotton candy. Billie Lourde's increasingly ridiculous fur earmuffs are a hilarious visual quirk. And there's the wardrobe of Nasim Pedrad's Gigi, which—since her style got stuck in the '90s following a traumatic experience—keeps her looking like a Saved by the Bell character.
But then we have Grace. Poor, dopey, everygirl Grace, who's so bland and boring that you find yourself hoping that she's the killer because—ironically—that would really liven up her storyline. As with the others, Grace's costuming is a great depiction of who she is as a character. And who Grace is as a character is A.) a woman of many hats and B.) corny as hell.
It started off innocuously enough with a stocking cap here and there.
G/O Media may get a commission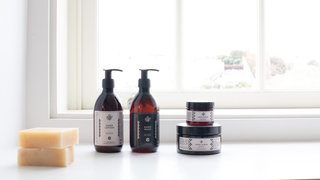 Exfoliate and Hydrate
The Handmade Soap Company
But then this happened:
And it kept happening.
Just so you don't think that beanies and checkered newsboy caps are the only things that Grace owns, let's recognize she also wears a few eight-panel newsboy hats, which either make her look like Francoise Hardy or a cartoon pimp from the '70s, depending on how gracious you're being.
But you don't have to go back 40 years to find Grace's style inspiration. Grace's wardrobe is nearly identical to the blonde interloper of yet another Fox runaway teen hit.
Yes, Grace dresses almost exactly like Anna Stern circa The O.C., Season 1. 2003 is vintage now and Scream Queens has claimed yet another victim. It's me. This revelation has killed me dead.
Join me next week when, live from hell, my ghost will discuss the equally puzzling wardrobe—with more fucking hats!—worn by Keke Palmer.
---
Contact the author at madeleine@jezebel.com.
Images via Fox.